Cat café in Tokyo closed down due to 'unhygienic' conditions
Cats meant for customers to pet at the Neko no Te café where found to be suffering from colds, inspectors said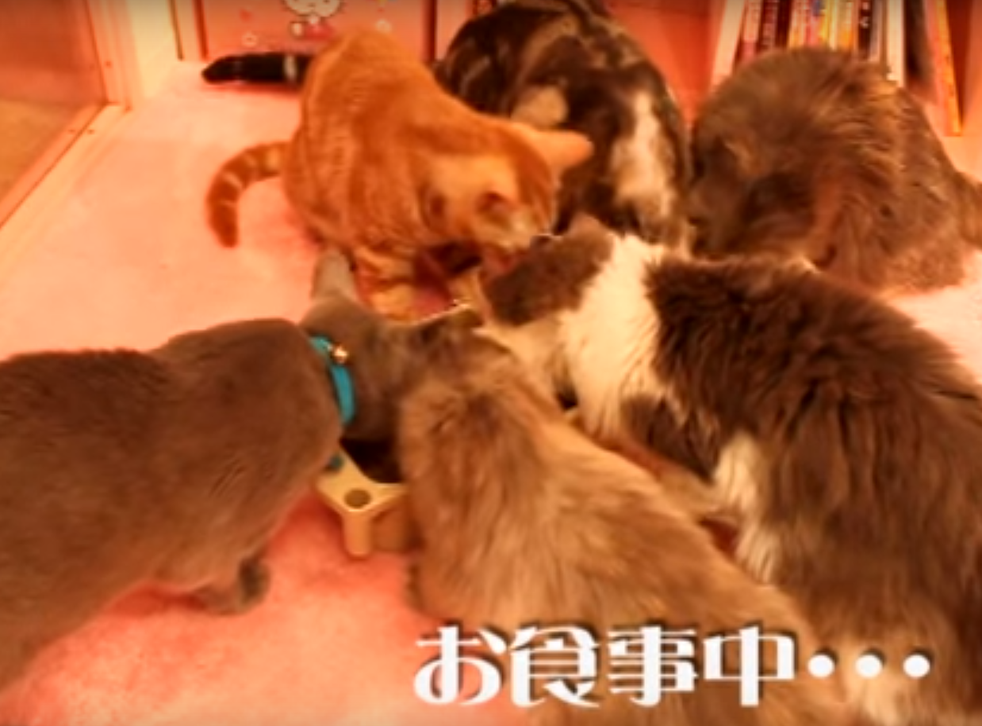 A cat café in Japan has been ordered to close for the first time in the country's history after inspectors said they found diseased animals living in unhygienic and cramped conditions – with more than two cats per square metre.
Cat cafés, where customers can drink coffee and eat snacks amid feline company, have been popular in Japan for around a decade. They have since become a global phenomenon, with versions springing up in the UK, the US, Russia, France, Germany and a host of other countries.
However the Neko no Te (cat's paw) café in Tokyo is alleged to have violated laws requiring cats to be kept in cages when not with customers, which appears to have led to uncontrolled breeding and the spread of disease.
Customers reported the café to authorities late last year, with bad smells and concerns of neglect among their complaints.
Sixty-two cats were found in the 30-square-metre cafe when an inspection took place in December, despite the owners originally applying to keep just 10.
A second inspection in February found that conditions had not sufficiently improved in the café since December, when more than half the cats displayed symptoms of the common cold.
The café has now been ordered to close for 30 days in a move that the Tokyo Metropolitan Government has described as the first of its kind in Japan.
There are around 150 cat cafés in Japan, which is also home to cafes dedicated to animals including owls, rabbits and hedgehogs.
The first cat café in the UK opened in London in 2014, followed by a number of others.
Hygiene concerns caused a cat café in Leicester called Cats, Cakes and Coffee to be closed by food safety officers in October, just weeks after opening. However, the owner of the Leicester café, Lisa Rivers, insisted that the one-star hygiene rating given to the café was not a result of poor conditions but down to a paperwork problem.
In pictures: London's first cat café

Show all 6
Kate Charles-Richards, owner of the Kitty Cafe in Nottingham which houses 30 cats, defended the unusual business model.
"I like to think that the majority of [cat cafe owners] around the world are there for the cats. But it's sad when these things happen," she said.
"Unfortunately, I think people see the trend and try to set up and be involved in that without making full considerations of what the implications actually are. We don't want people to think that's what we're about as well.
"We have a fully-functioning cattery and a cat management team. All of our cats are microchipped and neutered."
Some animal rights campaigners have criticised the cat cafe trend, with the charity Cats Protection questioning the welfare implications of keeping a large number of cats in a limited space.
And a spokesperson for animal rights charity Peta wrote in a blog on the organisation's website: "Animals and cafes don't mix."
Register for free to continue reading
Registration is a free and easy way to support our truly independent journalism
By registering, you will also enjoy limited access to Premium articles, exclusive newsletters, commenting, and virtual events with our leading journalists
Already have an account? sign in
Register for free to continue reading
Registration is a free and easy way to support our truly independent journalism
By registering, you will also enjoy limited access to Premium articles, exclusive newsletters, commenting, and virtual events with our leading journalists
Already have an account? sign in
Join our new commenting forum
Join thought-provoking conversations, follow other Independent readers and see their replies