Children in China who climb 2,500 foot cliff to get to school may be given stairs
Government officials are said to be assessing the area for safer access options, after images of the children's journey were shared worldwide
Rachael Pells Comments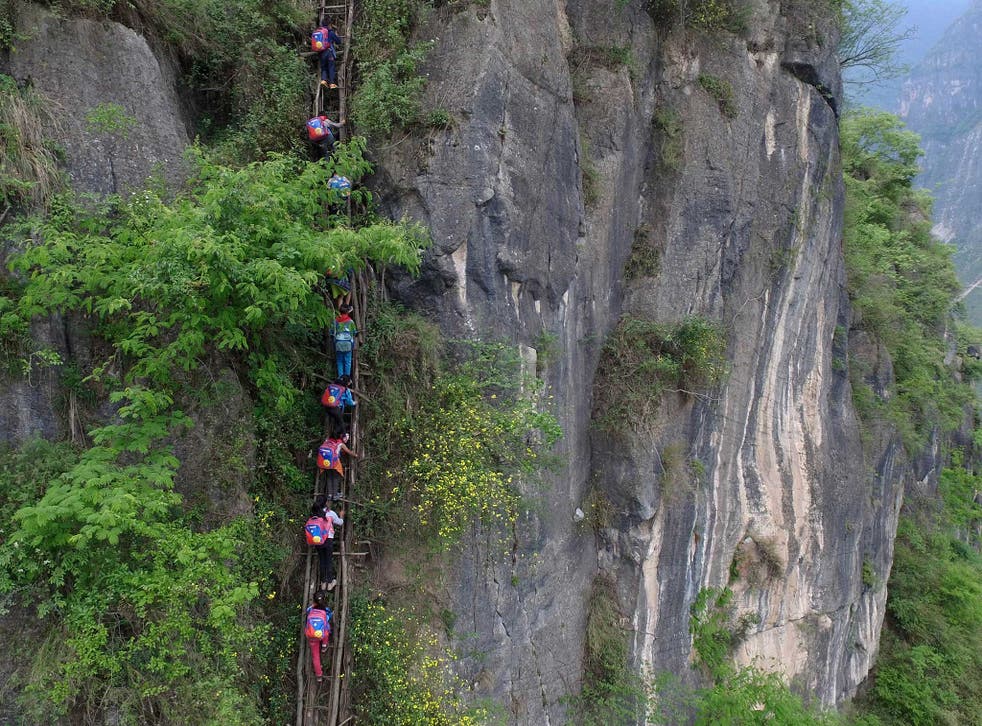 A group of children in who climb 2,500 feet (762 metres) up a mountain to get to school in China may finally be given stairs.
The 15 schoolchildren use a precarious bamboo ladder to scale a sheer cliff face once every two weeks in order to get to the village in Zhaojue county, southwest China, where they are educated.
The ladder is currently the only means of access to the village and is used by 72 families who live in the rural area.
Images of the 6-15 year-olds climbing the ladder appeared online in recent days, prompting the local Liangshan prefectural government to announce plans for a set of steel stairs to be built to help the children until a safer, long-term solution can be found.
In a news release, local residents were quoted as saying that in addition to the safety issue, the ladder-only access exposed villagers to exploitation since traders knew they would be unable to carry unsold produce back up the cliff after making the journey to sell goods.
The world's toughest school run

Show all 5
The residents are members of the Yi minority group in Sichuan province and subsist mainly by farming potatoes, walnuts and chili peppers.
County Communist Party Secretary, General Jikejingsong said the authorities' main concern was improving transport for trade.
"The most important issue at hand is to solve the transport issue. That will allow us to make larger-scale plans about opening up the economy and looking for opportunities in tourism," he was quoted as saying.
A team of 50 officials from the Zhaojue country government travelled to the area on Wednesday after images of the children climbing the 17 separate ladders gained global media attention.
The Global Times reported that government officials were in the process of assessing safer alternatives to the ladder, including potential construction of a road to connect the village, despite being disproportionately expensive for the impoverished region.
Many of China's poorest inhabitants are from long-marginalized minority groups or are farmers and herders living in the mountainous southwest, where rope bridges, aerial runways, canoes and cliff-side ladders are often used to as a means of transport connection.
Register for free to continue reading
Registration is a free and easy way to support our truly independent journalism
By registering, you will also enjoy limited access to Premium articles, exclusive newsletters, commenting, and virtual events with our leading journalists
Already have an account? sign in
Join our new commenting forum
Join thought-provoking conversations, follow other Independent readers and see their replies