China launches first domestically-built aircraft carrier as military might grows
Giant naval vessel put to sea in Dalian as Xi Jinping looks to extend reach beyond shores
Chris Buckley
Wednesday 26 April 2017 11:12 Comments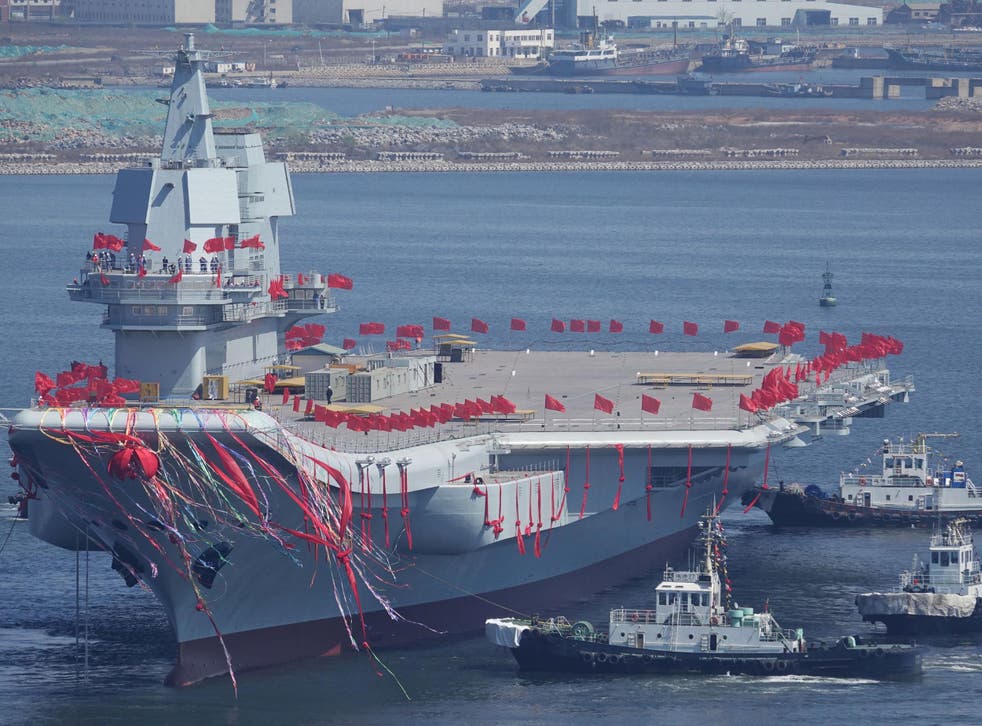 China's first domestically-built aircraft carrier slipped into the sea for the first time on Wednesday, after days of publicity celebrating the impending launch as a milestone in President Xi Jinping's drive to extend China's military reach far beyond its shores.
Senior military and government officials watched as a Champagne bottle was smashed on the bow and as the 1,033-foot grey hull of the carrier eased into the water at Dalian, a northeastern port, Chinese military media reported. The ship, festooned with red national flags and banners, then stopped next to the dock.
It is far from ready for operations, but the launch "signified a major stage of progress of our country's indigenous design and construction of aircraft carriers," a People's Liberation Army news bulletin said. It said the carrier would undergo more testing and fitting of equipment before trials in the water.
The first news reports did not give the ship's name, though previous reports have said it would probably be called the Shandong, after the eastern Chinese coastal province.
China launched its first aircraft carrier, the Liaoning, in 2011, after buying and equipping its rusting Soviet-era hull from Ukraine in 1998. The new carrier is built along similar lines, although it appears slightly larger and more advanced, analysts said. The vessel may need three or so years before it is fully equipped, tested and commissioned for missions.
But the launch conveyed that China intended to build a navy that could not be beaten by other Asian countries, said Patrick M. Cronin, the senior director of the Asia-Pacific Security Program at the Center for a New American Security in Washington.
"With each new aircraft carrier, China is sending a signal that it has no peer among its neighbours," he said.
China is entangled in maritime disputes with Japan, Vietnam, the Philippines and other Asian countries. India is also wary of China's growing activities in the Indian Ocean, and Australia is responding to China's naval buildup with its own. Among them, only India has an aircraft carrier, one a little smaller than China's Liaoning.
China was pursuing "a long-term and ongoing quest to use these floating sovereign airfields into military operations," Cronin said. "But the political and psychological benefits keep accruing, and the impact in China's near seas is being felt today."
World news in pictures

Show all 50
Xi has also made modernising and overhauling the People's Liberation Army a pillar of his policies; in particular, he has overhauled command to shift more resources from traditional land forces to naval and air forces. Those complicated and probably contentious changes are underway, and last week, Xi told military commanders to embrace change.
"Adjust to the demands of integrated jointed operations and to the new system and organisation," Xi said last Tuesday while meeting commanders of 84 corps-level units created as foundations of the reshuffle. "Develop into a crack operational force."
The New York Times
Register for free to continue reading
Registration is a free and easy way to support our truly independent journalism
By registering, you will also enjoy limited access to Premium articles, exclusive newsletters, commenting, and virtual events with our leading journalists
Already have an account? sign in
Join our new commenting forum
Join thought-provoking conversations, follow other Independent readers and see their replies