China performs cavity searches on 10,000 pigeons ahead of National Day event
National Day happens annually on 1 October and celebrates the founding of the People's Republic of China
Natasha Culzac
Wednesday 01 October 2014 16:25 Comments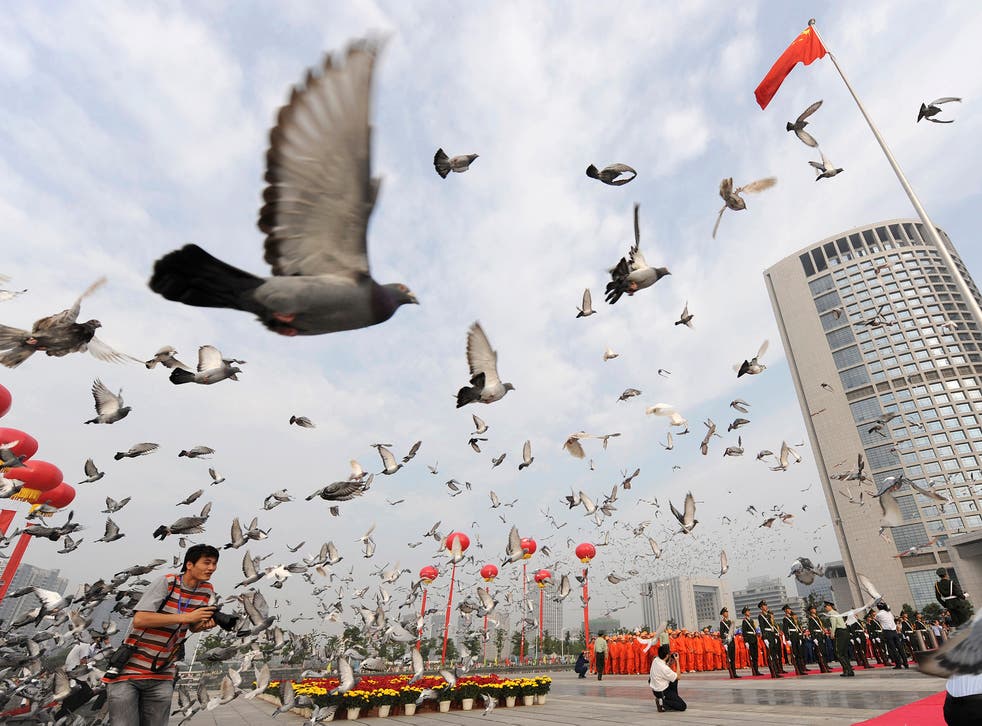 Ten thousand pigeons, which were being dramatically released as part of a public holiday celebration in China, were given anal examinations following concerns from Chinese security officials that the birds could be used as part of a terrorist attack.
The authorities also checked the feathers and legs of the birds, before they were used in today's National Day event in Beijing's Tiananmen Square.
It annually marks the 1949 founding of the People's Republic China and this year celebrated the nation's 65th anniversary. It is held each year on 1 October.
China's state-run newspaper, People's Daily, yesterday posted an image and accompanying caption that read: "10,000 pigeons go through anal security check for suspicious objects on Tuesday, ready to be released on National Day on October 1."
The security search was videotaped before the birds were then loaded onto sealed trucks to be taken to Tiananmen Square and released at 6am today.
The public's response to the animal body searches was heavily sarcastic and derisive, the Associated Press reports, as the checks mirror the oppressive and censored relationship citizens, too, have with the state.
"The liberty and dignity of citizens are increasingly vulnerable, and can be expropriated at any time, like with the pigeons," columnist Zhang Ping wrote.
"They have to go through the pains and insults of the rude anal check and yet they must appear peaceful and happy on the screen of the state broadcaster."
"I have not heard of pigeons released at National Day requiring security checks, but it is possible for them to carry things such as explosives," Mr Yang of website China Pigeon Net, told the New York Times.
"They could carry something on their legs, under a wing, or in their anus. If they carried out security checks they would find them, just like on a person when they get on an airplane," Mr Yang said.
China is currently gripped with political discontent and restlessness in both its north-western and south-eastern regions – with pro-democracy protesters crippling an administrative region of Hong Kong with peaceful sit-ins and on-going conflict between the state and the Uighur community in the Xinjiang province.
Muslim Uighurs were blamed for a deadly attack on Tiananmen Square last October, after an SUV was rammed into bystanders killing five people. Chinese police say the East Turkestan Islamic Movement were responsible.
Register for free to continue reading
Registration is a free and easy way to support our truly independent journalism
By registering, you will also enjoy limited access to Premium articles, exclusive newsletters, commenting, and virtual events with our leading journalists
Already have an account? sign in
Join our new commenting forum
Join thought-provoking conversations, follow other Independent readers and see their replies