China enraged by Pentagon's claims it is waging new cyberwar
US report makes first  explicit accusation that Beijing is hacking for military secrets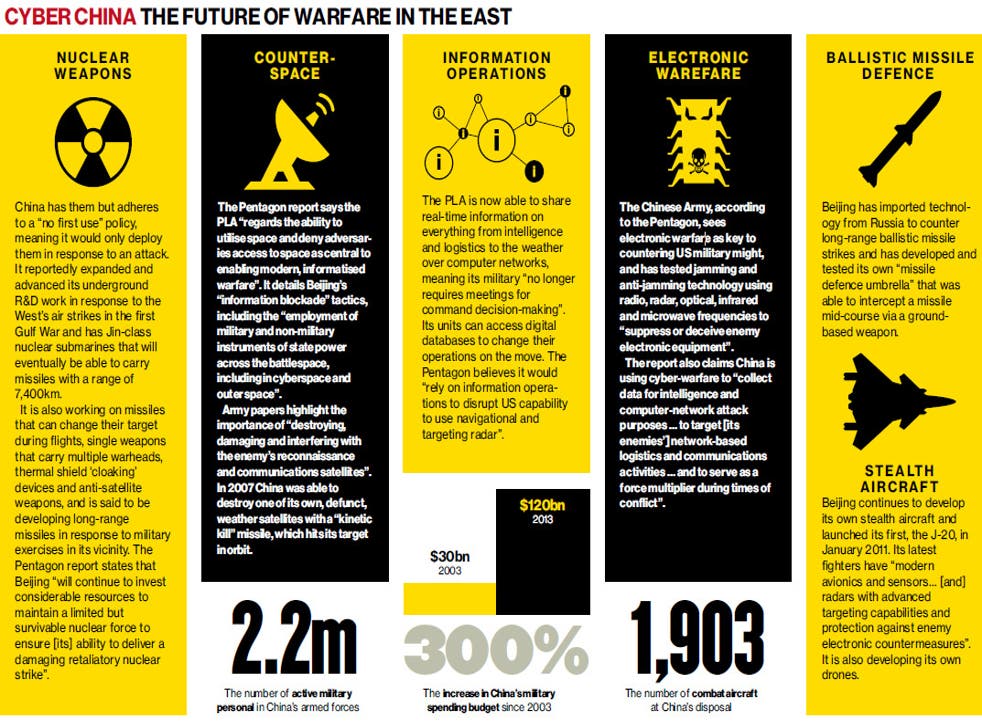 An unprecedented and blunt Pentagon report that accuses China of cyber-espionage aimed at extracting US military secrets has prompted a war of words between Washington and Beijing, with the latter angrily denying the accusations.
Click image above to enlarge graphic
The 83-page report marked the first time the US has explicitly accused China's military of hacking American government computer networks, and has underscored how electronic warfare is now one of the prime elements in the growing military rivalry between the two countries. It contends that the cyber-intrusions, aimed at gathering information and at honing the ability to disrupt, are a key part of Beijing's military strategy as it jostles with Washington for dominance in East Asia.
The computer security firm Mandiant recently identified a single agency in the People's Liberation Army, Unit 61398, as responsible for over 140 such operations since 2006.
Predictably, the charges levelled in the Pentagon report were dismissed by the Chinese authorities, who termed them "groundless," and "hype" that would only harm bilateral cooperation and dialogue. "This is not beneficial to US-China mutual trust and cooperation," the Foreign Ministry spokeswoman Hua Chunying said.
Despite its accusations against China, the US is no slouch when it comes to cyberwarfare, as evidenced by the 2010 Stuxnet attacks on computers controlling Iran's nuclear programme, believed to be a joint American/Israeli operation, and the rapid build-up of the Pentagon's own Cyber Command.
Despite the rapid and sustained expansion of China's armed forces, the US remains far ahead in terms of firepower and military technology. Although Beijing's defence spending is growing by some 10 per cent annually and is described by the new report at totalling between $135bn (£87bn) and $215bn (£139bn), it is eclipsed by the US defence budget, almost $700bn (£452bn) for 2013. China, says the Pentagon, sees electronic warfare as a way to "reduce or eliminate" US advantage.
China's military expansion – symbolised by the commissioning in 2012 of its first aircraft carrier, stepped-up spending on medium and short range missiles, and advances in stealth technology for aircraft – has long been rattling nerves in the region. Ever more assertive about territories it claims in the South China Sea and elsewhere, Beijing is embroiled in disputes with Japan, the Philippines, Vietnam and other neighbours, not to mention the island of Taiwan which China has always considered its own. The Chinese government, says the Pentagon, "is capable of increasingly sophisticated military action against Taiwan."
With the Iraq war over and the Afghan conflict soon to join it, President Barack Obama announced plans in November 2011 for an American "pivot to Asia" in part to assuage US allies in the region over China's perceived expansionism. The shift is presented by Washington in the context of 'partnership' with Beijing. China however is visibly less than convinced and, the Pentagon contends, has made cyber weaponry a centrepiece of its new strategy.
Evidence, the report declares, can be found in two recent public statements, entitled 'Science of Strategy' and 'Science of Campaigns.' Both are said to identify cyber-spying as "integral to achieving information superiority and countering a stronger foe."
Some elements in the current Chinese leadership favour a more aggressive posture. But the Pentagon also notes the 1990s advice of former leader Deng Xiaoping – that China should "cope with affairs calmly, hide our capabilities and bide our time; be good at maintaining a low profile and never claim leadership."
Join our new commenting forum
Join thought-provoking conversations, follow other Independent readers and see their replies