China ferry disaster: Hopes fade of finding survivors as families visit the site where ship capsized
With more than 400 people still missing, relatives are demanding news about their loved ones
Jamie Fullerton
Friday 05 June 2015 07:30 Comments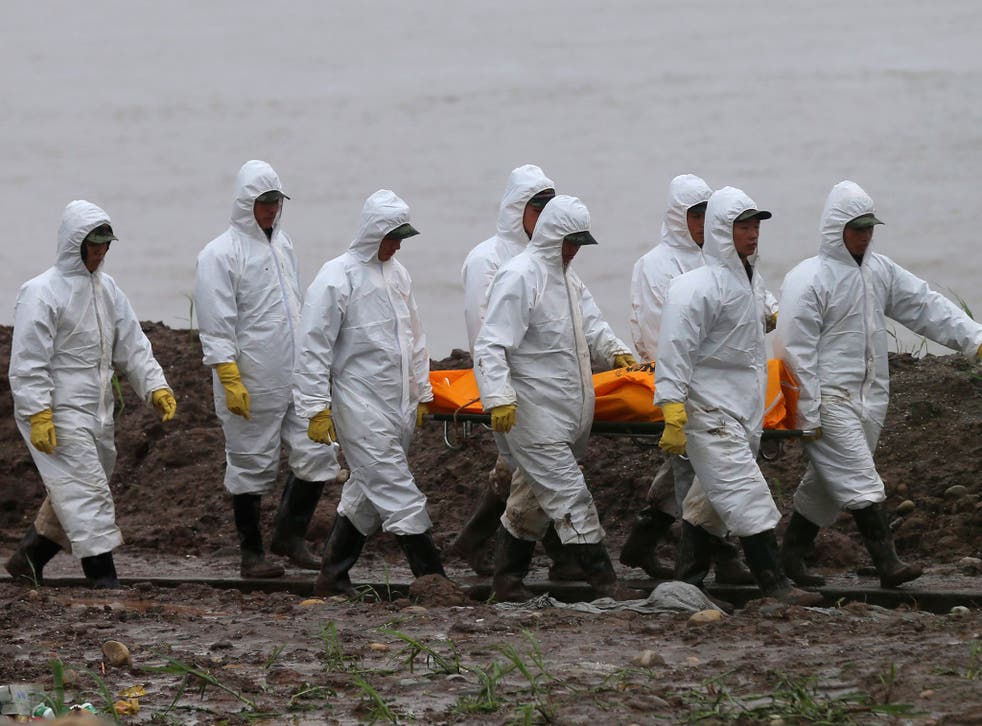 More than 200 divers are battling to look for the hundreds of people still missing after a cruise ship capsized in the Yangtze River.
While the rescuers worked in shifts, virtually around the clock, dozens of family members walked to the site of the disaster, in Jianli county, Hubei province, asking for news of their relatives.
"Life is greater than the heavens, and the burden on your shoulders is massive," China's prime minister, Li Keqiang, told a group of military divers during a visit to the site, the government said.
State broadcaster CCTV said that 26 bodies had been recovered of the 456 people, many elderly, on board the Eastern Star. Around 15 people were said to have been rescued, including the captain and chief engineer who have been detained by police for questioning. It leaves more than 400 still missing, which would make the tragedy the worst maritime disaster in China's modern history.
The ship overturned after being struck by what Chinese weather authorities said was a tornado. Zhang Hui, a tour guide who was working on the ferry, told Chinese state media: "I tried to tell my colleague that we were in big trouble. But before I was able to finish the sentence, the ship had capsized."
The search area was extended 135-miles downstream, suggesting bodies could have swept far from the stricken ship. Rescuers include police, firefighters, People's Liberation Army soldiers and members of the navy.
Divers struggled to open the ship's doors, which were blocked by furniture, while heavy rain persisted. Rescuers were at first reluctant to smash through the upturned hull in case it led to flooding of air pockets that might keep trapped survivors alive. However, state media reported a small hole has been cut. "Yesterday, I still had some hope. Now, it's been more than 40 hours. I ask you, what do I have left?" said Wang Feng, a 35-year-old wedding photographer, whose father was on the ship.
In a statement 47 family members of those on board asked the government to release the names of the living and the dead to them at the rescue site, while other relatives said they had "several doubts" about the incident.
The People's Daily newspaper said the Eastern Star, which was on an 11-day voyage upstream from Nanjing, near Shanghai, to Chongqing, had passed inspections by authorities last month. According to documents from the Nanjing Maritime Safety Administration, it was investigated over unspecified defects in 2013.
Register for free to continue reading
Registration is a free and easy way to support our truly independent journalism
By registering, you will also enjoy limited access to Premium articles, exclusive newsletters, commenting, and virtual events with our leading journalists
Already have an account? sign in
Join our new commenting forum
Join thought-provoking conversations, follow other Independent readers and see their replies