Live coverage of 'Chinese Oscars' cut off after winning director calls for Taiwan independence
Speech from filmmaker highlights tensions between self-governing island and officials in Beijing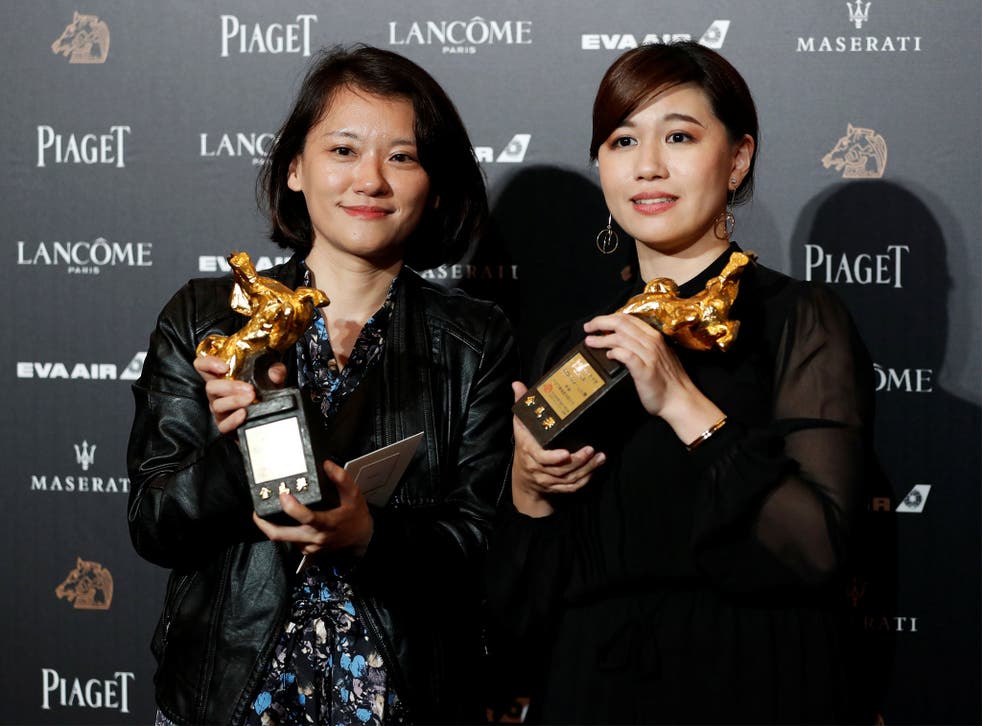 Beijing reportedly cut short television coverage of the prestigious Golden Horse film awards during a pro-independence acceptance speech from a Taiwanese director.
The glittering ceremony in Taipei, seen as the Chinese-language equivalent of the Oscars, was overshadowed when director Fu Yue told the audience her biggest hope for "our country" was to be regarded as an "independent entity".
Her film, Our Youth in Taiwan, telling the story of the Sunflower Movement protests against a free trade agreement with China, had won the prize for best documentary.
Fu's speech is thought to have been quickly censored from television broadcasts of the event, although those watching via a live YouTube stream were still able to hear her remarks.
Tensions were raised further when Tu Men, an actor from the mainland, took to the stage to announce he was proud to be presenting an award in "China, Taiwan", a phrase the Chinese government prefers to be used in referencing the island.
China has long laid territorial claim to Taiwan under its "One China" policy and denies diplomatic relations with any nation that recognises its self-ruling, democratic government as legitimate.
Only 17 relatively small countries with limited geopolitical sway, including the likes of Guatemala, Haiti, Eswatini and Paraguay, currently officially consider it to be an independent state.
Taiwanese president, Tsai Ing-wen, praised the award ceremony, while also criticising Tu's use of the phrase "China, Taiwan".
"We have never accepted the term 'China, Taiwan' and will not accept this statement. Taiwan is Taiwan," she wrote on Facebook.
Support free-thinking journalism and attend Independent events
"I am proud of the Golden Horse Awards, which highlights the fact that Taiwan is different from China and our freedom and diversity means all artistic creations can be unrestrained.
"The Golden Horse Award upholds this spirit. We welcome all filmmakers to come to Taiwan to exchange work. No one here will disappear or be silenced because of different opinions."
Chinese commenters attacked Fu on social media platform Weibo following her win, sharing posts under the hashtag "Not one speck of China can go missing", with maps of China that included Taiwan and territories it claims in the South China Sea.
One such post from The Communist Youth League of China was shared by actress Fan Bingbing, who disappeared from public life for months before being convicted of tax evasion in October and has all-but halted her online activity since.
World news in pictures

Show all 50
Outraged online commenters also took to Fu's personal Facebook page, which they littered with derogatory posts. Facebook is blocked in mainland China and can only be accessed through software that circumvents government filters known as the Great Firewall.
The Golden Horse Awards, now in its 55th year, was chaired by Academy Award-winning Taiwanese director Ang Lee, whose films include Crouching Tiger, Hidden Dragon and Brokeback Mountain.
Lee appeared to anticipate the backlash to Fu's speech, telling reporters after the ceremony: "I hope that no one will come to interfere [with the awards]. I hope that the Golden Horse Awards will remain very pure.""
"Please everyone respect the filmmakers," he urged, according to Taiwan's Central News Agency.
Additional reporting by AP
Join our new commenting forum
Join thought-provoking conversations, follow other Independent readers and see their replies