China's corruption crackdown goes all the way to the top, with former security tsar to be investigated
Member of Communist Party's most powerful body the latest to be investigated in Xi's shake-up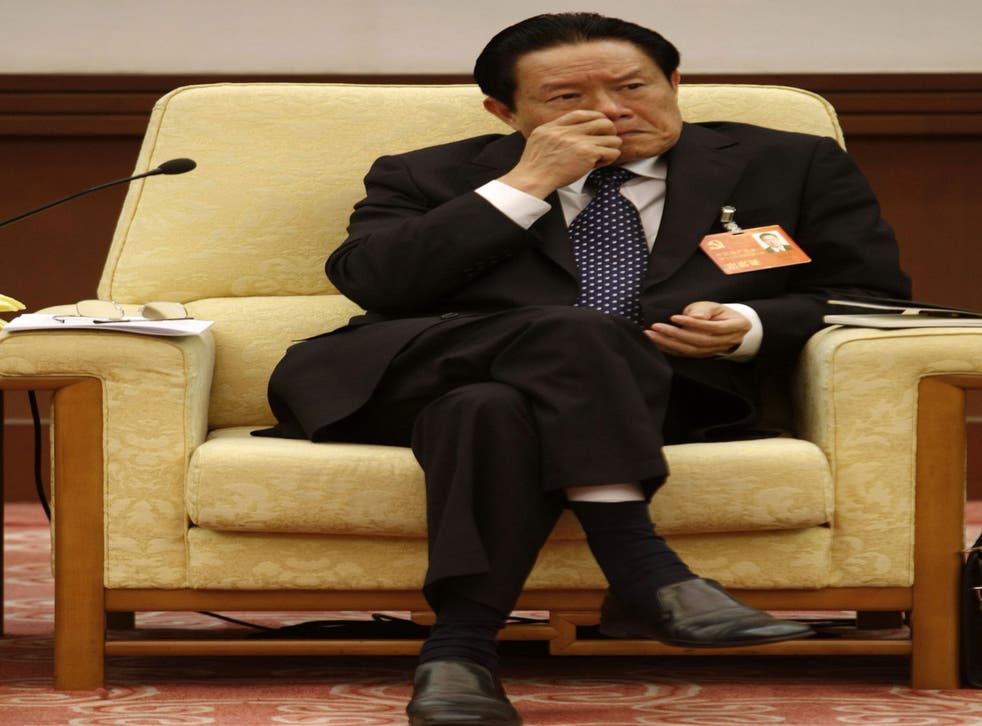 China's increasingly ambitious crackdown on corruption looks set to claim its most senior scalp to date with the news that the country's former security tsar is to be investigated for graft.
The investigation into Zhou Yongkang, who sat on the all-powerful Standing Committee of the Politburo, is yet another sign that President Xi Jinping is cementing his authority at the helm of the world's most populous nation.
The move comes just days after the highly public trial of former rising star Bo Xilai, who was seen as an ally of Mr Zhou, and will send even greater shockwaves through the Chinese political establishment. Although retired, Mr Zhou is one notch higher in the Communist Party's power structure than Mr Bo.
"Current and retired top leaders endorsed the decision earlier this month during the secretive annual party meeting at the resort of Beidaihe in Hebei province," ran the report in Hong Kong's South China Morning Post, citing sources "familiar with the leadership's thinking".
No member of the Politburo Standing Committee, either a sitting member or a retired member, has been investigated for economic crimes since the 1980s.
Official corruption is the number one complaint among the Chinese, and Mr Xi's crackdown is aimed at showing no one, even in senior cadres, is exempt from investigation.
The Communist Party has been trying to shore up its legitimacy through tackling corruption that was usually left unpunished.
Recent cases have included sex tapes featuring senior officials and revelations of cadres living opulent lifestyles. For Mr Xi, who is himself a "princeling" son of a top Communist leader, fighting corruption is essential if the party is to maintain its 64-year hold on power.
He has said anti-corruption efforts should target low-ranking "flies" as well as powerful "tigers".
Mr Zhou was in charge of the judicial system and was brought in to beef up domestic security, and to keep a tight lid on dissent, maintaining stability and public order.
The investigation, which has been rumoured for months, is focusing on oilfield and property deals that have benefited Mr Zhou and his family, particularly his son, Zhou Bin.
Mr Zhou was said to have been grooming Mr Bo, who stood trial this past week on charges of taking bribes, embezzlement and abuse of power and is awaiting a verdict, to succeed him on the Standing Committee.
After Mr Bo's disgrace was complete, there was widespread speculation about what Mr Zhou would do.
There are indications that the probe could be widening to include some of Mr Zhou's close allies.
Mr Zhou is a graduate of the Beijing Petroleum Institute and worked in the industry for many years, becoming general manager of the China National Petroleum Corporation (CNPC), China's biggest oil and gas company, which was a big part of his power base.
Earlier this week, authorities said they would probe Wang Yongchun, deputy general manager of CNPC and a close ally of Mr Zhou, on charges of "gross violation of party discipline".
The graft crackdown is also taking in senior cadres in Sichuan province, where Mr Zhou was Communist Party chief between 2000 and 2002.
In June, the former deputy Sichuan governor, Guo Yongxiang, who was once Mr Zhou's secretary, was detained.
There have also been reports that Sichuan businessman Wu Bing, who is alleged to have financial links to Mr Zhou, had disappeared.
The probe into Mr Zhou's dealings comes just weeks before the third Plenary Session of the 18th CPC Central Committee is due to take place in November. China's Communist Party elite is expected to discuss expanding reforms at the plenum, the official Xinhua news agency said this week.
The investigation is therefore likely to be low-key before the meeting.
Join our new commenting forum
Join thought-provoking conversations, follow other Independent readers and see their replies