China's drinking culture takes a great leap forward as microbreweries open up across the country
Microbreweries and cafés are booming in the big cities - Lu-Hai Liang reports from Beijing
Lu-Hai Liang
Beijing
Saturday 31 October 2015 22:35 Comments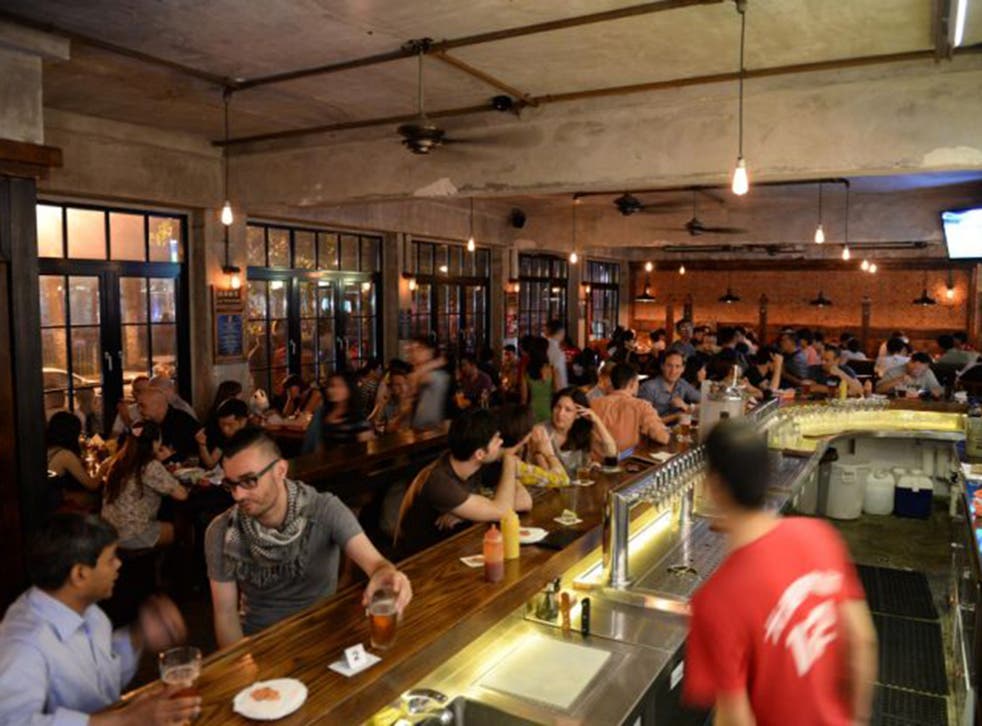 On a sunny day, the Jing A microbrewery teems with expats and wealthy Chinese patrons enjoying craft beers in the outside seating area and savouring the lingering warmth of autumn.
The scene has become a common one. Five years ago, there were virtually no such pubs in the Chinese capital. Now there is an abundance of them.
Carl Setzer, 33, a former IT specialist from Cleveland, Ohio, is something of a pioneer. He can potentially lay claim to having started the craft-beer craze in Beijing, in 2010, with the opening of his brew-pub, Great Leap Brewing.
"I started brewing in my apartment in 2009. I learned everything myself," said Mr Setzer.
Speaking about the early responses to his brewing, he said that he found it insulting when friends told him that Chinese people would never understand craft beer. And it seems he has been proved right: he now has three branches in Beijing, the largest of which can hold up to 300 people.
Alec Ash, a British writer living in Beijing, said: "I first got here in 2008. The only beer I could get then was a litre bottle of Tsingtao. Now I can buy Zombie Pirate Pale Ale from a Beijing craft brewery."
Peter Q, 29, an artist and a teacher originally from the southern province of Fujian, said more and more Chinese people are appreciating bar culture, especially beer.
"Once you make money, you want to spend it," he said, while downing a glass of IPA at the Slow Boat Taproom, another Beijing pub. "You realise that Beijing is diverse – you want to expose yourself to exotic cultures."
What has helped to drive this is the increased spending power of Chinese city dwellers. In the first quarter of this year, average disposable income for Beijing's residents was up from the same period in 2014.
Those who live in cities such as Beijing and Shanghai, with their mixture of expats and affluent Chinese residents, are enjoying more options when it comes to spending their money than ever before.
The poshest beers

Show all 10
A three-storey retro video games bar, 8-Bit, is the first of its kind in China. Run by a British and Chinese husband-and-wife team, the bar is located in a hutong, a traditional Beijing alleyway.
"I've always wanted to start a business here," said Dale Irons, 29, 8-Bit's co-proprietor, who was born in Bournemouth. "I've worked as a bartender and a chef. Now I've started my own bar. We want to take it to Shanghai and Taiwan."
In the hutong where 8-Bit is situated, there are independent cafés almost every 20 feet or so. Across the country, café and coffee shop chains have bloomed, with Starbucks, Costa Coffee, and South Korean café branches Maan Coffee and Caffe Bene expanding rapidly. Starbucks now operates 1,500 shops across China, with plans to reach 3,400 shops by 2019. Costa, meanwhile, hopes to expand from 344 shops to 900 by 2020.
For Zhang Yi Han, 26, from Gansu, coffee-shop culture is something that young Chinese people have taken to. He opened his hutong establishment Ace Bar & Café in 2013, and now serves a mostly young Chinese clientele. "Coffee culture has developed very quickly," he said, adding that business has been getting better and better.
The new Molo café, which opened just last month, is run by Yu Ai He, 23, who sees it as a way to express herself. "Before, I used to work at a company, but I like freedom. I like to follow my own lifestyle," she said. "It's a very romantic, slow life, where you can meet different people."
She added that once people's salaries begin to satisfy essential needs – food to eat, bills to pay – then people have time for themselves. And they spend that time in a café.
"Even if they don't like coffee," she said, "they like to be in a café."
Register for free to continue reading
Registration is a free and easy way to support our truly independent journalism
By registering, you will also enjoy limited access to Premium articles, exclusive newsletters, commenting, and virtual events with our leading journalists
Already have an account? sign in
Join our new commenting forum
Join thought-provoking conversations, follow other Independent readers and see their replies