China's new export to America: A baby boom
The Year of the Dragon is behind a spike in birth rates – and there's only one way to avoid the one-child policy and get better medical care. In Beijing, Clarissa Sebag-Montefiore reports on the rise of maternity tourism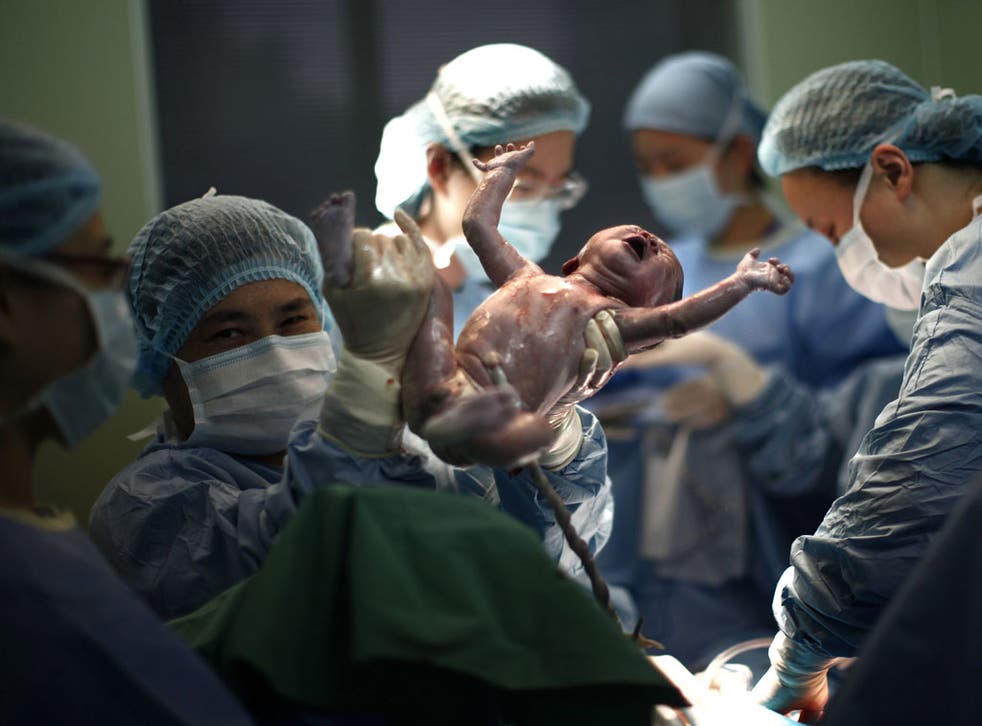 Zhang Xuemei is just three-months pregnant but has already decided not to have her baby in her native China. Instead, the housewife and her husband, Wei Zhonghai, a wealthy mining boss, are paying tens of thousands of dollars to give birth to their third child in the United States.
Ms Zhang and Mr Wei, both 40, are just one of a growing number of anxious Chinese couples willing to spend from 100,000 to 250,000 Chinese renminbi (£10,000 to £25,000) to give birth abroad, paying 20 times more than the average cost of delivering a child at home. They have turned to a Beijing-based agency that offers services for "birth tourists" keen to travel to the US.
The benefits are myriad. Chinese parents giving birth in the US can skirt China's one-child policy – a priority for couples such as Ms Zhang and Mr Wei, who might otherwise face an exorbitant fine by the Communist government. Going to the US buys top-notch healthcare and, above all, secures automatic birthright citizenship for their baby. Once children turn 21 they can petition the government for permanent-residence status for their parents.
"We want to provide our children with more choices. If they are born in the US they will have more choices," says Mr Wei, who lives with his family in Hebei province. "And in the hospital we will get a better service than if the baby is born in China." The couple is currently weighing up two destinations, California and Saipan, a US island territory in the Pacific Ocean which is a cheaper option. "Los Angeles is better," Mr Wei says. "Better shopping, right?"
China is expected to experience a baby boom during this auspicious year of the dragon, with a 5 per cent surge in births predicted. "Dragon babies" are said to be blessed with prosperity and power. In past years, affluent expectant mothers travelled to Hong Kong to secure better medical care and a bright future for their unborn children – Chinese citizens born in Hong Kong automatically have the right to abode under the Basic Law. According to official figures, the number of mainland Chinese mothers who gave birth in the former British colony soared to 40,648 in 2010 from about 20,000 in 2005.
But there is unprecedented discontentment in Hong Kong over the scramble for public resources. Its government has capped at 3,400 the number of non-local women allowed to give birth in public hospitals, compared with 10,000 last year. As a result, many parents are turning their sights further afield to the US.
"Hong Kong has tightened its policies," a post by the "California Baby" agency says on China's largest micro-blogging website, Sina Weibo. "But do not worry, there is a better place to have your baby delivered. It is worth spending 150,000 renminbi to give birth to a baby identified as an American citizen." The managing director – who did not want to give his name – of the agency Ms Zhang and Mr Wei visited said that five families signed up last week alone.
He says 4,000 to 5,000 Chinese travel to the US every year to give birth. He insists that all services provided by his agency are legal. Packages guide prospective parents through visa applications, healthcare and accommodation. Supplemental services, such as English lessons, are extra.
He believes he offers something more: a chance for rich Chinese to buy a slice of the American dream. Perched on his polished wooden desk in the high-rise office is a brass stand holding the US and Chinese flags. Adjacent is a framed photograph of the businessman standing beneath a dazzling blue sky in Valley Wells, California. "China is really the future," he says. "But these families think that America will still be better than China, even in the coming years. It is not just about economics – it is about the environment." He says China's one-child policy and a superior education system in the US provide the primary motivation.
Yet many birthing-holiday agencies work in a grey legal middle-ground. In February, the first mainland Chinese agent to be convicted in Hong Kong was jailed for 10 months for making a false representation to immigration officers and for breaching a condition of stay. Birth tourism in America is legal, Professor Kevin Johnson, an expert in immigration law at the University of California, Davis, says. "But if anybody lies on an immigration document that would make it illegal – and some people think that [the practice] is a manipulation of American laws and we should change them," he says. "To many people it just seems shady.
"We are not talking about poor people who aren't paying their bills. We're talking about people who are willing to pay a lot of money to come and give birth here. I think overall, like [more general] tourism, it is a benefit for the economy." Still, posted on the Jia Mei agency website are guidelines on how to evade confrontation at customs. Tips include avoiding wearing maternity clothes and hiding one's belly. "Sling a large bag over your belly [and then] put a coat casually in your hand to cover it," the site advises.
Jia Mei was co-founded by Zhou Hongxia, who gave birth to twins in California last July. Ms Zhou, a piano teacher from Guangzhou, whose husband works for Hewlett-Packard, tells The Independent she settled on the US to "provide my kids with more choices and opportunities in the future – plus, the medical standards are superior".
Despite high expectations, the 38-year-old suffered from "loneliness and disappointment" during her stay at a birthing centre that was raided regularly by the police. According to Ms Zhou, it did not hold an appropriate licence. So she set up her own business connecting expectant Chinese mothers with American host families to provide a smoother service.
For Ms Zhang and Mr Wei, such worries are not a concern. With the birth planned for August, during the Chinese school holidays, the whole family will enjoy a vacation in California. Like many of the new élite turning to the US for birth tourism, they are willing to splash cash to make the extended jaunt memorable. "This is my first time to go abroad," says their 14-year-old daughter, who is looking forward to shopping and visiting Disneyland. "But I am really more excited about the baby in my mother's belly."
All names in this article have been changed as the families agreed to speak only on the condition of anonymity.
Register for free to continue reading
Registration is a free and easy way to support our truly independent journalism
By registering, you will also enjoy limited access to Premium articles, exclusive newsletters, commenting, and virtual events with our leading journalists
Already have an account? sign in
Register for free to continue reading
Registration is a free and easy way to support our truly independent journalism
By registering, you will also enjoy limited access to Premium articles, exclusive newsletters, commenting, and virtual events with our leading journalists
Already have an account? sign in
Join our new commenting forum
Join thought-provoking conversations, follow other Independent readers and see their replies