China's next first lady: a folk singer who threatens to shake up political life
Peng Liyuan, wife of Xi Jinping, has a higher profile than previous presidential spouses
Clifford Coonan
Sunday 11 November 2012 21:30 Comments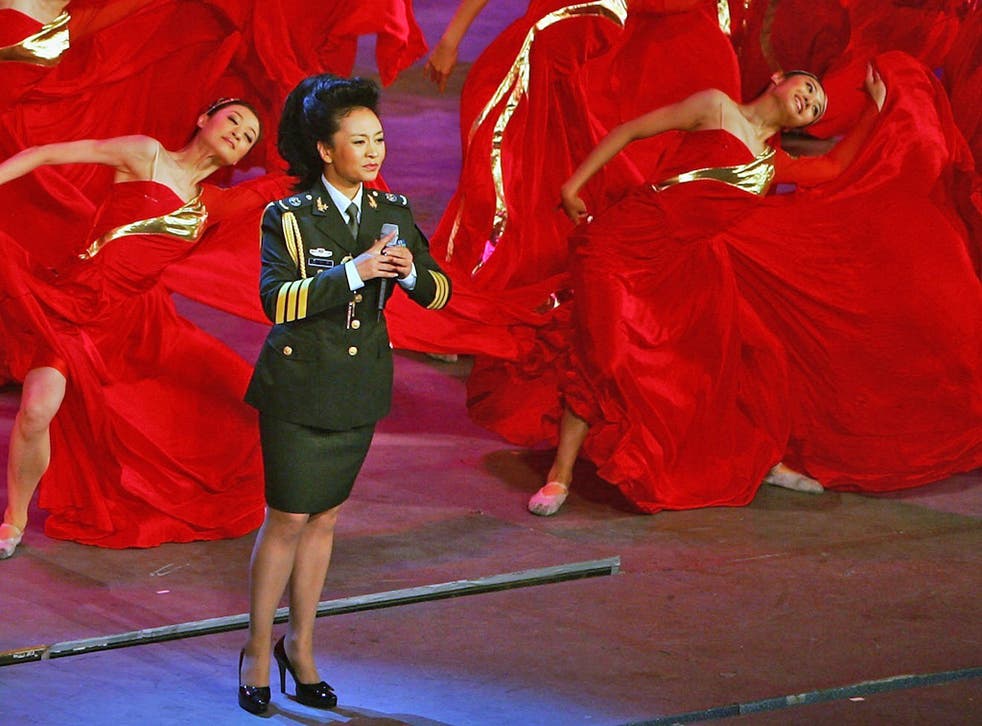 One prominent figure missing from the crucial 18th Communist Party congress, which continues this week, is China's first lady-in-waiting.
Known to hundreds of millions of Chinese for her career as a singer of stirring folk tunes, Peng Liyuan's fame has long eclipsed that of her husband, China's next president, Xi Jinping – which may be one reason the pop star has been keeping a low profile.
Ms Peng, 49, a civilian member of the army's musical troupe and charity worker, is not China's typical first lady, as anyone who has seen her sing during the annual Chinese New Year special on state television can attest. This is one of the world's most-watched TV programmes.
"If this were the West, one would say [Ms Peng] has the perfect requirements for being a leader's wife: beauty, stage presence, public approval," one party intellectual told The Washington Post. "But things are different in China."
While a Western spin doctor might be chomping at the bit to get Ms Peng on to the world stage, her fame presents the leadership with the challenge of how to marshal her skills and fame, without allowing her to gain more public influence than is comfortable for China's political elite.
As the country's leaders worked behind closed doors over the weekend to come up with the final details of the leadership transition – which is expected to be announced this week, with Mr Xi named as President on Thursday – the international community has been quick to note that very few members of China's political elite are women. Liu Yandong is the only female member of China's current Politburo, but is not a member of the powerful Standing Committee.
Some have suggested that Ms Peng, who was appointed UN Goodwill Ambassador for Tuberculosis and HIV/Aids, and took part in an anti-smoking campaign with the Microsoft founder Bill Gates earlier this year, may be the woman to change the precedent.
Lin Chong-pin, a professor of international affairs at Tamkang University in Taiwan, told the Focus Taiwan news channel that having a "bright and beautiful" wife gives Mr Xi an advantage over previous leaders, describing her as "a PLA [People's Liberation Army] major-general and a singer whose appearance on the international arena will dim the lights for all her previous counterparts."
Ms Peng has certainly been forthcoming in her praise for her husband, discussing their relationship in an unusually candid style. "When we first met, I felt in my heart that this is the ideal husband of my dreams – straightforward and honest and thoughtful," she told People.com in February.
However, if Ms Peng does try to change the role of the first lady, it will not be easy.
Since the excesses of the Mao Tse-tung era, when the Great Helmsman let loose a Cultural Revolution (1966-76) that destroyed millions of lives and left wounds that are still raw, the Communist Party has sought to distance itself from cults of personality. Solid, dull technocrats have run the show, with the focus instead placed on the Party as a unified entity.
Register for free to continue reading
Registration is a free and easy way to support our truly independent journalism
By registering, you will also enjoy limited access to Premium articles, exclusive newsletters, commenting, and virtual events with our leading journalists
Already have an account? sign in
Join our new commenting forum
Join thought-provoking conversations, follow other Independent readers and see their replies