China to build nuclear power stations on disputed islands in South China Sea
Beijing says Japan should 'exercise caution in its own words and deeds, and stop hyping up and interfering' in a dispute some fear could lead to war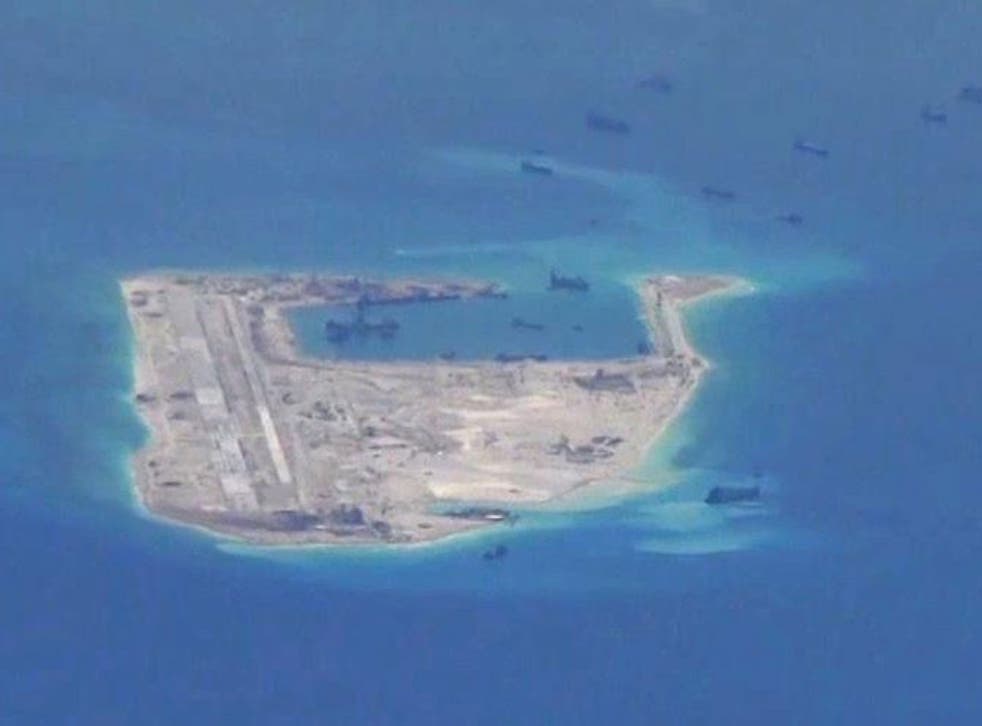 China plans to build nuclear power stations in the South China Sea to establish "effective control" of disputed islands, officials have reportedly said.
The China National Nuclear Corporation (CNNC) made the announcement just two days after the Hague-based tribunal concluded China had "no legal basis" for its claim to almost all of the South China Sea.
The area is home to rich fishing grounds and oil and gas fields, while some £3.8 trillion in global trade passes through the area every year.
According to the state-run Global Times, the CNNC wrote on a social media account: "Marine nuclear power platform construction will be used to support China's effective control in the South China Sea."
The power plants would be created to "ensure freshwater" supplies on the Spratly islands, the CNNC added.
"In the past, the freshwater provision to troops stationed in the South China Sea could not be guaranteed, and could only be provided by boats delivering barrels of water," the CNNC said.
"In the future, as the South China Sea electricity and power system is strengthened, China will speed up the commercial development of the South China Sea region."
The tribunal ruled against China after the Philippines asked it to rule on ownership of several of the disputed areas. China boycotted the case.
A number of other countries, including Malaysia, Taiwan and Vietnam, also claim ownership of various parts of the South China Sea.
China is also involved in disputes over islands in the East China Sea with countries including Japan and South Korea.
On Friday, Chinese Premier Li Keqiang told Japanese Prime Minister Shinzo Abe that Japan should stop interfering with the South China Sea issue.
Meeting at a regional summit in the Mongolian capital Ulaanbaatar, Mr Li told Mr Abe that China's stance on the South China Sea was completely in line with international law, state news agency Xinhua reported.
"Japan is not a state directly involved in the South China Sea issue, and thus should exercise caution in its own words and deeds, and stop hyping up and interfering," Mr Li added.
Japan's Kyodo news agency said Mr Abe told Mr Li that international rules must be respected.
Japanese Foreign Ministry spokesman Yasuhisa Kawamura said Mr Abe "reiterated the fundamental positions regarding the South China Sea" during his meeting with Mr Li.
"The situation of the South China Sea is the concern of the international community," the spokesman said. "The tribunal award of 12 July is final and legally binding on the parties to the dispute."
The Associated Press contributed to this report
Register for free to continue reading
Registration is a free and easy way to support our truly independent journalism
By registering, you will also enjoy limited access to Premium articles, exclusive newsletters, commenting, and virtual events with our leading journalists
Already have an account? sign in
Register for free to continue reading
Registration is a free and easy way to support our truly independent journalism
By registering, you will also enjoy limited access to Premium articles, exclusive newsletters, commenting, and virtual events with our leading journalists
Already have an account? sign in
Join our new commenting forum
Join thought-provoking conversations, follow other Independent readers and see their replies