Chinese state official named head of Interpol, raising fears for political opponents
Meng Hongwei's election 'will probably embolden and encourage abuses in the system,' Human Rights Watch says
Samuel Osborne
Thursday 10 November 2016 17:10 Comments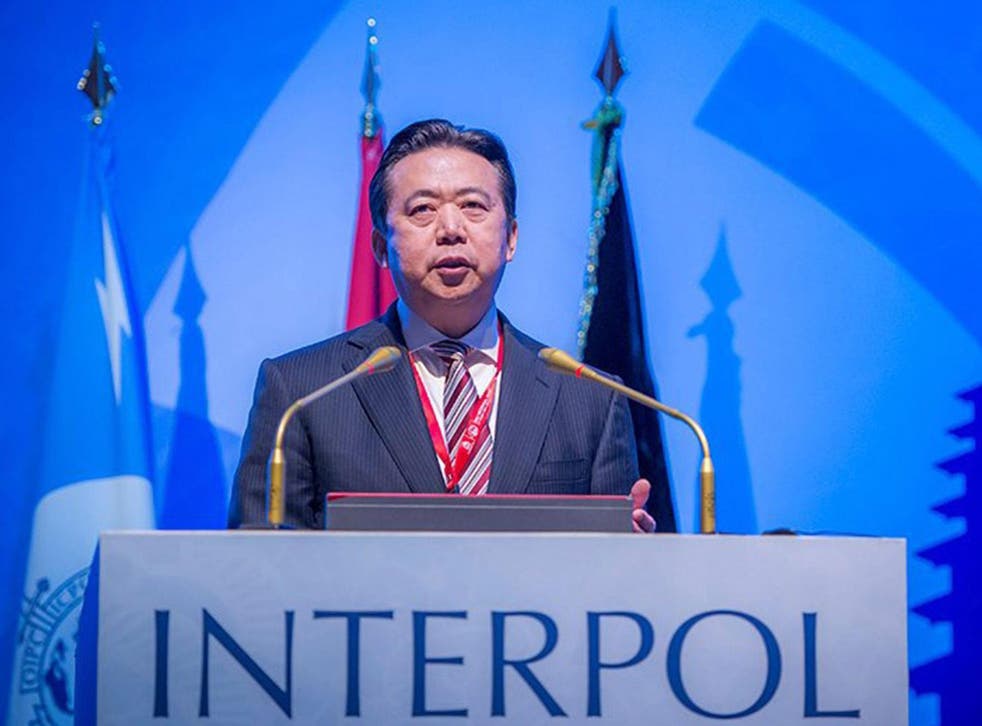 A top Chinese police official has been elected president of Interpol, leading rights advocates to warn about the potential misuse of the organisation to attack Beijing's political opponents.
Vice Minister of Public Security Meng Hongwei is the first Chinese citizen to hold the four-year post and will take up the role immediately.
"We currently face some of the most serious global public security challenges since World War Two," Mr Meng said in an Interpol statement.
World news in pictures

Show all 50
"Interpol, guided by the best set of principles and mechanisms to date, has made a significant contribution to promoting international police cooperation," he added.
"Interpol should continue to adhere to these principles and strategies, while further innovating our work mechanisms, in order to adapt to the changing security situation we see today."
Chinese President Xi Jinping has waged a four-year campaign against corruption, which includes a push to return former officials and other suspects who fled abroad.
China filed a list of 100 of its most-wanted suspects with Interpol in April 2014, about one third of which have since been repatriated.
The country's police and judicial systems have been routinely criticised for abuses, including eliciting confessions under torture and the disappearance and detention without charges of political dissidents and their family members.
Many Western nations have been reluctant to sign extradition treaties with china or return suspects wanted for non-violent crimes.
Given those circumstances, Mr Meng's election is an "alarming prospect", said Maya Wang, Hong Kong-based researcher at Human Rights Watch.
"While we think it's important to fight corruption, the campaign has been politicised and undermines judicial independence," Ms Wang added.
Mr Meng's election "will probably embolden and encourage abuses in the system," she said, citing recent reports of close Chinese ally Russia's use of Interpol to attack President Vladimir Putin's political opponents.
"This is extraordinarily worrying given China's longstanding practice of trying to use Interpol to arrest dissidents and refugees abroad," Nicholas Bequelin, east Asia director at Amnesty International wrote on Twitter.
The organisation has the power to issue "red notices," the closest instrument to an international arrest warrant in use today.
While Interpol's charter officially bars it from undertaking "any intervention or activities of a political, military, religious or racial character," critics say some governments, primarily Russia and Iran, have abused the system to harass and detain opponents of their regime.
Interpol says it has a special voting process to prevent such abuses.
Along the election of Mr Meng, Interpol also approved a call for the "systematic collection and recording of biometric information as part of terrorist profiles" shared by the organisation.
Additional reporting by agencies
Register for free to continue reading
Registration is a free and easy way to support our truly independent journalism
By registering, you will also enjoy limited access to Premium articles, exclusive newsletters, commenting, and virtual events with our leading journalists
Already have an account? sign in
Join our new commenting forum
Join thought-provoking conversations, follow other Independent readers and see their replies