China stokes tensions with Japan ahead of military parade to mark end of WWII - but many citizens are bored with rhetoric
A constant barrage from newspapers and TV has reminded ordinary Chinese of the depredations inflicted upon their country by their neighbours during the conflict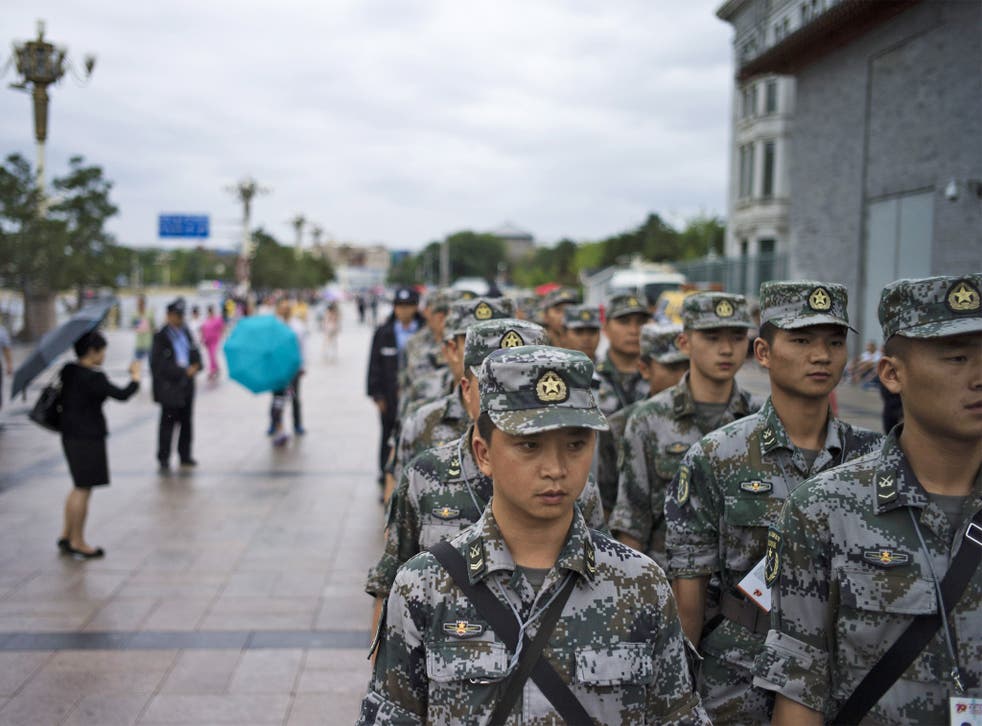 They may not be the most appealing of ice creams, but a chain of shops in Shanghai is doing a brisk trade in them: pale, frozen lollies bearing the face of Hideki Tojo, the former army general who was prime minister of Japan for much of the Second World War.
As China prepares to celebrate 70 years since the end of that conflict, it has foregone the language of reconciliation towards its former enemies that was deployed in Europe earlier this year. The ice-cream version of the war criminal Tojo, his moustache rendered dark against his yellow face, and its packaging adorned with images of artillery damage and blood red hand-prints, is relatively light-hearted compared with the vitriol heaped upon Japan by the official state media.
In the run-up to the largest military parade in Beijing for years on Thursday, when tanks will rumble through the city alongside 200 missile launchers, various military aircraft and 12,000 parading soldiers, a constant barrage from newspapers and television has reminded ordinary Chinese of the depredations inflicted upon their country by Japan during that war.
Every day the Chinese State Archives Administration has delved into its records to publish a new supposed "confession" by an alleged Japanese war criminal. The written confession of Japanese medic Tokokichi Nagata, who joined Japan's invasion of China in 1942, featured on Monday.
The reports, under the title "Unspeakable cruelty of wartime Japan", tend to focus on barbaric acts against individuals to illicit maximum disgust. Nagata elaborated on an encounter he had after breaking into a man's home in Beijing.
"I found a Chinese man aged around 50 suffering serious cholera," he wrote. "When he reached out his hand for help I grabbed his hand, threw him to the ground, kicked him and locked the door from outside with a rope, thus locking the man inside his home and killing him." He was also quoted recalling how he "tied a Chinese peasant to a door plank, beat him with club and force-fed him 10 litres of cold water."
Television channels, which regularly broadcast war-themed shows depicting Japanese soldiers as merciless brutes, have been banned entirely from showing entertainment programmes this week, in favour of more shows celebrating what is portrayed as China's victory against Japan. "We are reminded of the war against Japan so constantly I have developed an inherent antipathy toward Japan," Cong Yuting, a 26-year-old teacher from the northeastern city Dalian, told Associated Press.
Bitterness towards Japan permeates much of Chinese society, and has been deliberately fuelled by President Xi Jinping's efforts to encourage nationalist sentiment.
Evidence of a spike in anti-Japanese feeling can be seen on the streets, not just in newspapers. Last week residents of Dongsishiertiao, a quiet Beijing lane, woke to find the phrase "Fight against Japan" daubed repeatedly along their walls. With most of the houses also flying the blood red flag of China for V-Day, the atmosphere there has become suddenly sinister.
Beyond the propaganda, Japan's recent political actions have hardly helped the situation. The two countries are locked in a dispute about sovereignty over areas of the East China Sea, and this week Japan announced its biggest ever military budget. Its annual military spending is on course to hit £27.4bn – though this is a fraction of the £90bn being spent this year by China.
The refusal by Japan's prime minister, Shinzo Abe, to offer an apology for atrocities committed during the war recently was strongly criticised by Chinese state media.
Perhaps the most bizarre indication in Beijing of current tensions between China and Japan can be found at the capital's Diaoyu Islands Malatang Noodle Shop. The restaurant is themed on the disputed islands in the East China Sea which Japan calls the Senkaku Islands – to which both countries lay claim.
Machine gun replicas and models of fighter planes adorn the café, but its owner Lu He told The Independent that there was more to Thursday's parade than Japan-bashing. Officially, it is to mark the "Victory of the Chinese People's Resistance Against Japanese Aggression and the World Anti-Fascist War". Mr Lu said: "The celebrations are not just about Japan specifically, but rather fascism as a whole. We are all against militarism and fascism."
Preparations have been elaborate. Some 2.8 million plants have been installed around the city. Beijing's two airports and two underground lines will be closed on Thursday morning while 10,000 factories have been told to halt or slow down production, to make blue skies more likely. The Shanghai Stock Exchange will suspend trading for three days. Sales of model aircraft have been banned and birds driven from the city centre, using falcons, in case they endanger the lives of pilots.
"It's been quite an inconvenience to businesses," said Dan Dan, 33, an office employee. A 31-year-old hospital worker who declined to give her name said: "It's a waste of money and manpower and it makes our life inconvenient. I don't like it." But Xiao Wang, 24, a supermarket shop assistant, said: "It should be quite lively. I'm planning to watch it on TV." Only President Vladimir Putin of Russia has accepted an invitation among China's wartime allies, with leaders of Britain, France and the US all staying away. Czech president Milos Zeman will be the only European leader to attend, though Tony Blair and former German Chancellor Gerhard Schroeder will watch the demonstration of military might. Mr Abe and India's prime minister, Narendra Modi, have declined to attend.
Dr Xie Tao, a professor of political science at Beijing Foreign Studies University, said the events were intended for domestic audiences, and not to intimidate Japan. He pointed out that army generals say the parade is about showing loyalty to President Xi – who, in a speech in Paris last year, quoted Napoleon's famous remark: "The lion has woken up. But it is peaceful, pleasant and civilised."
Additional reporting by Cissy Young
Register for free to continue reading
Registration is a free and easy way to support our truly independent journalism
By registering, you will also enjoy limited access to Premium articles, exclusive newsletters, commenting, and virtual events with our leading journalists
Already have an account? sign in
Register for free to continue reading
Registration is a free and easy way to support our truly independent journalism
By registering, you will also enjoy limited access to Premium articles, exclusive newsletters, commenting, and virtual events with our leading journalists
Already have an account? sign in
Join our new commenting forum
Join thought-provoking conversations, follow other Independent readers and see their replies