China accused of torturing UK consulate worker in 15-day ordeal and abducting Hong Kong protesters
'I was blindfolded and hooded during the whole torture and interrogations,' says Simon Cheng, speaking out for first time. 'It felt extremely painful'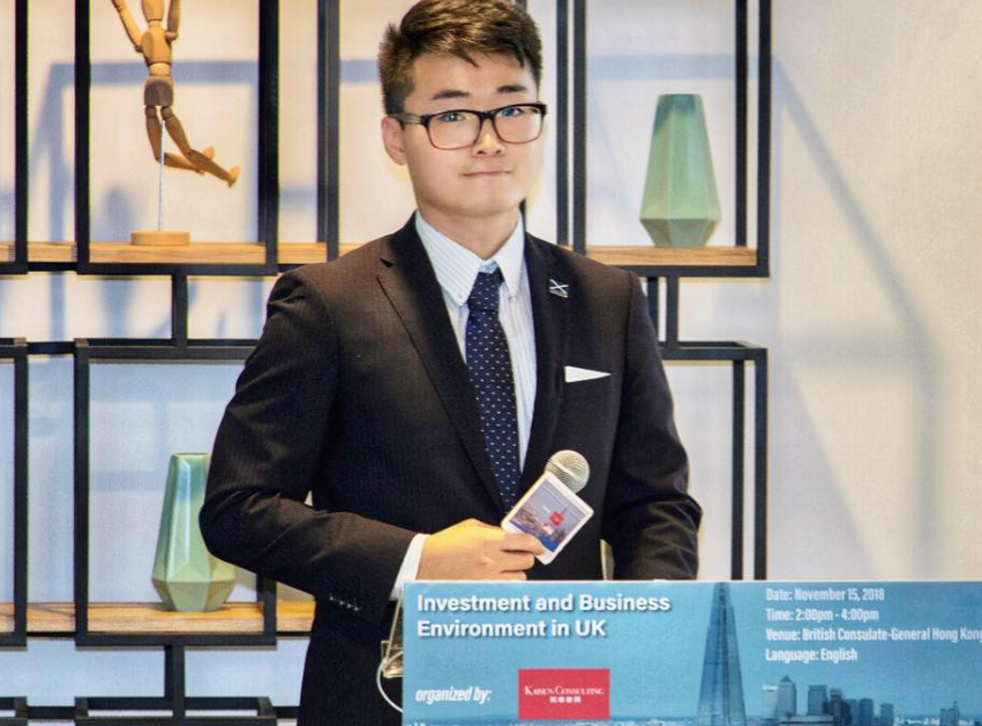 A man who was abducted by China while working for the British consulate in Hong Kong has claimed he was tortured by police during his 15-day detention.
Simon Cheng has provided the first detailed account of his ordeal in mainland China since an international uproar over his arrest in August.
Writing in a post on Facebook, Mr Cheng said he was repeatedly beaten, deprived of sleep, forced into stress poses and hung up to an X-shaped cross "for hours and hours", to the point he was unable to walk.
"It felt extremely painful… I was blindfolded and hooded during the whole torture and interrogations, I sweated a lot, and felt exhausted, dizzy and suffocated," he said.
The UK has summoned the Chinese ambassador in London to express its outrage at Mr Cheng's treatment, which foreign secretary Dominic Raab said "amounts to torture". Mr Raab said the government was "shocked and appalled" by his account.
The case threatens to have serious ramifications for UK-China relations, already frayed by the months-long Hong Kong protests. Britain has repeatedly urged the authorities to act with restraint in the city it handed over to China in 1997, while Beijing has accused Britain of working to stoke the unrest.
Mr Cheng, a Hong Kong national who worked for the UK consulate for two years, says he was mostly employed to attract Chinese investment in Scotland, but was being paid overtime to follow the ongoing street protests and report back on the situation to his bosses.
He was on his way back from a routine business trip to the mainland when Chinese border police stopped him at the train station in Kowloon, and sent him back to the mainland city of Shenzhen.
Once there, he writes in his account, he was detained and questioned alongside people he believed to be Hong Kong protesters who had been arrested and secretly rendered to the mainland.
"The secret police clearly stated that batches after batches of Hong Kong protesters had been caught, delivered and detained in mainland China," he said.
Mr Cheng's claims will fuel fears among the Hong Kong pro-democracy movement that they risk indefinite detention on the mainland, where citizens do not receive the same legal rights and freedoms as they do in Hong Kong, if they are arrested.
In recent days, videos of dozens of protesters being ordered onto trains have received widespread attention on social media.
And the allegation of extra-judicial rendition will lead to more anger given it was an attempt to pass an extradition bill, that would have made it easier for Hong Kong to send criminal suspects to the mainland, that sparked the months-long unrest in the first place.
Chinese state media reports say Mr Cheng was arrested for "soliciting prostitution" in Shenzhen and that he was released after 15 days having confessed to the offence. Mr Cheng wrote that this and another video-taped confession for "betraying the motherland" were coerced, through threats of much longer detention if he did not comply.
Hong Kong protests: Latest after court strikes down face mask ban

Show all 24
China says it doesn't allow suspects to be tortured or make false confessions, although rights groups say both practices are commonplace.
At a briefing on Wednesday, Chinese foreign ministry spokesman Geng Shuang did not address Mr Cheng's allegations directly but said his rights had been protected during his detention, and that he had "admitted his offence completely".
China's ambassador to Britain, Liu Xiaoming, will "by no means accept the so-called concerns or complaints raised by the British side", Mr Geng added.
"The Chinese ambassador to the UK will lodge the complaints with the UK to express our strong opposition and indignation to the UK's wrong words and deeds on Hong Kong in these days," he said.
Mr Cheng said his secret police interrogators were able to access his phone by pulling his hair back and forcing him to open it using facial recognition.
There, they found emails detailing his work with the consulate in observing the protest movement. "I was suspected of being a mastermind and British proxy to incite and organise the protests in Hong Kong," he said.
In an interview with the BBC, he elaborated: "They wanted to know what role the UK had in the Hong Kong protests – they asked what support, money, and equipment we were giving to the protesters.
"I told them I want to make it 100 per cent clear, the UK didn't assign resources or help with the protests."
Mr Cheng said he was asked to resign by the consulate after it became clear that his detention made him a security risk, and he terminated his employment this month after agreeing a severance package.
But in his Facebook post he was also critical of the lack of "concrete support" he had received after his ordeal, and said he no longer felt safe in Hong Kong. He is now in an unidentified third country, he said, seeking asylum.
He said he had decided to speak out now, despite what he described as veiled threats from the Chinese police should he do so, because he "won't give up the fight for human rights, peace, freedom and democracy for the rest of my life, no matter the danger, discrimination and retaliation I will face".
Mr Raab said Mr Cheng "was a valued member of our team".
"I summoned the Chinese Ambassador to express our outrage at the brutal and disgraceful treatment of Simon, in violation of China's international obligations. I have made clear we expect the Chinese authorities to investigate and hold those responsible to account," he said.
Register for free to continue reading
Registration is a free and easy way to support our truly independent journalism
By registering, you will also enjoy limited access to Premium articles, exclusive newsletters, commenting, and virtual events with our leading journalists
Already have an account? sign in
Register for free to continue reading
Registration is a free and easy way to support our truly independent journalism
By registering, you will also enjoy limited access to Premium articles, exclusive newsletters, commenting, and virtual events with our leading journalists
Already have an account? sign in
Join our new commenting forum
Join thought-provoking conversations, follow other Independent readers and see their replies