China sentences Xi Jinping's former rival to life in prison
Sun Zhengcai deprived of political rights for life
Samuel Osborne
Tuesday 08 May 2018 17:07 Comments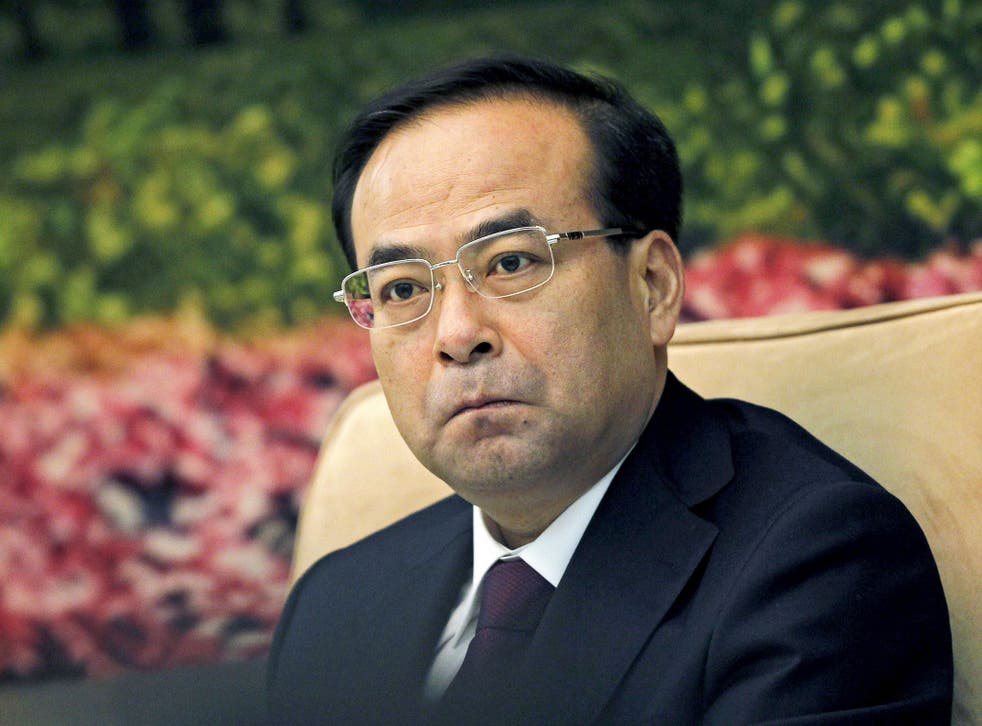 A former Chinese Communist Party official has been sentenced to life in prison for corruption.
Sun Zhengcai became one of the biggest names to fall in Xi Jinping's campaign against corruption and disloyalty.
In April, he admitted to an intermediate court in Tianjin to have taken bribes of more than 170 million yuan (£19.7m).
In addition to being imprisoned, Sun was deprived of political rights for life and his personal property was confiscated.
"After the judgment was announced, Sun Zhengcai told the court he admitted his guilt, expressed repentance, accepted the decision, and said he would not appeal," the official Xinhua news agency reported.
Sun had been elevated to the party's elite 25-member Politburo and was the top official in the western megacity of Chongqing before suddenly being removed in July.
Until then, he had been considered a contender for the top leadership.
He pleaded guilty to the charges and expressed repentance, according to Tianjin's No 1 Intermediate People's Court, which imposed his sentence less than one month after the trial opened in a relatively swift resolution of the case.
In return for the bribes, Sun and his associates allegedly provided assistance to unspecified organisations and individuals with engineering contracts, business operations and other matters, the court said.
Despite his conviction on criminal charges, Chinese leaders and party-run media have made it clear Sun's offences were largely political in nature.
World news in pictures

Show all 50
At a party meeting last year, a senior official stated Sun and other senior figures prosecuted in Mr Xi's anti-corruption crackdown were "conspiring openly to usurp party leadership".
In March, Mr Xi pushed through a constitutional amendment removing term limits on the presidency, allowing him to remain head of state indefinitely.
Mr Xi's sweeping crackdown on corruption has led to the imprisonment or punishment of thousands of officials, and also brought down dozens of senior party and military officials.
Sun's case is similar to that of Bo Xilai, one of his predecessors as Chongqing party chief, who was once considered among the country's most ambitious politicians and a potential rival to Mr Xi. Bo was sentenced to life in prison in 2013 for corruption.
Additional reporting by agencies
Register for free to continue reading
Registration is a free and easy way to support our truly independent journalism
By registering, you will also enjoy limited access to Premium articles, exclusive newsletters, commenting, and virtual events with our leading journalists
Already have an account? sign in
Join our new commenting forum
Join thought-provoking conversations, follow other Independent readers and see their replies