Sichuan earthquake: 100 feared dead as magnitude 6.5 tremor strikes central China
National Commission for Disaster Reduction releases preliminary analysis of the tremor based on data from the region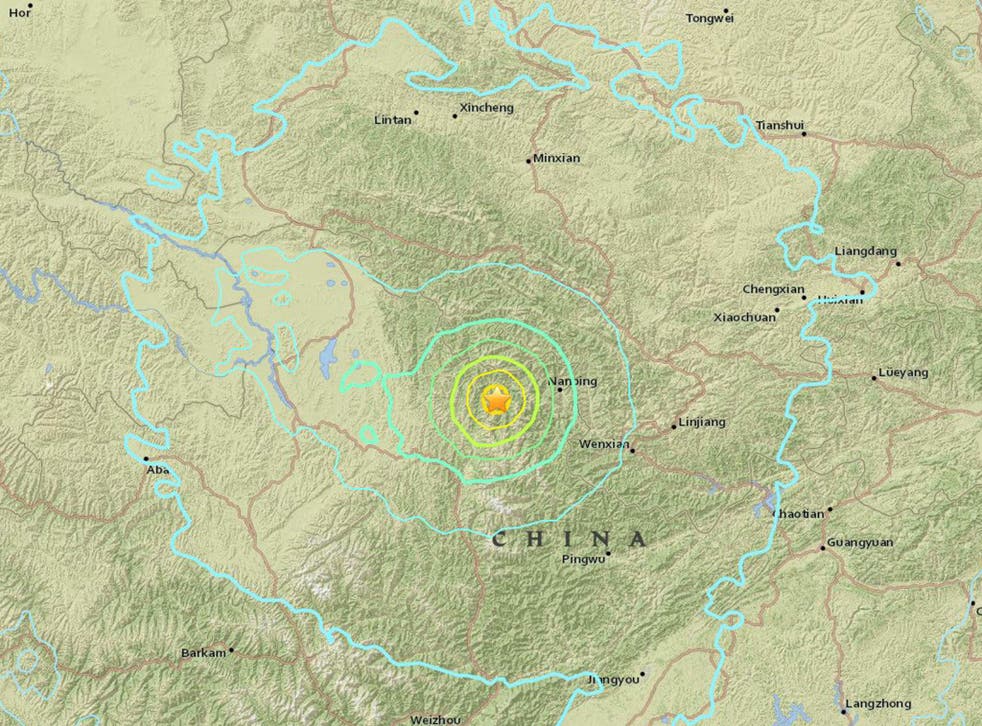 As many as 100 people are feared to have died after a magnitude 6.5 earthquake struck in a mountainous region of central China.
State television said seven people had died, 88 were injured, including 21 of them seriously.
The US Geological Survey said the quake struck in a sparsely populated area 200km (120 miles) west-northwest of the city of Guangyuan at a depth of 10km (6 miles).
But China's National Commission for Disaster Reduction estimated that as many as 100 people living in the area could have died, based on a 2010 census of the region, the AFP reports.
The commission also suggested that more than 13,000 houses may have been damaged.
Officials from Sichuan government also said 100 tourists have been trapped by a landslide but there has been no confirmation over whether any of them were dead or injured.
Spokesman Chen Weide said it was unclear what had happened to them and whether they had been buried or were trapped by a blocked road.
The earthquake struck at about 9.20pm local time (1.20pm GMT) not far from the site of a massive magnitude 8.0 quake that occurred in 2008 and left 87,000 people dead or missing.
The official People's Daily newspaper said more than 600 fire officers and soldiers have been deployed in the aftermath of the quake.
The Red Cross Society of China also told the AFP the quake hit at night leaving communications lines disrupted and communities in the dark.
"It may take some time to learn the extent of damage and casualties," said Gwendolyn Pang, a spokesman with the International Federation of Red Cross and Red Crescent Societies in China.
The Sichuan earthquake administration said the epicentre of the tremor was in Ngawa prefecture, largely populated by ethnic Tibetans, many of whom are nomadic herders, but also close to the Jiuzhaigou a national park known for spectacular waterfalls and karst formations and a popular tourist destination.
World news in pictures

Show all 50
Officials said on social media that more than 38,000 tourists were believed to be visiting Jiuzhaigou.
The area is frequently struck by earthquakes.
Pictures on state media-run social media sites showed some damage in Jiuzhaigou, with tiles having fallen from buildings and people gathering outdoors.
The official Xinhua news agency quoted a Jiuzhaigou tourism official saying that some houses had collapsed or cracked and authorities were organising evacuations.
Shaking was felt in the provincial capital Chengdu and as far away as Xian, home of the Terracotta Warriors, according to users of Chinese social media.
The China Earthquake Networks Centre measured reported the quake at magnitude 7.0 and said it was 20km (12 miles) deep.
Additional reporting by agencies.
Register for free to continue reading
Registration is a free and easy way to support our truly independent journalism
By registering, you will also enjoy limited access to Premium articles, exclusive newsletters, commenting, and virtual events with our leading journalists
Already have an account? sign in
Register for free to continue reading
Registration is a free and easy way to support our truly independent journalism
By registering, you will also enjoy limited access to Premium articles, exclusive newsletters, commenting, and virtual events with our leading journalists
Already have an account? sign in
Join our new commenting forum
Join thought-provoking conversations, follow other Independent readers and see their replies