Chinese drivers forced to stare at full-beam headlights in 'eye for an eye' punishment for those who dazzle others
Offenders will also receive a road-side lecture on how to use their headlights properly, as well as a £30 fine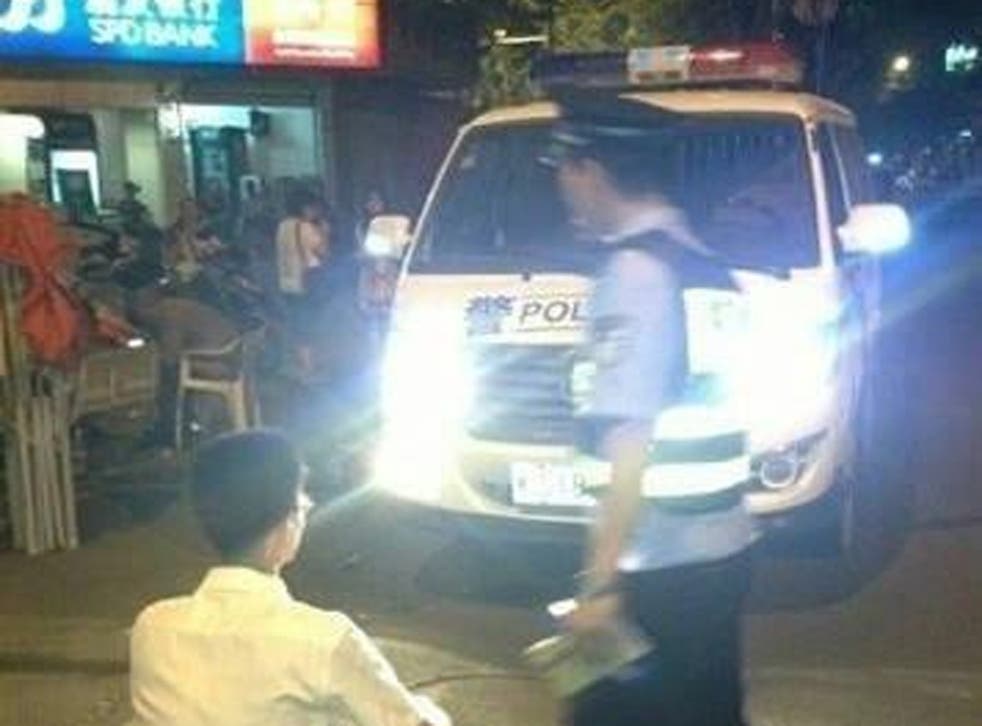 Police in the forward-thinking Chinese city of Shenzhen have come up with a novel "eye for an eye" method of punishing drivers who misuse their headlights and dazzle other road-users.
According to an apparently jovial posting on the official social media account for the Shenzhen traffic police department, "from now on" anyone doing so will be made to stare at the police's own full-beam headlights for five minutes.
It might initially be thought that the warning on Sina Weibo – the closest Chinese equivalent to Twitter – was a joke on the part of the police. It is, after all, punctuated with a large "ha-ha" laughing emoticon.
But the post has also been accompanied by a photograph apparently showing the punishment being meted out to a driver. The image shows a man sat on a stool in front of an empty police van with its lights on full, while an officer stands in attendance.
Later posts added that offenders would be lectured on the proper use of their headlights at the roadside, as well as being hit with a 300 yuan (£30) fine, according to Sky News.
Located just north of Hong Kong and built up from scratch just a few decades ago, Shenzhen is seen as a modern city at the forefront of car engineering. It is known across China for making widespread use of electric taxis and buses, the Wall Street Journal reported.
The Shenzhen police force has a strong following on Weibo, and many were pleased with the idea of a creative punishment for full-beam abusers.
According to the Journal, one wrote: "An eye for an eye, and a tooth for a tooth! This punishment should be popularized. When can it be used to deal with red-light running or hit-and-run?"
Another said the measures should be even harsher, writing: "Full-beam headlights are evil. I suggest they extend the stare time to 30 minutes, splitting it into three time periods, and let people take a 60-second break in between."
Not everyone was impressed, however. One said the measure would actually "cause more danger on the road" by putting already-bad drivers back out there in a dazed and confused condition.
"Traffic police should follow the law. Please tell me what law or regulation is this punishment based on?" another Weibo said.
And on the topic of whether the punishment should be rolled out to other Chinese cities, one social media user was unconvinced.
"I live in Shanghai," the blogger Darkcity2 wrote. "Of all the absolutely mind-bogglingly inconsiderate **** drivers do on the road here, driving with your high beams on is low on the list."
Join our new commenting forum
Join thought-provoking conversations, follow other Independent readers and see their replies