Chinese government reminds Hong Kong 'who's the real boss' with white paper spelling out its interpretation of the region's 'one country, two systems' model
Beijing regime says it will only pick 'patriotic' officials to run former British colony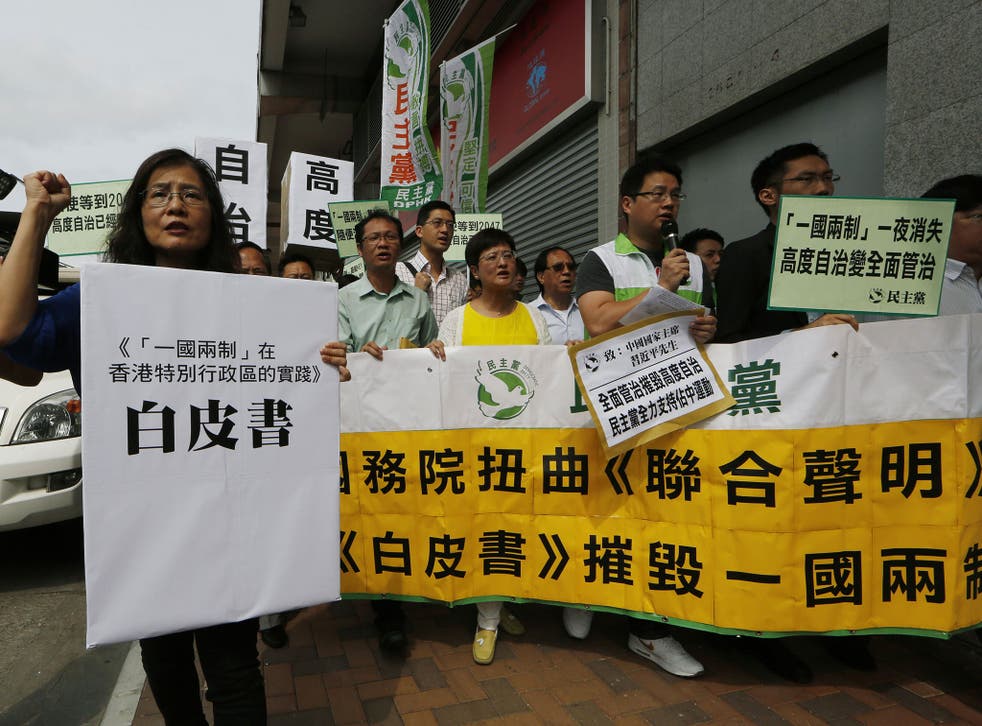 It was, the influential South China Morning Post proclaimed, a reminder of "who's the real boss".
China's government released a key policy document this week, spelling out its interpretation of the "one country, two systems" model that was negotiated as part of Hong Kong's handover from British rule in 1997.
That system, enshrined in Hong Kong's Basic Law, had granted the territory a high degree of autonomy within China and allowed a fiercely capitalist city and global financial centre to flourish – with significant civil liberties and a largely free press and judiciary – under China's one-party Communist rule.
But many in Hong Kong now worry that those liberties are under threat as Beijing asserts what has been described as "total control".
Beijing reaffirmed its promise to allow universal suffrage in 2017 in the election for Hong Kong's top political post, the chief executive. But at the same time, it made clear that the Chinese government would retain the ultimate say and that only "patriots" would be allowed to run for the job.
"Loving the country is the basic political requirement for all of Hong Kong's administrators," said China's "white paper", widely interpreted as meaning that nobody seen as inimical to Beijing would be allowed to assume key posts in Hong Kong.
At the same time, Beijing emphasised that it has "comprehensive jurisdiction" over Hong Kong, which was just "one of the local administrative regions of the country". It warned that the territory's "high degree of autonomy is subject to the central government's authorisation" and that the principle of "two systems" is subordinate to the idea of "one country".
Beijing said some people had a "confused and lopsided" understanding of what the Hong Kong model meant. It also warned "outside forces" against using the city as a way to interfere in China's domestic affairs – understood to be directed mainly at the US and Britain, whose governments have stressed that China needs to keep its promise to grant Hong Kong democracy.
Although Hong Kong's government welcomed Beijing's white paper, pro-democracy politicians burned copies of it on Wednesday, and the Federation of Students held up a roll of toilet paper made up of pages of the Basic Law.
The Hong Kong Bar Association said the white paper threatened the "core value of judicial independence" and complained that it lumped judges in with politicians and bureaucrats as administrators who must be "patriotic".
The New York-based Committee to Protect Journalists has also condemned the recent detention of two Hong Kong journalists in mainland China, complaining that media freedom was "under pressure".
The release of the white paper came at a time when the government of Chinese President Xi Jinping seems to be winning back support among ordinary Hong Kongers. An annual opinion poll carried out by Hong Kong University and released last week showed that six per cent more people held a positive view of the Beijing government than held a negative view. That compares with nine per cent more people holding negative views than positive in 2013. Analysts said this could reflect Xi's efforts to combat corruption and bring pollution under control.
© Washington Post
Join our new commenting forum
Join thought-provoking conversations, follow other Independent readers and see their replies