Chinese man survives mauling from Bengal tigers after jumping in cage to 'feed the animals'
The man was reportedly carrying a backpack full of brown rice when he entered the tigers' pen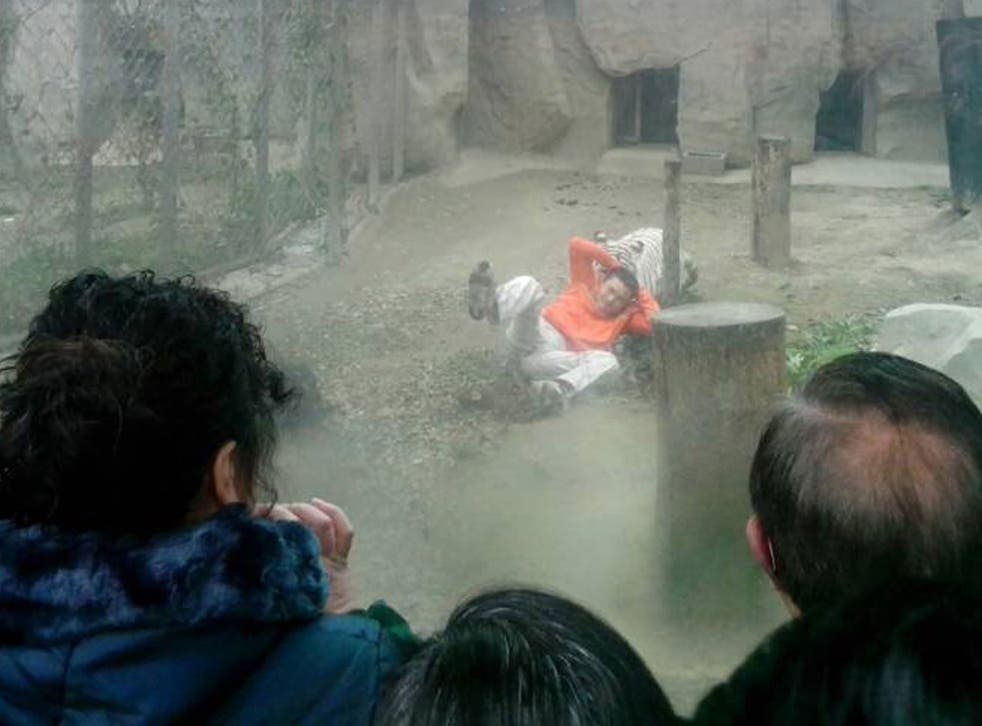 A man has survived being mauled by a pair of white Bengal tigers in a Chinese zoo after he jumped into their enclosure with a bag of rice because he "wanted to feed the animals".
Shocked visitors watched on as the man, identified in local media reports as 27-year-old Yang Jinhai, was scratched, bitten and dragged around the tigers' enclosure before keepers could intervene.
Witnesses said they initially thought Mr Yang must have been a member of staff at the zoo himself after he was spotted carrying a backpack in the branches of a tree overlooking the tiger pen.
But after a number of fellow tourists started shouted at him to come back down, Mr Yang jumped from the branch into the enclosure.
Eyewitness Feng Lin told local media: "He climbed up the outside of the cage and jumped inside expecting, I assume, that the tigers would pounce on him. Instead the two tigers, a male and a female, seemed more nervous than anything else and the female actually ran off.
"He then tried to antagonise the tigers by pulling faces at them. Eventually he was attacked by the male where he was cut after being scratched and bitten before he could be rescued by zoo keepers who fired a tranquilliser dart at the male tiger."
According to the Chengdu Business Daily, around 50 staff members responded in line with emergency protocol, first using a water hose to shock the male tiger into dropping Mr Yang, before tranquillising both male and female tigers.
Before keepers were able to enter the enclosure and retrieve him, Mr Yang reportedly retreated to the glass viewing panel at the front of the cage and started daubing it with pinkish-red ink.
Mr Yang was treated at the 416 Hospital in Chengdu for around a dozen light puncture wounds, and upon his release told reporters he had "wanted to feed the tigers". His backpack was found to be filled with brown rice, but local media agencies quoted family-members saying he had been suffering mental health problems recently and would now be taken for counselling.
Zoo keepers said Mr Yang had been extremely lucky to survive the ordeal. The white Bengal tigers were described as more docile because they have been bred from captivity, and had also only just finished a large meal.
They also inhabit a cage directly adjacent to a much more dominant, larger Siberian tiger, naturally making their behaviour more subdued. One keeper added that the outcome would have been very different if Mr Yang had chosen to enter the other enclosure.
Register for free to continue reading
Registration is a free and easy way to support our truly independent journalism
By registering, you will also enjoy limited access to Premium articles, exclusive newsletters, commenting, and virtual events with our leading journalists
Already have an account? sign in
Register for free to continue reading
Registration is a free and easy way to support our truly independent journalism
By registering, you will also enjoy limited access to Premium articles, exclusive newsletters, commenting, and virtual events with our leading journalists
Already have an account? sign in