Yulin Dog Meat Festival: Netizens rally in defence of event that will see 10,000 cats and dogs slaughtered
Vendors of the meat are preparing for huge protests as the meat festival kicks off this weekend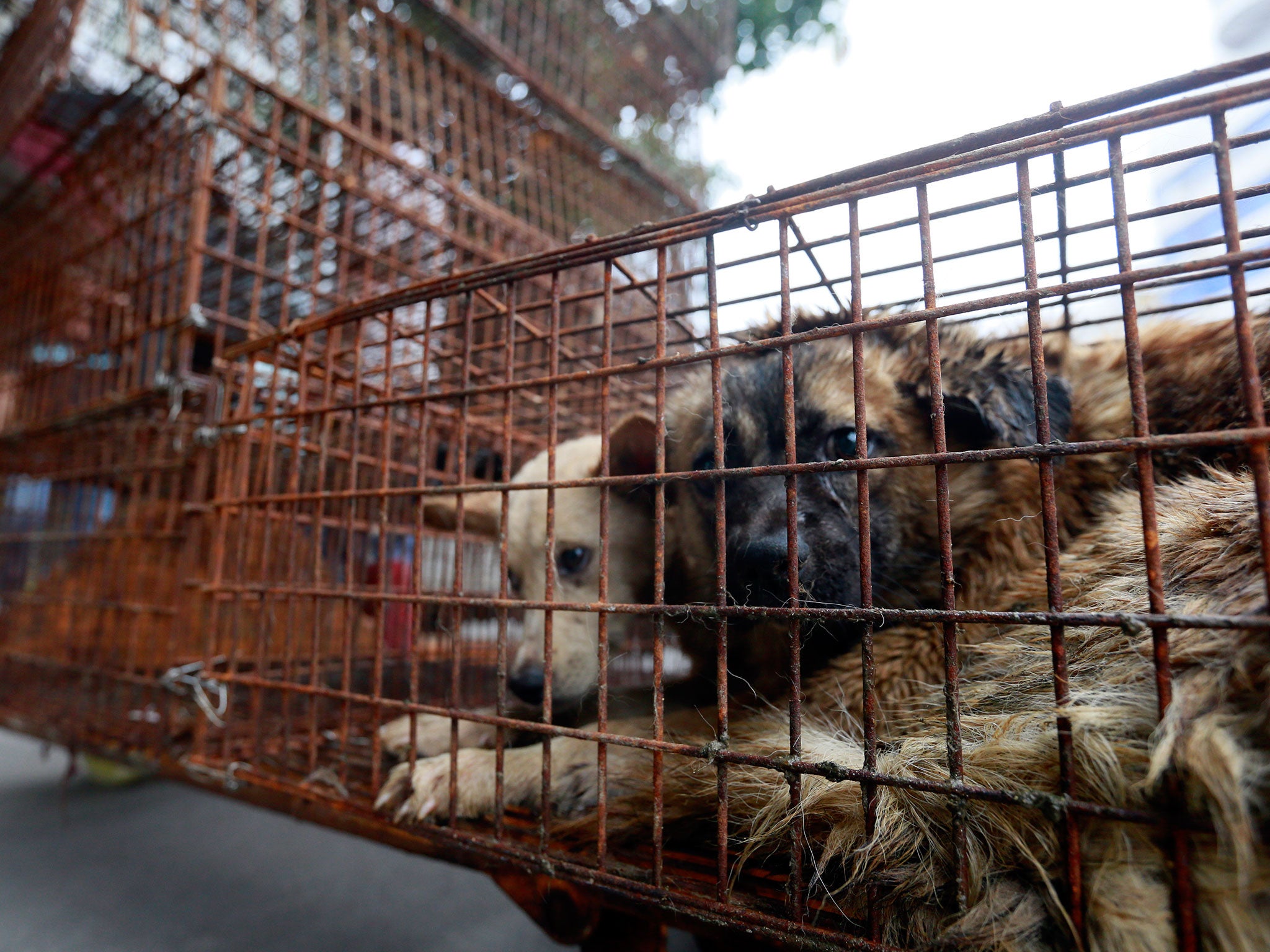 When Peter Li visited a slaughterhouse on the edge of Yulin in China's Shaanxi province, the first thing to hit him was the mixed stench of dirty water, dog hair, blood and blow-torched skin.
Mr Li, animal activist group Humane Society International's China specialist, had arrived at 6.30am to find that the day's main slaughtering session was already finished. The internal organs piled on the grubby floor were evidence of this. "I saw cat and dog intestines and carcasses strung up," he says. "Workers were blow-torching the carcasses to make them shiny and ready for shipment to restaurants. There were some dogs still alive in wire cages, but they looked exhausted, emaciated and dirty."
There has been much international condemnation of the annual so-called dog meat festival in Yulin. The event is in fact the city's summer solstice festival, and will take place on the weekend of 21 and 22 June. Traditionally some 10,000 dogs and, more recently cats, are slaughtered for consumption at the event, all washed down with gallons of lychee wine.
In pictures: Inside the Yulin cat and dog meat trade
Show all 13
An unprecedented global social media campaign has taken off in the last few weeks: the Twitter hashtag #stopyulin2015 has been used hundreds of thousands of times this year and a Facebook group, Stop Yulin Dog & Cat Meat Festival 2015, has more than 17,000 "likes". A Change.org petition against the event by the US animal rights group Duo Duo closed after attracting more than 200,000 signatures.
Yet the pressure such campaigns exert on Chinese authorities is slight, limited both by the government's dismissive attitude towards outside opinion and by the fact that Twitter and Facebook are both blocked in the country. Furthermore, there has been a backlash from Chinese "netizens" – Chinese slang for online citizens – against finger-wagging foreigners.

"Dog-meat eating is a custom belonging to other people, the same way that people of the Islamic Hui ethnic group doesn't eat pork," one netizen wrote. "They won't protest us for eating pork. We should mutually respect each other. If you don't want to eat something, then don't." Another wrote: "Let's all protest the Christmas practice of eating turkey!"
The June dog-meat eating custom in Yulin began in the 1990s, but the consumption of dogs in China is thought to predate written history. In the rural south, dog meat is eaten mainly by members of the older generations, and according to superstition it has strong heating qualities, making it popular in the winter - often eaten as part of a steaming hot-pot.
As the industry is largely unregulated, estimates about the amount of dog meat consumed in China are uncertain. However, Hong Kong-based NGO Animals Asia has released a report based on a four-year investigation in which it claimed hat up to 10 million dogs are slaughtered in China for consumption each year. The group said that few of the dogs were raised by meat suppliers, with most being bought or, as some protesters have claimed, stolen.
In recent years protest within China against the dog-meating tradition has been fuelled by campaigns on Chinese rather than international social media. Around 350,000 people have taken part in an online discussion forum about the festival on Weibo, China's version of Twitter. Anti-government messages and images are heavily-censored on Weibo, but while protest against human rights abuse or pro-democracy views are crushed, animal activism is allowed.
The discussion features arguments both for and against eating dog meat, and has sparked the mobilisation of activists across the country, many of whom had never heard of the Yulin event before reading about it on social media.
One activist, who asked to be identified only by his surname, Hao, works with the Small Animal Protection Association in the city of Xi'an, northeast China. He has attended the Yulin event twice, to lobby the local government and protest against sellers.
"I wouldn't know about it if it weren't for the recent rise of social media here," he told the Independent. "Now we have QQ and WeChat [both online messaging services] to spread news. Last year many volunteers connected with us and travelled to Yulin to join our protests."
In 2011 a huge social media campaign contributed to the banning of a similar dog meat festival in Qianxi Township in Jinhua City, Zhejiang province. The event had taken place regularly for around 600 years and was based on military folklore. According to legend, a Ming Dynasty military victory in the 14th century was aided by soldiers killing the township's dogs so their barking wouldn't give their presence away.
An activist from animal rights group Guangdong Best Volunteering Centre, who posts online under the name Shan Dai, said that her organisation reached more government officials through social media, aiding their lobbying efforts. "A post about the festival I made was forwarded 6,000 times," she says. "So many netizens protested that eventually the local government acted resolutely. Sadly, in Yulin the local government has weak awareness of animal protection."
It is likelier, in fact, that the Yulin local government is more interested in self-preservation than in animal protection. The municipal authorities used to endorse the festival but as protests grew they backed off, declaring it no longer an "official" event. They have, however, clamped down on dogs being slaughtered in public, resulting in slaughterhouses being moved to inconspicuous locations.
There were scuffles between protesters and vendors in Yulin last June, causing many restaurant owners to remove dog meat from their menus to avoid attention. "One dog meat seller in a market ran at us with a knife when we tried to take photos last year," says Mr Hao.
The efforts of the likes of Mr Hao and Ms Shan are working, with the dog meat industry beginning to decline. Last year some Yulin restaurants put donkey meat on their menus to replace dog meat. Meanwhile in Guangzhou in Guangdong province Sunshine Restaurant, which had been serving dog meat in the southern city since 1963, closed down due to lack of demand.
Food quality watchdogs in the city warned the public not to eat dog meat and checks of meat sources are being intensified. Nationally Zheng Xiaohe, a member of the National People's Congress political advisory body, proposed at its annual meeting a ban the slaughter and consumption of cats and dogs. The legalities of selling dog meat are already hazy, with many protesters claiming public health violations.
Objectors also claim that many dogs sold for food are stolen domestic pets, and last year apprehended a series of dog transport trucks in various locations. Often the canines on board were rescued after activists proved the sellers did not have valid food industry licenses.
The public image of dog meat vendors as bloodthirsty, cleaver-wielding puppy-killers has aided this downturn, but many say it's unfair. Mr Li said he met five dog-meat industry workers in Yulin to challenge them on their career choices.
"One lady who owned a slaughterhouse told me that her teenage son had questioned her about why she couldn't just do another job instead, considering all the pressure from activists," Mr Li said. "She replied, 'It's our livelihood – do you think we enjoy it? Absolutely not, but it's just what we know how to do.'"
Ms Shan believes that the Yulin event will continue for around another five years before activist pressure gets too great and a closure is forced. Until that point she'll be returning every year, fuelled by the killings she continues to witness.
"I've seen vendors dragging dogs around before smashing their heads with hammers but not killing them, saying this helps keep the meat more fresh," she said. "As long as this continues, we'll be back every year."
The local dog meat workers may be struggling against the downturn, but they'll still be prepared for the moment when protests turn physical again this weekend. For many, it is simply about protecting their livelihood from people they view as out-of-towners who don't understand their customs.
"With more activists than ever set to converge, there could be conflict again," says Mr Li. "The slaughterhouse owner I spoke to said that some dog meat workers from other cities would be coming to Yulin to beef up support. She said that for the past four years there have been protesters standing in front of her store, but this time she's prepared to fight back."
Additional reporting by Cissy Young
Join our commenting forum
Join thought-provoking conversations, follow other Independent readers and see their replies