Christian governor of Jakarta found guilty of blasphemy for saying Muslims should vote for him
Governor 'Ahok' Purnama had said people were being deceived if they believed the Quran forbids Muslims from voting for non-Muslims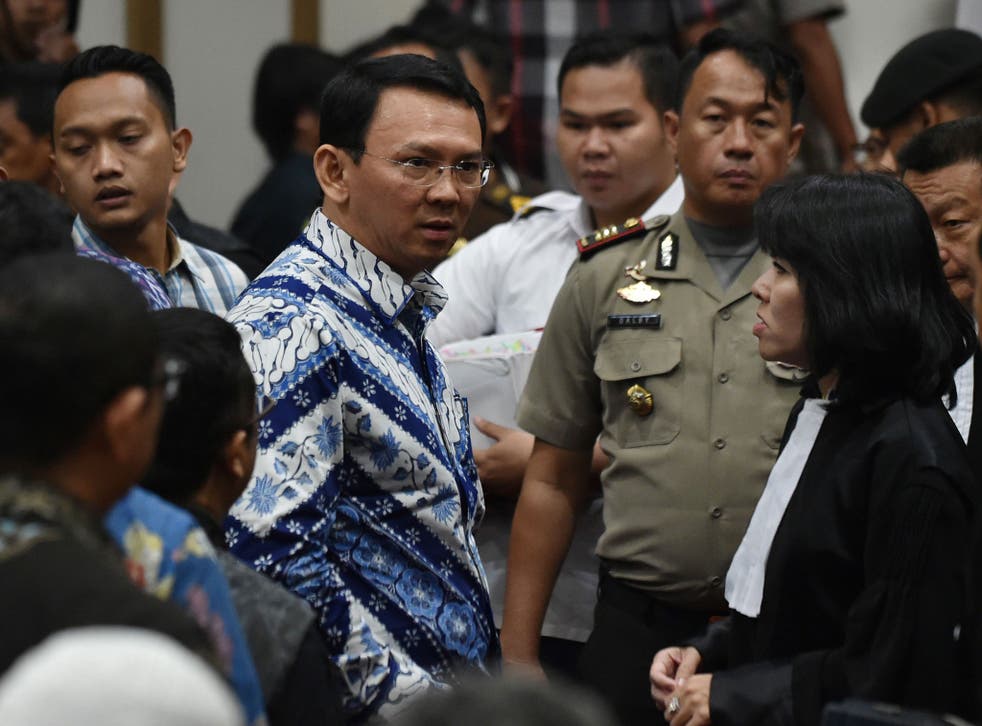 The Christian governor of Jakarta has been sentenced to two years in jail for blasphemy in a case that has undermined Indonesia's reputation for practising a moderate form of Islam.
Governor Basuki "Ahok" Tjahaja Purnama said he would appeal against the guilty verdict and sentence.
The five-judge panel said he was "convincingly proven guilty of blasphemy" and ordered his arrest.
The lead judge, Dwiarso Budi Santiarto, said his comment during an election campaign that people were being deceived if they believed the Quran forbids Muslims from voting for non-Muslims had degraded and insulted Islam.
"As part of a religious society, the defendant should be careful to not use words with negative connotations regarding the symbols of religions including the religion of the defendant himself," he said.
The trial was a purely criminal one and the court disagreed that there were political aspects to the case, the lead judge said.
The two-year prison sentence was a surprise as prosecutors had recommended a two-year suspended sentence.
The maximum sentence for blasphemy in Muslim-majority Indonesia is five years in prison.
​Hardline Islamist groups, whose supporters were also gathered outside the courtroom, had called for the maximum penalty possible on the basis that Purnama's comments had insulted the Quran.
Thousands of police were deployed in the capital early on Tuesday in case clashes broke out between Purnama's supporters and opponents. There was no immediate sign of any violence after the court's verdict.
Purnama denied wrongdoing, though he apologised for the comments he made. He lost his bid for re-election in an April run-off - after the most divisive and religiously charged election in recent years - to a Muslim rival, Anies Baswedan. He will hand over to Baswedan in October.
Analysts say radical Islamic groups, which organised mass protests against Purnama as he sought re-election, had a decisive impact on the outcome of the election.
The government has been criticised for not doing enough to protect religious minorities but President Joko Widodo, a key ally of Purnama's, had urged restraint over the trial and called for all sides to respect the legal process.
Andreas Harsono of Human Rights Watch said the guilty verdict against Purnama was "a huge setback" for Indonesia's record of tolerance and for minorities.
World news in pictures

Show all 50
"This is bad news for Indonesian minorities," he said. "If someone like Ahok, the governor of the capital, backed by the country's largest political party, ally of the president, can be jailed on groundless accusations, what will others do?"
The tensions whipped up during the Jakarta election have raised concerns about the rising influence of Islamist groups in Indonesia, which is home to sizeable communities of Buddhists, Hindus, Christians and people who adhere to traditional beliefs.
The government said on Monday it would take legal steps to disband Hizb ut-Tahrir Indonesia (HTI), a group that seeks to establish an Islamic caliphate, because its activities were creating social tensions and threatening security.
AP, Reuters
Register for free to continue reading
Registration is a free and easy way to support our truly independent journalism
By registering, you will also enjoy limited access to Premium articles, exclusive newsletters, commenting, and virtual events with our leading journalists
Already have an account? sign in
Register for free to continue reading
Registration is a free and easy way to support our truly independent journalism
By registering, you will also enjoy limited access to Premium articles, exclusive newsletters, commenting, and virtual events with our leading journalists
Already have an account? sign in
Join our new commenting forum
Join thought-provoking conversations, follow other Independent readers and see their replies