Clerics and hardliners vent their fury at Pervez release
Conservatives threaten backlash over student who promoted women's rights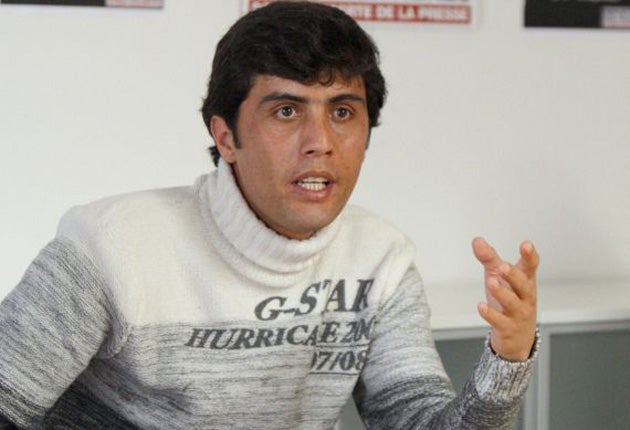 Conservative and religious groups in Afghanistan reacted with fury yesterday to the news that Sayed Pervez Kambaksh, who was sentenced to death for promoting women's rights, has been freed.
After President Hamid Karzai secretly pardoned the 24-year-old student, hardliners called for an urgent ulama, a meeting of Islamic scholars, to organise protests against the decision.
Mr Kambaksh's brother, Sayed Yaqub Ibrahimi, said he was "very glad, very happy" at what had happened, and human rights organisations and a number of liberal parliamentarians welcomed the news.
The fate of Mr Kambaksh became a cause célèbre after his plight was revealed by The Independent. A petition to secure justice secured more than 100,000 signatures and the Afghan government came under pressure from Western leaders to free him.
Mr Kambaksh's original death sentence was set aside by Afghanistan's Supreme Court. But the judges ruled that he must serve at least 20 years in prison. Following the presidential amnesty he is now starting a life with a new identity in another country after 20 months of incarceration.
Mr Ibrahimi said: "We are all very happy that so much progress has been made with Pervez and I want to thank all the people who have helped in this. I have to be careful about what I say but, of course, Pervez should never have been put in that position, it was wrong. The family is very glad he is out."
But yesterday in Kabul, Maulavi Hanif Shah Hosseini, a prominent mullah, declared: "Kambaksh committed a crime against the Koran and the people who conspired so that he escaped the law have also committed a crime.
"All the decisions to help this man who disrespected Islam are coming from the foreigners. But the decision to follow along with this came from Karzai and the Afghan government and we disown them. We are going to call for a gathering of the ulama to decide what to do. We are not going to make a big stand against this and any trouble will be the fault of people who helped Kambaksh."
Qari Rahmatullah, MP for Kunduz, said: "This just shows that our country is not independent. Our policies are dictated by outsiders. Why should a man be allowed to insult Islam and then just walk away?" And he added: "Good Muslim people will be unhappy about this and Mr Karzai will have difficulties if the voting [in the election] goes to the second round."
But fellow parliamentarian Shakria Basakzai, an MP for Kabul, said: "The real scandal is that it took so long to get him out. The people who keep on saying that Pervez should be punished do not know the facts of the case."
Humayra Akakhail, the MP for Mazar-i-Sharif, the city where Mr Kambaksh was convicted after a trial lasting just four minutes, said: "I am aware that the man had health issues and it is good that he had been freed so that he can get proper treatment. I do not think it was helping anyone to keep him in jail."
The differing views were reflected in the streets of Kabul. Muqbullah Ali, a 46-year-old labourer, was adamant that: "This is a very bad thing and it is not good for the country, those responsible cannot just walk away as if nothing had happened. If our religious leaders now ask us to take some action then I shall do so."
But Akhbar Mohammed Shah said that Mr Karzai has got himself a vote. "Maybe this is the start of a change," the 23-year-old engineering student said, "And we shall get back the old Karzai my parents voted for five years ago."
A spokeswoman for Human Right's Watch said the organisation "welcomed what has happened", and Vincent Brussel, of the journalists campaigning group Reporters Without Borders, said: "This is great news. Pervez became a symbol of the oppression which is taking place in Afghanistan and the persecution the media faces there. We know there are many worrying things going on there and we must be vigilant. But The Independent led the way in this and the newspaper and others in the campaign have every reason to be proud."
Join our commenting forum
Join thought-provoking conversations, follow other Independent readers and see their replies