Coronavirus: Why India has had to pass new law against attacks on healthcare workers
Doctors had threatened protests over assaults on frontline workers, but one ICU head says incidents are nothing new after decades of underfunding in healthcare system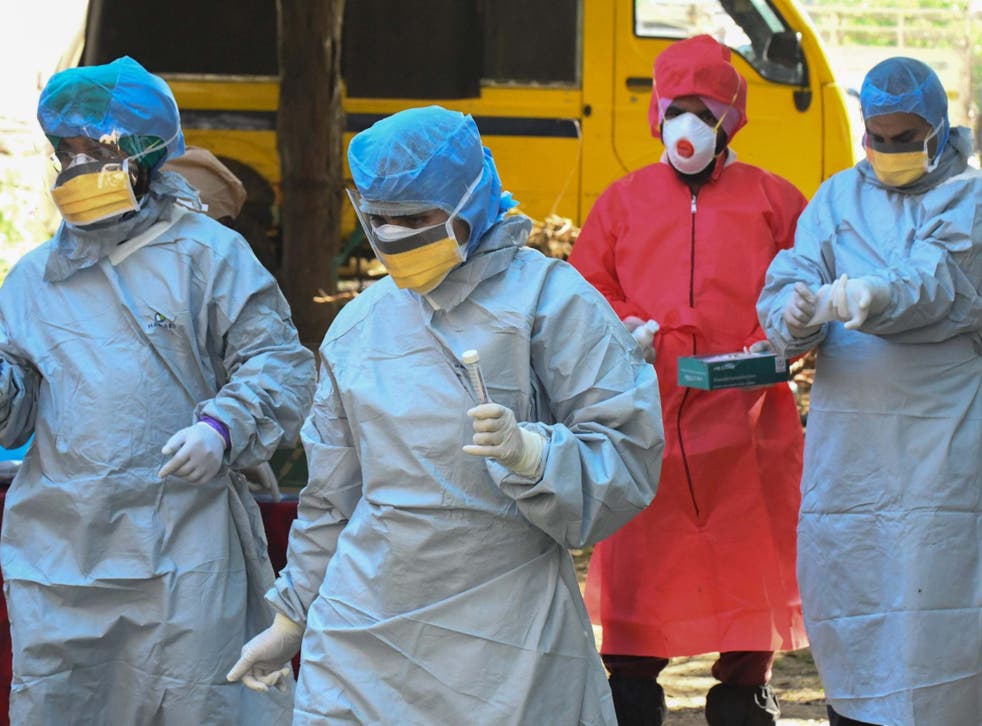 India is amending its emergency epidemic law to make attacks on healthcare workers punishable by up to seven years in prison, after a spate of incidents involving violence towards those on the frontline of the country's coronavirus response.
Doctors, nurses and community health workers have been spat on, stoned and beaten with sticks in dozens of seemingly daily incidents reported from across the country since India went under national lockdown a month ago on 24 March.
Healthcare workers have faced non-violent discrimination as well, with doctors evicted from their homes by landlords worried they could be Covid-19 carriers. In an incident in Chennai this week, 20 people were arrested after a mob of locals stopped a family from burying the body of a well-known doctor who died with coronavirus, fearing it would spread the disease in their neighbourhood.
Prime minister Narendra Modi has repeatedly used his national addresses during the crisis to appeal to people to "respect and honour" healthcare and emergency workers – people he has described as "coronavirus warriors".
But the incidents have continued, and Mr Modi's cabinet on Wednesday approved an executive order updating the colonial-era 1897 Epidemic Diseases Act to provide additional protections for all healthcare professionals, from community Accredited Social Health Activist (ASHA) workers to consultants, information minister Prakash Javadekar told reporters.
Under the new law, those who assault health workers will face a jail term ranging from three months to five years, and a fine of up to 200,000 rupees (£2,100). If the attack results in serious injury, the maximum jail sentence rises to seven years and the fine up to Rs 500,000.
Mr Modi said the amendment "manifests our commitment to protect each and every healthcare worker who is bravely battling Covid-19 on the frontline". "It will ensure safety of our professionals," he wrote on Twitter. "There can be no compromise on their safety!"
The order comes after the Indian Medical Association (IMA), the largest national body representing healthcare workers, threatened to stage nationwide protests over the attacks on their members. A letter calling 22 April and 23 May as protest days described the incident involving the doctor denied a funeral in Chennai as "the last straw".
Home minister Amit Shah met with representatives of the IMA on Wednesday and said he "assured doctors that the Modi government is committed to their cause". The IMA later said it was withdrawing its protest, citing "the immediate high level response of government".
Not all doctors are happy with the ordnance, however. In an interview with The Independent, Dr Sumit Ray, head of an ICU department at a hospital in Gurgaon just outside the capital Delhi, said the law risked adding to "a confrontational [relationship] between healthcare workers and the people".
"I condemn violence against healthcare workers, absolutely… but we have to look at long term solutions to these things. This ordnance is within the Epidemic Disease Act, and as soon as that is withdrawn so will this order. But the violence towards doctors will not end with the end of the epidemic."
What attacks have there been?
The incident involving neurosurgeon Dr Simon Hercules' body in Chennai happened on Sunday night, when his friends and family took his body to a burial ground. People living in the area attacked the funeral party, police said, despite federal guidelines saying that the burial of people infected with Covid-19 is safe as long as precautions are followed.
Local media reported that the mob attacked Dr Hercules' friends and family with wooden sticks and metal rods. Two ambulance drivers were also injured in the incident, which the Tamil Nadu state health minister described as "condemnable".
Earlier in the month, a video went viral on social media from an incident in the central Indian city of Indore, where a crowd threw stones at two female doctors who were wearing full personal protective equipment (PPE).
The pair had gone to check on a woman suspected of having Covid-19 when they were attacked. One of them, Dr Zakiya Sayed, told the BBC the assault came completely out of the blue. "We were on our usual round to screen suspected cases. We had no reason to suspect that people would be agitated against medical teams," she said. "I had never seen scenes like that. It was frightening. We somehow fled from the mob. I am injured but not scared at all."
Many incidents have not involved high-ranking doctors, but rather community workers under the ASHA programme who have been carrying out contact tracing and door-to-door collection of swabs for testing.
On Tuesday this week, a 39-year-old ASHA worker was attacked in Faridabad, another satellite city outside Delhi, while going door-to-door surveying households about coronavirus symptoms and contact history.
Rekha Sharma said the violence began after she visited a Muslim household and asked if anyone there had any links to an event organised by an Islamic missionary group in the capital in late March. The event has been linked to positive cases in several states but an intense focus on it from officials and media is also believed to have contributed to a rise in Islamophobia.
"I am supposed to ask [about the event]," Ms Sharma told reporters. "But they got furious after I asked them that and started abusing me." She and senior medical officers called the police, and in the clashes that followed five police officers were also injured.
Why are healthcare workers under attack in India?
Dr Ray said the fact Muslims had become even more "isolated, ostracised and stigmatised" during the pandemic was clearly a contributing factor in the rise in attacks on health workers.
But the attacks are far from just being perpetrated by Muslims – "there is also this fear [among all communities] that those who are named as suspected cases or diagnosed with Covid-19 will themselves get stigmatised or ostracised, that people around them will make it difficult for them to live. So they don't want to be detected… and they are lashing out," he said.
The root cause of the violence, according to Dr Ray, is "an underlying lack of trust and faith in the healthcare system in many states", particularly from lower class communities and religious minority groups, that dates back decades.
Like many he cites Kerala as a positive example. The state has one of the best-funded and staffed healthcare systems in India, after many years of strong management and the devolution of spending on health matters to local town and even village councils.
"Why aren't attacks happening in Kerala?" he asks. "It's because the people in Kerala believe that the government, when it is going around quarantining, testing and contact tracing, it is not doing so out of bias."
That isn't to say discrimination against healthcare workers is limited only to certain communities, however. Dr Ray admits that even at his own hospital, a private facility in a relatively affluent area, several junior doctors have effectively been rendered homeless by landlords "who have thrown [them] out, asked them to leave overnight or with one or two days' notice".
The only proper solution, he says, is to rebuild public trust. "In the long run we have to gain the confidence of the people and improve the public health system," he says. "Wherever there is good quality, accountable healthcare – and I use the NHS as an example – the fact is that the trust is there.
"People in the UK wait in NHS queues – they obviously become pissed [off] while standing there, but you never see them [lash out], because they believe that the people [working] there are trying to do the best they can in the situation. And that is the crucial thing."
Register for free to continue reading
Registration is a free and easy way to support our truly independent journalism
By registering, you will also enjoy limited access to Premium articles, exclusive newsletters, commenting, and virtual events with our leading journalists
Already have an account? sign in
Register for free to continue reading
Registration is a free and easy way to support our truly independent journalism
By registering, you will also enjoy limited access to Premium articles, exclusive newsletters, commenting, and virtual events with our leading journalists
Already have an account? sign in
Join our new commenting forum
Join thought-provoking conversations, follow other Independent readers and see their replies