Coronavirus: The mysterious doomsday cult at the centre of South Korea's 'super-spreading event'
City of Daegu facing 'unprecedented crisis' following outbreak linked to Christian church and its followers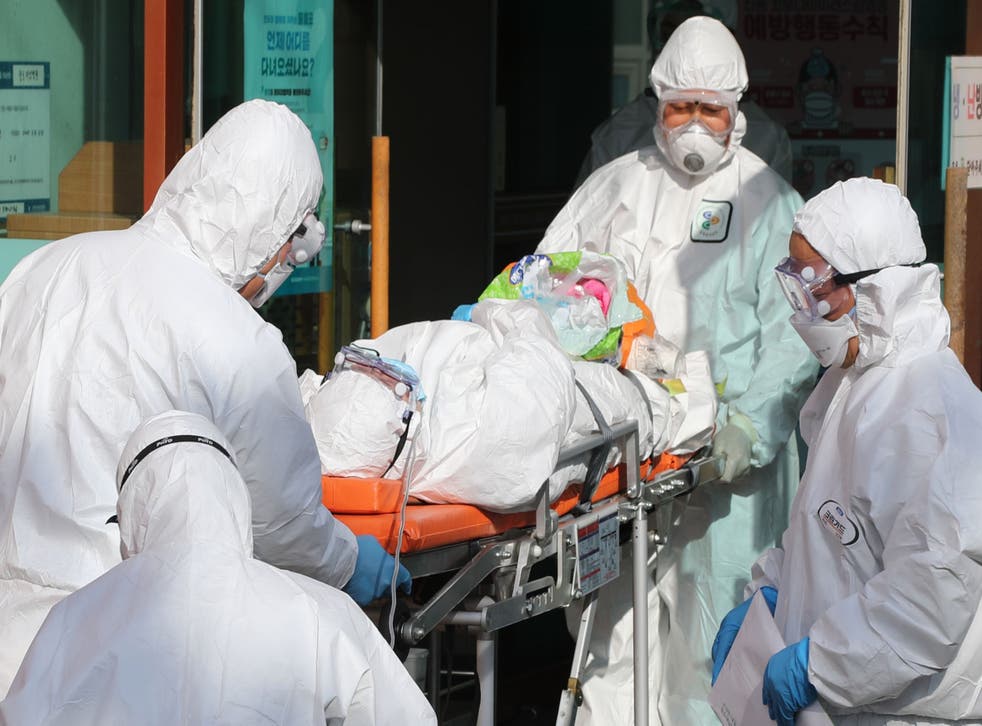 As the coronavirus crisis continues to deepen throughout Asia, with more than 2,200 deaths reported in mainland China, a mysterious "cult" has emerged at the centre of a "grave" and "unprecedented" outbreak in South Korea.
The country recorded a worrying jump in confirmed cases on Friday, rising to 204 patients and one death, following what local authorities described as a "super-spreading event" in Daegu, South Korea's fourth-largest city.
With Daegu placed on lockdown – streets and shops have been deserted, the 2.5 million population warned to stay inside and disinfectant sprayed throughout the city – health officials have traced the sudden spike in cases back to a church whose leader claims he is the returned Jesus Christ and a woman known simply as "Patient 31".
Of the 152 cases that have been found in the city, the majority have been linked to a Daegu branch of the Shincheonji Church of Jesus, where Patient 31, a woman said to be in her 60s, is known to have attended at least four services before being diagnosed.
According to local reports, the woman first developed a fever on 10 February but twice refused to be tested for the coronavirus on the grounds that she had not recently travelled abroad.
In what the Korean centre for disease control called a "super-spreading event", a total of 44 cases, out of the local region's 72, are linked to Patient 31.
Daegu's municipal government said there were 1,001 Shincheonji members in the city, all of whom had been asked to self-quarantine, with 90 of them showing symptoms as of Thursday afternoon.
Kwon Young-jin, mayor of Daegu, said those who have symptoms "will be tested as soon as possible", while urging stronger action from the government in Seoul and calling the national response "inadequate".
'A zombie apocalypse': Daegu on lockdown - in pictures

Show all 10
"We plan to test all believers of that church and have asked them to stay at home isolated from their families," Mr Kwon said, as South Korean vice health minister Kim Kang-lip described the situation as "very grave" in a separate briefing.
The Shincheonji church said it has closed all of its 74 sanctuaries around the nation and told followers to instead watch its worship services on YouTube.
The church, founded in 1984 by leader Lee Man-hee, is frequently accused of being a cult.
Mr Lee claims to be the second coming of Jesus Christ and has promised to take 144,000 people with him to heaven on the Day of Judgement. According to the church's teachings, only he can interpret and understand the true meaning of the bible.
"Shincheonji followers believe Lee Man-hee is immortal and has an eternal life," Ji-il Tark, a professor of religion at Busan Presbyterian University in South Korea, told the Associated Press. "To propagate their belief, they often approach their relatives and acquaintances or sneak to other churches without telling them they are Shincheonji members."
Mr Tark said Shincheonji followers are more vulnerable to virus infections as they often sit very closely on the floor during services. At Shincheonji, attending church-related gatherings "isn't an option, but a requirement," he said.
The church added it was fully cooperating with government quarantine efforts and accused mainstream church groups of spreading false claims, such as that it initially instructed followers to keep silent about the illness.
In a statement, it said that health officials were disinfecting its church in Daegu, which has a congregation of roughly 8,000 people, and were tracing Patient 31's contacts.
The church also accepted that the woman was behind the recent outbreak, but said it has been advising followers since late January to stay home if they had travelled overseas or were experiencing even mild cold-like symptoms.
"We are deeply sorry that because of one of our members, who thought of her condition as a cold because she had not travelled abroad, led to many in our church being infected and thereby caused concern to the local community," it said in a statement.
The outbreak in Daegu, which one local compared to a "zombie apocalypse", has sparked rising concern among the South Korean government.
President Moon Jae-in has ordered swifter action to trace down those who recently visited the Daegu church as well as a hospital in the southeastern city of Cheongdo, where many virus cases were also reported in the past three days.
In Seoul, mayor Park Won-soon said on Friday that authorities will keep the city's branches of the Shincheonji church closed until the outbreak is under control.
The World Health Organization said the jump in cases in South Korea does not signal an increased risk of a global pandemic.
WHO Director-General Tedros Adhanom Ghebreyesus insisted the new cases were mostly linked to known, existing clusters of infections and that South Korean authorities were following them very closely.
"The number of cases are really manageable, and I hope South Korea will do everything to contain this outbreak at this early stage," he said.
In Daegu, though, officials are less optimistic. "We are in an unprecedented crisis," Mr Kwon said on Thursday.
Register for free to continue reading
Registration is a free and easy way to support our truly independent journalism
By registering, you will also enjoy limited access to Premium articles, exclusive newsletters, commenting, and virtual events with our leading journalists
Already have an account? sign in
Register for free to continue reading
Registration is a free and easy way to support our truly independent journalism
By registering, you will also enjoy limited access to Premium articles, exclusive newsletters, commenting, and virtual events with our leading journalists
Already have an account? sign in
Join our new commenting forum
Join thought-provoking conversations, follow other Independent readers and see their replies