Cute lion and tiger cubs appear to be best friends in adorable pictures from Japanese safari park
Cubs become unlikely friends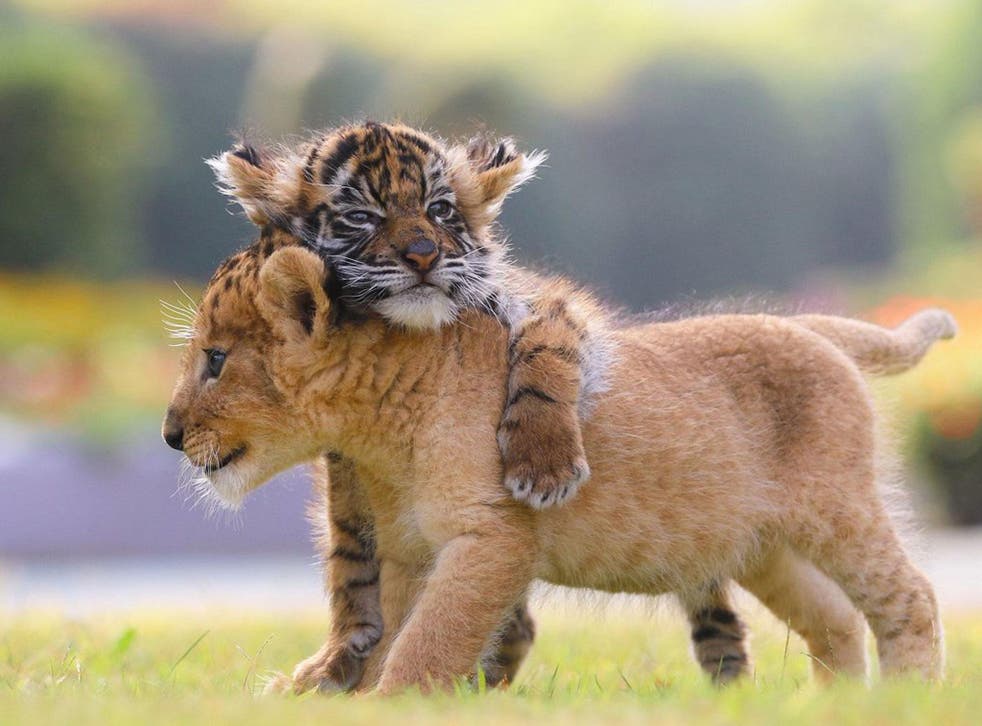 Lions and tigers are rarely seen acting like the best of friends, but there are two cubs in a Japanese safari park that appear to be breaking the mould.
The African Safari park in the Oita prefecture in Japan has a lion cub and a tiger cub that appear to be inseparable.
Posting pictures of the pair on their twitter feed, the African Safari park has been documenting the two cubs' friendship, showing them playing together or sleeping side-by-side.
And the cubs are not only affectionate with each other – their natural instincts are clearly yet to kick in as they have been pictured nuzzling rabbits, too.
Lions and tigers rarely overlap as these cubs have done, and it is even rarer for them to breed together. There are a few documented cases of Tigons and Ligers however – the term depends on whether the animal's father was a lion or tiger – though one hybrid was recently put on display in Manchester.
The skin from a rare Tigon named Maude who had lived at Manchester's Belle Vue Zoo in the 1930s and 1940s was mounted last year and put on display in the Manchester Museum, making it the first Tigon to be put on show for more than 100 years.
Cute tiger and lion cubs make friends

Show all 10
But the cubs in Japan are not the only animals to have proved that different species can become the best of friends. In America, a lion, a tiger and a black bear that were brought together in cruel circumstances – they were found caged under a house in Atlanta, Georgia, during a drugs raid – and behaved as members of the same family ever since they were rescued.
Join our new commenting forum
Join thought-provoking conversations, follow other Independent readers and see their replies