Cyclone Nivar: One dead and torrential rains as huge storm makes landfall in India
A 47-year-old woman died when her house collapsed due to heavy rain in Tamil Nadu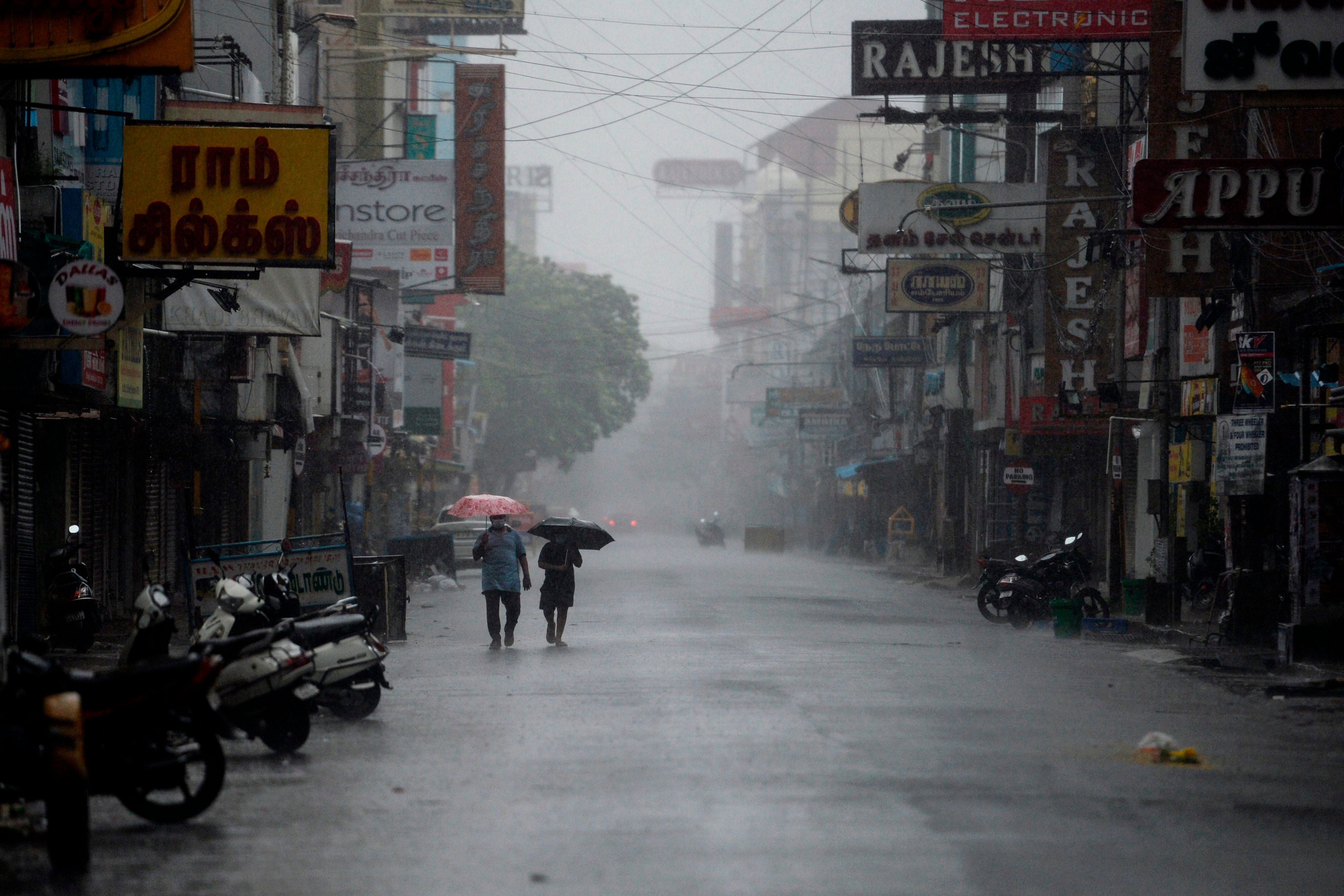 Cyclone Nivar has made landfall in India's southern state of Tamil Nadu, weakening from a "very severe" cyclonic storm as  coastal regions were inundated with heavy rainfall overnight.
At least one person has been killed and several injured, with the rainfall and a 1m storm surge causing significant disruption.
The cyclone made landfall around midnight local time near the coastal town of Marakkanam in Tamil Nadu. Heavy rain and winds of 120 to 130 kmph lashed the coastal areas of Puducherry and Cuddalore as trees were uprooted and electricity poles came down. 
The major city of Chennai also saw extended spells of heavy rain and strong winds, with flights in and out of its international airport suspended.
The union territory of Puducherry, formerly Pondicherry, saw an unprecedented 20cm of rainfall in the last 20 hours, leaving many low-lying areas under water.
In the early morning the cyclone moved to the neighbouring state of Andhra Pradesh, where Nellore district received the state's highest rainfall of 245mm.
National disaster management teams were dispatched to the region before Nivar's arrival, and continued rescue efforts into Thursday as heavy rainfall kept coming in a number of areas. 
According to police, a 47-year-old woman died when her house collapsed at Konur near Villupuram in Tamil Nadu, due to the heavy rain. Her husband, who also trapped, was rescued and is now undergoing treatment at a government hospital in the district.
More than 200,000 people were moved to cyclone shelters in the coastal states, despite concerns over the still raging Covid-19 pandemic. In Cuddalore, one of the districts where damage was seen as most likely, over 50,000 were moved to safety in 233 government shelters, NDTV quoted local official Chandra Sekhar.
Tamil Nadu Chief Minister E Palaniswami appealed to people to stay indoors as far as possible and said over 4,000 "vulnerable" locations had been identified and local officials have been told to ensure the safety of residents. 
The weather department has predicted Cyclone Nivar will weaken into a deep depression by 5.30pm local time, before dissipating in a low-pressure area by Friday morning. 
Join our commenting forum
Join thought-provoking conversations, follow other Independent readers and see their replies