Dalai Lama reunited with Indian guard who helped his famous 1959 flight from Tibet
'Looking at your face, I now realise I must be very old too,' says exiled spiritual leader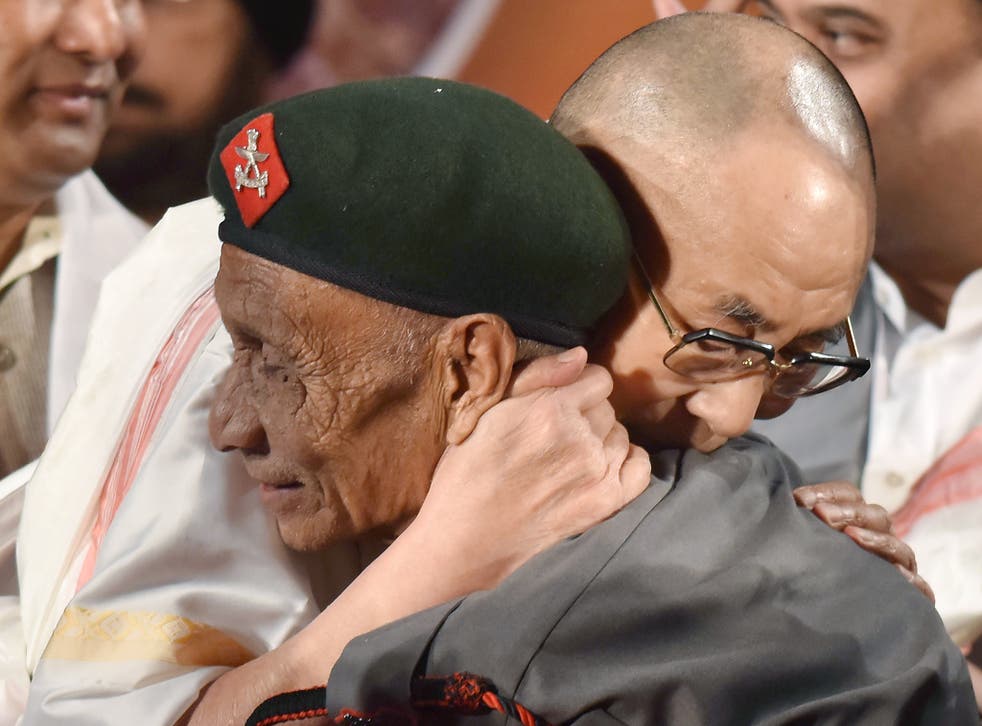 The Dalai Lama has been reunited with an Indian solider who escorted him to safety as he fled from Tibet to China almost 60 years ago.
Tibet's exiled spiritual leader embraced Naren Chandra Das in an emotional meeting in Guwahati in northeast India on Tuesday.
The pair first crossed paths after the Dalai Lama was forced to leave for India via a clandestine mission during the midst of the failed Tibetan uprising against the Chinese authorities in 1959.
The Dalai Lama, now 81, and Mr Das, now 79, undertook an exhausting trek that lasted for two weeks across the mountains from Lhasa. With the Dalai Lama disguised as a Chinese soldier alongside members of his cabinet, they eventually reached the Indian border but troops were prohibited from talking to the spiritual leader as they journeyed.
"Our duty was only to guard and escort him during his journey," Mr Das, a retired member of the Assam Rifles, said.
"Guards of the Assam Rifles Platoon No 9 had brought the Dalai Lama from Zuthangbo and handed him over to five of us at Shakti [in Arunachal Pradesh, which borders China and Bhutan].
"We brought him to Lungla from where he was escorted on his onward journey to Tawang by another group of guards.
Dalai Lama's best words of wisdom

Show all 6
"Looking at your face, I now realise I must be very old too," the Dalai Lama told Das as they met again.
His trip to Arunachal Pradesh and northeast India as a whole has raised diplomatic tensions between China and India. China maintains Arunachal Pradesh is part of South Tibet and thus belongs to its territory.
Prior to the visit, a Chinese foreign ministry spokesman urged India to "avoid taking any actions that would further complicate the border issue, [and to] not provide a platform for the 14th Dalai clique's separatist activities".
China considers the 14th Dalai Lama, whose name is Tenzin Gyatso, a separatist and he continues to live in exile after leaving for India during the Tibetan uprising of 1959. The Dalai Lama, who denies seeking Tibetan independence, is in favour of meaningful autonomy for Tibet in the context of the People's Republic of China and proposes a 'middle-way' between autonomy and independence to peacefully resolve the issue.
Register for free to continue reading
Registration is a free and easy way to support our truly independent journalism
By registering, you will also enjoy limited access to Premium articles, exclusive newsletters, commenting, and virtual events with our leading journalists
Already have an account? sign in
Register for free to continue reading
Registration is a free and easy way to support our truly independent journalism
By registering, you will also enjoy limited access to Premium articles, exclusive newsletters, commenting, and virtual events with our leading journalists
Already have an account? sign in
Join our new commenting forum
Join thought-provoking conversations, follow other Independent readers and see their replies