David Cameron makes no apology for Amritsar massacre
PM says killing of 380 people was 'shameful' but does not apologise
Andrew Buncombe
Wednesday 20 February 2013 20:56 Comments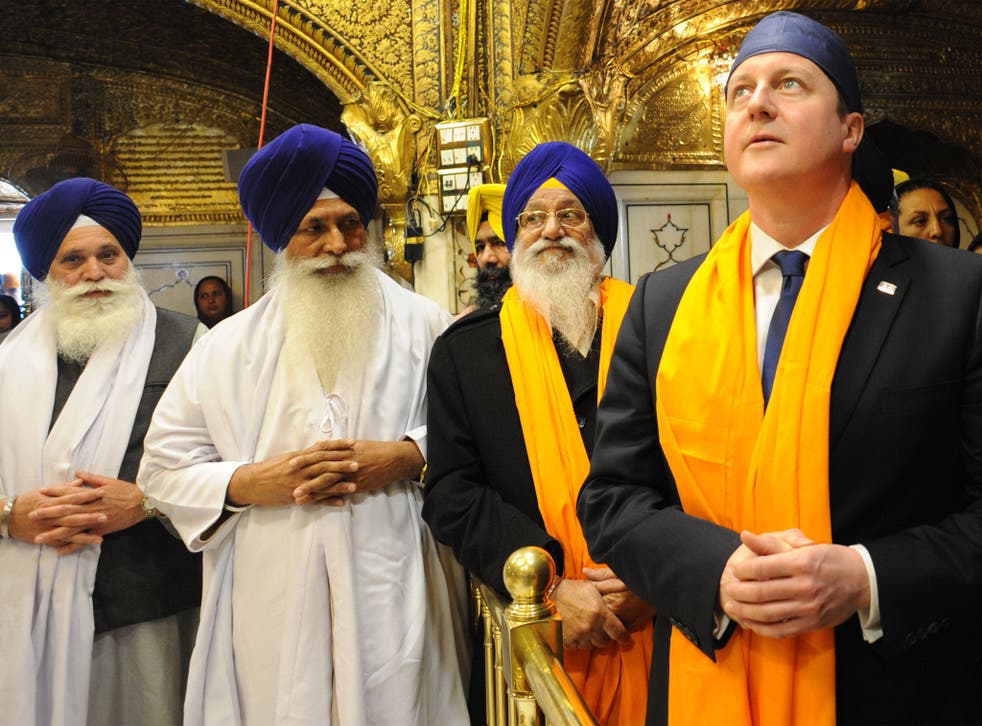 David Cameron has defended the British empire on the day he visited the site of a notorious colonial massacre of unarmed Indians by troops under the command of British officers and described the event as "deeply shameful". He stopped short of apologising for what took place.
"In my view, we are dealing with something that happened a good 40 years before I was born and that Winston Churchill described as monstrous at the time and the British government rightly condemned at the time," he told British reporters.
"So I don't think the right thing is to reach back into history and seek out things you should apologise for. I think the right thing is to acknowledge what happened, to recall what happened, to show respect and understanding for what happened."
On a visit to the site of the Jallianwala Bagh massacre in Amritsar, where at least 380 men, women and children were shot in cold blood 94 years ago, the Prime Minister observed a minute's silence, bowed his head as he laid a wreath and signed a condolence book.
"This was a deeply shameful event in British history, one that Winston Churchill rightly described at the time as "monstrous". We must never forget what happened here," he wrote in black pen, underlining the word "never". "In remembering we must ensure that the United Kingdom stands up for the right to peaceful protest everywhere in the world."
Ahead of his three-day visit to India, there had been speculation that Mr Cameron might issue an apology for the massacre, ordered by General Reginald Dyer. But having signed the book, the Prime Minister defended his decision not to go further with his choice of words.
The killings at Jallianwala Bagh represent one of the darkest episodes during Britain's colonial rule of India that stretched more than 250 years. There were many others, such as the Bengal Famine of 1943, when the government's inaction allowed up to four million people to starve to death. Mr Cameron is the first sitting British PM to visit the site.
Asked whether he remained proud of Britain's colonial history, he said: "I think there is an enormous amount to be proud of in what the British empire did and was responsible for, but of course there were bad events as well as good events and the bad events we should learn from and the good events we should celebrate."
He added: "In terms of our relationship with India, is our past a help or a handicap, I would say net-net it's a help because of the shared history, culture, the things that we share and the contribution that Indians talk about that we have made. But obviously when there are bad events we have to remember them and be clear about them and learn from them."
Mr Cameron was also asked whether Britain should give back items such as the Koh-i-Noor diamond and other items which many consider nothing more than colonial plunder. He said he did not, but that he wanted the British Museum and others to continue their tie-ups with foreign institutions.
During his visit to Jallianwala Bagh, Mr Cameron was shown around the memorial garden by some of the descendants of those who were present in April 13 1919 when troops opened fire without warning and let off 1,650 bullets. He was told about a well into which 120 people perished trying to escape .
It is known that Mr Cameron is keen to attract more potential voters for the Conservatives from Britain's ethnic minorities, of whom 300,000 to 700,000 are British Sikhs. But his visit threatened to reopen old wounds.
Sunil Kapoor, whose great-grandfather was shot and killed and whose body lay uncollected for six days, said: "If you feel shameful, then why not [make] a proper apology."
Others believed Mr Cameron had done enough. "He came here and made a gesture to us. He paid his tribute, he gave a minute of silence," said SK Mukherjee, secretary of the memorial association and whose grandfather survived the atrocity. "By coming here he has made a gesture. It's a good step for bettering our relations."
Nigel Collett, author of a history of the massacre, The Butcher of Amritsar, said he did not think Mr Cameron needed to apologise.
"Those who should have apologised are long dead and their failure to apologise, or more particularly to recognise the terrible wrong that had been done, rebounded on them and helped destroy the empire they wished to preserve," he said. "The Prime Minister took the right approach."
Earlier, Mr Cameron visited the Golden Temple, a revered place of pilgrimage for Sikhs.
Barefoot and wearing a blue scarf wrapped around his head, he visited the celebrated communal kitchens which provide free meals for tens of thousands of pilgrims every day.
Met officer found dead with gunshot wound
A Metropolitan Police protection officer has been found dead from a gunshot wound at his home in north London.
The 43-year-old PC was part of the Specialist Protection Command, which covers protection for VIPs including the Royals and the Prime Minister.
Police said they were not treating the death as suspicious, and that detectives will now investigate whether a police firearm was involved.
Police arrived at the house in Camden on Tuesday afternoon "following concerns about the occupant," a Met spokesman said.
Officers forced entry to the property and found the body of a man with a gunshot injury. He was pronounced dead at 4.45pm.
The man's next of kin and the Independent Police Complaints Commission have been informed.
Register for free to continue reading
Registration is a free and easy way to support our truly independent journalism
By registering, you will also enjoy limited access to Premium articles, exclusive newsletters, commenting, and virtual events with our leading journalists
Already have an account? sign in
Join our new commenting forum
Join thought-provoking conversations, follow other Independent readers and see their replies