David Kilcullen: The Australian helping to shape a new Afghanistan strategy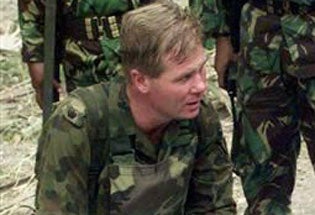 Appearing at his Senate confirmation hearing General Stanley McChrystal, the US commander sent to turn the tide of war in Afghanistan, was asked whether he would be seeking advice from David Kilcullen, " Yes I will," said the General to nods of approval " David Kilcullen is a friend of mine, I think he talks a lot of sense".
The name would not have meant much to people outside the closed world of the military, diplomats and politicians. But, away from the limelight, Kilcullen, an Australian army colonel has been hugely influential in shaping policies in the later chapters of the 'war on terror'. He will play a part in shaping how the new strategy in Afghanistan, described as a defining moment in the conflict, is played out.
Kilcullen was counter-insurgency advisor to both Condoleeza Rice when she was US Secretary of State, and General David Petraeus, helping the American commander plan the 'surge' which reduced the level of carnage in Iraq. He ended up with the grand and rather convoluted title of Chief Strategist in the Office of the Coordinator for Counterterrorism. A book he has recently written, The Accidental Guerilla, is being avidly studied by British and American military bound for the battlefield of Afghanistan.
Kilcullen, who holds a Phd in anthropology, was "borrowed" in 2004 by Paul Wolfowitz, then Deputy Defence Secretary and one of the architects of the Iraq war to join his staff. However, during his subsequent rise through the US hierarchy the Australian has paid little lip service to neo-con tenets. On one occasion he was quoted in a magazine, the American Independent, saying the Iraq war was "fucking stupid". Unsurprisingly he received a telephone call from his boss, Condoleeza Rice, stressing that people like Dick Cheney were most displeased, and a public clarification must be issued as soon as possible. This duly came with Kilcullen saying " I can categorically state that the word 'fucking' was said off the record". Another phone call from Ms Rice "David, David this is not what we meant at all……."
Afghanistan, Lt Col Kilcullen points out, is a very different war morally, historically and logistically. " Perhaps the most stupid thing about Iraq was invading the country in the first place" he said over dinner during a visit to London. " But we were where we were in Iraq and what we tried to do was try and end the terrible bloodshed which was going on, protect the people. This was Gen Petraeus's plan and I think it worked to a large extent,"
Kilcullen, who has now left US government service, had taken part in fact-finding missions to Afghanistan and had held meetings with Gen McChrystal. He insists that although Western forces were on borrowed time there was still a hope of turning the war around.
He believes, however, that Nato is making major mistakes in Afghanistan with one of the most serious being the use of unmanned Drones to carry out targeted killings in Afghanistan and Pakistan. The Independent revealed this week that Lord Bingham, a former senior Law Lord, called the legality of these attacks into question.
Kilcullen said " These strikes are totally counter-productive. It is a strategic error to personalise the conflict in this way, it'll strengthen the enemy and weaken our friends. How can one expect the civilian population to support us if we kill their families and destroy their homes."
What the West risks throwing away is the " support of the vast majority of the people. They may not like some of the things we do, but they do not want the Taliban back. But let's not be complacent, in the three years since 2005 we have seen a 500 per cent increase in violence in the country, support for the legitimacy of the government of [President Hamid] Karzai is pretty weak. It is no exaggeration to say this is a critical year in Afghanistan. If we don't get it right this year then we may not succeed. But the good thing is that the American's are now focusing on Afghanistan. It may be late, but they are focusing."
One example of the American focus on Afghanistan, Barack Obama's war, was the appointment of Gen McChrystal, a former special forces officer and one of Petraeus's team in Iraq. He replaced Gen David McKiernan who, in the process, became the first American commander to be relieved of his post since General Douglas MacArthur during the Korean War.
Kilcullen, another one of Petraeus' boys from Baghdad, declares that McChrystal is the ideal man for such a difficult mission. "He realises that this is not just a military matter, it is a matter of governance and reconstruction. We now have more troops in south in Helmand and Kandahar. This gives us the opportunity to build, to some constructive, on our military gains. I really don't think that Nato can afford to miss this opportunity."
Kilcullen was among those who persuaded the US administration that one cannot hope to solve the situation in Afghanistan without getting involved in Pakistan. "What will happen in Pakistan is absolutely critical. There are sections of the military and the security apparatus which are a rogue state within a state. They have a long history of supporting the Taliban, we have an elected government in Pakistan but they have no control over these elements".
And the future? "We are looking at ten years at least in Afghanistan, and that is the best case scenario and at least half of that will be pretty major combat. This is the commitment needed, and this is what people in America and Britain should be told, and they should be told that there will be a cost involved."
Join our commenting forum
Join thought-provoking conversations, follow other Independent readers and see their replies