Delhi goes to polls in first election test for Modi since start of citizenship protests
BJP has made it a clear tactic to campaign against protesters using divisive, anti-Muslim rhetoric. But will it work?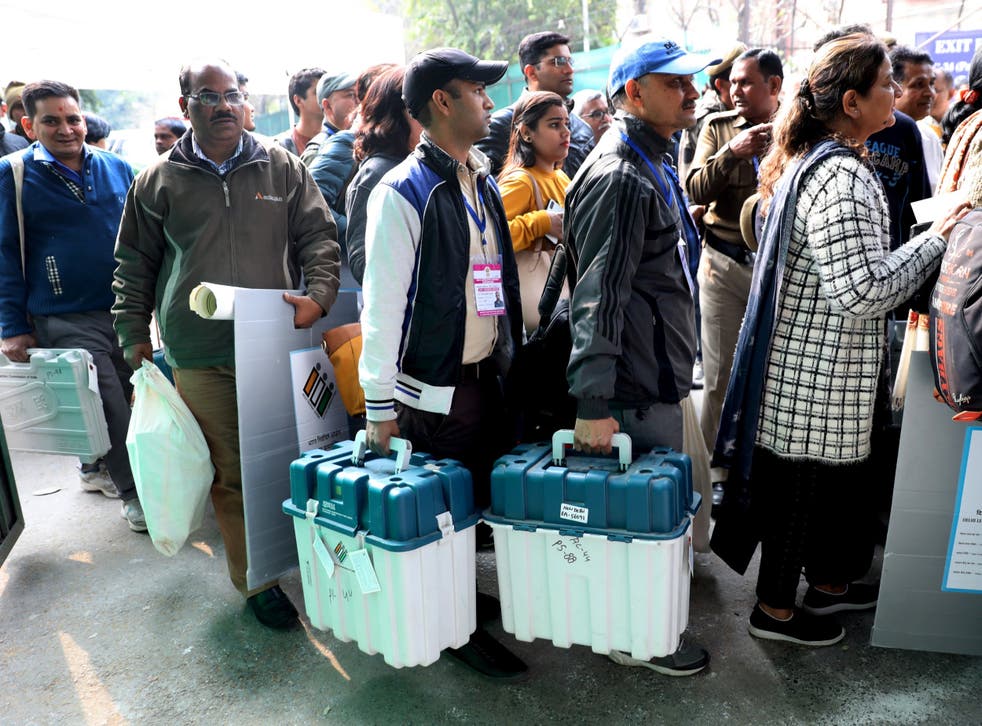 Delhi goes to the polls on Saturday in the first electoral test for Narendra Modi's ruling party since the start of mass protests across the country against its new citizenship laws.
Star campaigners from Mr Modi's BJP have focussed heavily on the sit-in protest led by hundreds of Muslim women in south Delhi's Shaheen Bagh neighbourhood, which has become a focal point for protests nationwide.
Mr Modi's Hindu nationalist agenda won him a landslide second general election victory only last May, but his party has since lost a string of important state polls, denting his party's reputation as an unstoppable political force.
And in Delhi they come up against an incumbent Aam Aadmi Party (AAP), or "common man" party, led by the charismatic chief minister Arvind Kejriwal.
Analysts say recent polls have the AAP as favourites, with voters appreciative of party initiatives that have included improvements to state schools, large infrastructure projects and free bus travel for women.
Fearing yet another local election defeat, the BJP have gone all-in on the tactic that appears to have brought them such success last May - divisive, anti-Muslim rhetoric appealing to a base of Hindu voters.
Before campaigning ended this week, the party called in the militant Hindu monk Yogi Adityanath - chief minister of neighbouring Uttar Pradesh - to paint the BJP's opponents and critics as inherently opposed to the national interest (or anti-nationals).
In a speech in Delhi, Yogi lumped the protesters at Shaheen Bagh, as well as the AAP and trailing opposition party Congress, in with India's arch-rival Pakistan. "Whenever Kejriwal is happy, Pakistan is happy too," he said. Indeed, according to a Reuters analysis, at one point he mentioned Pakistan eight times in less than a minute.
Mr Modi has himself engaged in thinly-veiled divisive rhetoric, calling the Shaheen Bagh protest - sparked by a new law that gives a path to citizenship for refugees of every major religion except Islam - a "conspiracy", part of a "political design".
Shuddhabrata Sengupta, an artist and curator and longtime Modi critic, called the comment a "dog-whistle… basically a signal to his faithful to view the ongoing protests in Delhi through the lens of a well-cultivated prejudice against Muslims".
Last month Parvesh Verma, the BJP member of parliament for West Delhi, said the demonstrators would "enter people's homes, rape women and then kill them off". A minister characterised the protesters as "traitors" and led a crowd in chanting the slogan "shoot them".
Some people seem to have taken the command literally. There are heightened security concerns for Saturday's vote after three incidents of gunfire at or near protest sites in four days. One of the shooters, as he was being taken away by police, could be heard saying: "In our country, only Hindus will prevail."
For Jai Mrug, a senior analyst with the independent polling agency VMR, there is a sense in Delhi that the AAP are still leading in opinion polls because the BJP is beating the wrong drum.
He told The Independent that, since the nineties, the capital and its uniquely wealthy population of more than 16 million people have made "strong urban governance" a priority above all else - "a narrative that Kejriwal has been able to offer in a way the BJP simply hasn't".
"There has been a lot of talk around Shaheen Bagh, but I would go back in history to the 2008 elections in Delhi, held just after a very big terrorist attack in India, the 26/11 attacks (in which 164 people were killed in Mumbai).
"That was also expected to trigger a big wave of support for the BJP, and that did not happen. Delhi voters don't appear to make knee-jerk reactions along communal lines - and we have a historical data point for this."
If the BJP can pull off an upset tomorrow, it will be seen as vindication for the party's preferred tactic of trying to win state elections by using national arguments, said Harsh Pant, a fellow at New Delhi-based think-tank the Observer Research Foundation.
"Rightly or wrongly, they [the Shaheen Bagh protesters] are largely seen as Muslim protesters. There is a polarisation between Hindus and Muslims that suits the BJP," he said.
On the other hand, a victory for the AAP will raise big questions for whether Mr Modi and the BJP can still appeal to urban voters. Exit polls should give a good indication of which way it has gone when polling closes on Saturday evening. The official count does not take place until Tuesday.
Register for free to continue reading
Registration is a free and easy way to support our truly independent journalism
By registering, you will also enjoy limited access to Premium articles, exclusive newsletters, commenting, and virtual events with our leading journalists
Already have an account? sign in
Register for free to continue reading
Registration is a free and easy way to support our truly independent journalism
By registering, you will also enjoy limited access to Premium articles, exclusive newsletters, commenting, and virtual events with our leading journalists
Already have an account? sign in
Join our new commenting forum
Join thought-provoking conversations, follow other Independent readers and see their replies