Delhi hotel fire: At least 17 dead in huge blaze at Karol Bagh hotel in Indian capital
Fire rapidly engulfed whole top floor of six-storey budget hotel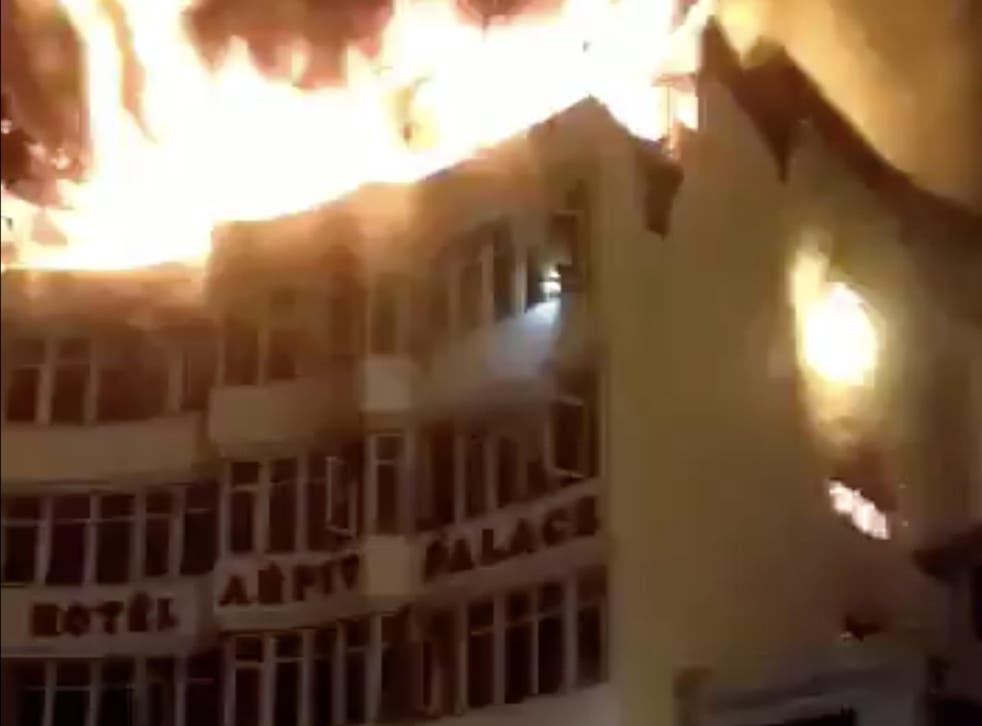 At least 17 people have died after a major fire broke out on the top floor of a budget hotel in central Delhi.
A woman and a child who tried to escape the fire by jumping from a high window were among those killed, according to local media reports.
The blaze at the six-storey Hotel Arpit Palace began at around 4am, and 25 fire engines were involved in the four-hour effort to bring it under control.
While dramatic images and videos shared on social media showed the top floor consumed by flames, fire officer Vijay Paul said the fire had reached all but the ground floor.
Besides those killed, another four people were being treated in hospital for injuries, officials said in a mid-morning update that saw the death toll almost double.
17 dead in Delhi hotel fire: in pictures

Show all 16
Sivanand Chand, 43, said he awoke to smoke in his hotel room, struggling to breathe. "When I got out of my room, I could hear 'help, help!' from adjoining rooms," he told the Associated Press.
The hallway was pitch black and thick with smoke, so he turned back into his room and opened a window. He saw flames rising fast. "In 15 minutes, the whole room was black," he said.
Mr Chand and others were evacuated from the hotel through his room's window by firefighters in a hydraulic lift. In all around 35 people were brought to safety, but many were unable to escape due to the fire spreading to wooden panelling that lined most corridors in the hotel and its main stairwell, according to Delhi fire services director GC Misra.
Misra confirmed the dead "include a woman and a child".
Satyendar Kumar Jain, the Delhi government minister of health and urban development, toured the site after the fire was extinguished and said the building may not have been constructed in line with permissions.
The hotel developer had a permit from the fire department to build up to four stories — the standard height in central Delhi. But the building appeared to have six floors, including a basement and a kitchen built on top of the roof, he said.
"Carelessness on the part of authorities is evident. We are going to investigate, and the wrongdoer will be punished," he said.
The prime minister, Narendra Modi, said in a tweet that he was deeply saddened by the incident. "I convey my condolences to the families of those who lost their lives," he wrote. "May the injured recover soon."
The incident once again highlights the poor state of fire safety standards across India, particularly in its major metropolises where high rents force many people to live in cramped, congested and ill-regulated conditions.
In December, 11 people died when a fire broke out at a public hospital in Mumbai, and in 2017 in the same city a fire at a popular restaurant killed 14.
Register for free to continue reading
Registration is a free and easy way to support our truly independent journalism
By registering, you will also enjoy limited access to Premium articles, exclusive newsletters, commenting, and virtual events with our leading journalists
Already have an account? sign in
Register for free to continue reading
Registration is a free and easy way to support our truly independent journalism
By registering, you will also enjoy limited access to Premium articles, exclusive newsletters, commenting, and virtual events with our leading journalists
Already have an account? sign in
Join our new commenting forum
Join thought-provoking conversations, follow other Independent readers and see their replies