Delhi riots: Death toll rises to 27 with mosque set on fire in deadliest violence in capital in decades
After 190 injured in three days of bloodshed, prime minister Narendra Modi finally calls for calm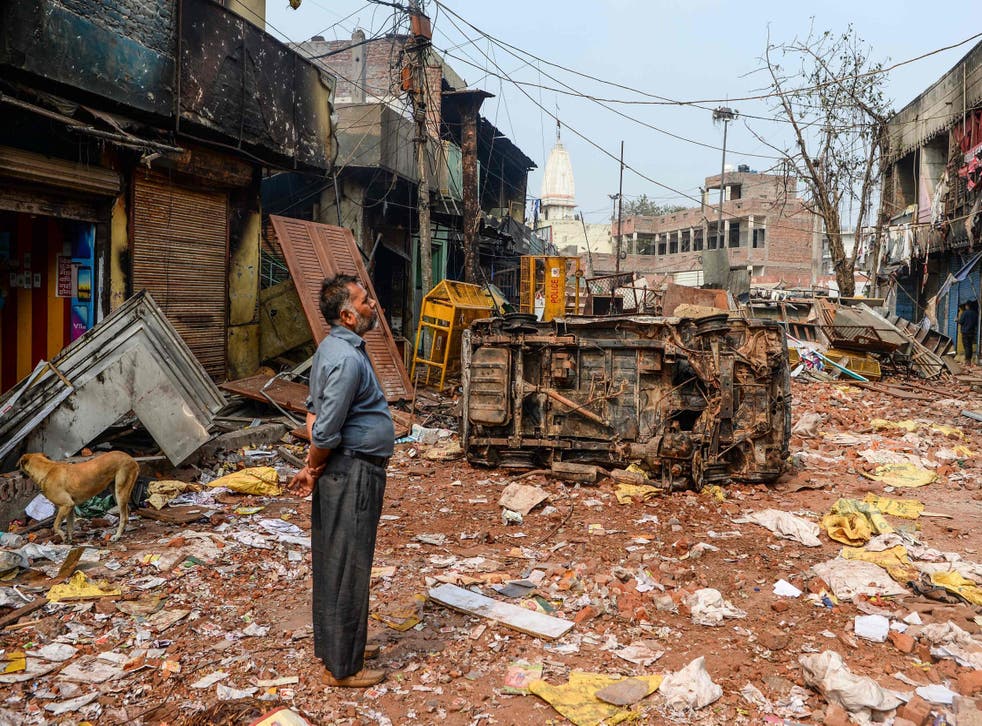 The death toll in religious riots in Delhi has risen to 27 and the city's leader has called for the army to be deployed, as India's capital assessed the damage on a tense Wednesday morning.
Chief minister Arvind Kejriwal called the three days of violence "alarming" and said police had lost the confidence of the public. "The army should be called in and a curfew imposed in affected areas [in city's northeast] immediately," he said.
Supreme Court judges were among those criticising the failure of the police to stop marauding pro-government mobs beating Muslims in the street, chanting Hindu nationalist slogans and setting fire to Muslim-owned shops and homes.
Just one person has been arrested so far on suspicion of taking part in the riots which have come about after a contentious new law that fast-tracks citizenship for foreign-born religious minorities of all major faiths in South Asia except Islam
Witness reports and videos on social media showed a burnt Muslim shrine and a mosque that was vandalised and set on fire in the Ashok Nagar neighbourhood – with two flags, one of the Hindu deity Hanuman and another of India, raised on its roof.
The number of those injured in the clashes, both Hindus and Muslims, has risen to 190. Hospital officials said they treated many victims for gunshot wounds, while others were beaten with sticks, suffered stab wounds or were hurt jumping from heights.
It is the deadliest communal violence in the capital since 1984, when thousands of Sikhs were killed by mobs after prime minister Indira Gandhi was assassinated by her Sikh bodyguards.
But comparisons were also drawn to the 2002 riots in Gujarat, when police were accused of letting rioting Hindus massacre around 790 Muslims across the state. The chief minister in Gujarat at the time was Narendra Modi, while Amit Shah – his right-hand man and India's current home minister – was then the state's home minister.
Mr Shah is now responsible for maintaining law and order in Delhi, and on Wednesday the opposition leader Sonia Gandhi called for him to resign over the riots.
She told reporters the outbreak of communal violence should have been predicted after a vicious Delhi assembly election this month in which Mr Modi's ruling BJP repeatedly vilified peaceful anti-government protesters, many of whom are Muslims, as "traitors".
Amid heightened tensions, the situation appears to have boiled over on Sunday after a prominent BJP politician, Kapil Mishra, called on Hindu nationalists to take to the streets and "give an answer" to sit-in protesters demonstrating against Mr Modi's new citizenship laws.
"Where was the home minister?" the Congress leader Ms Gandhi asked. "What was he doing? What did the intelligence agencies say after the Delhi elections and what action was taken then? It was clear that riots were going to spread. The [Modi government], especially home minister Amit Shah, is responsible for the current violence and we demand his resignation."
Mr Modi was also criticised for his failure to condemn the rioters, some of whom were heard chanting his name as they walked down smoking highways littered with debris. He has been hosting a state visit by Donald Trump, which concluded on Tuesday evening.
The prime minister finally tweeted shortly after midday on Wednesday, calling for calm three days after the violence began. "Peace and harmony are central to our ethos. I appeal to my sisters and brothers of Delhi to maintain peace and brotherhood at all times," he tweeted in English. It was not translated into Hindi.
Police and paramilitary forces appeared to be deployed in far greater numbers on Wednesday, and firefighters – who had been unable to reach affected areas in previous days – said they were able to get through. "The situation is relatively better than yesterday ... there are no rioters on the streets," Atul Garg, the director of the Delhi fire department, told Reuters.
The relatives of those killed in the clashes have complained that police are not handing over the remains of their loved ones. The father of Rahul Solanki, one of those killed in the clashes, told the Scroll website his son "stepped out of the house to buy milk for tea and ended up getting shot".
Like many, he criticised the police for failing to protect civilians. "The rioters are winning," he said. "The government and the administration are doing nothing."
Meanwhile, critics hit out at the US president for failing to raise the issue of the citizenship protests, and the brutal backlash meted out to demonstrators, during his visit.
On Tuesday, Mr Trump instead focused on what an "honour" it was to be able to address a political rally of 125,000 people in Gujarat on Monday, and lavished praise on Mr Modi as a "fantastic leader" and "such a nice man".
Before leaving Delhi, with the riots in full flow just 15km away across the city, Mr Trump admitted he had seen reports of what was going on but did not bring it up with Mr Modi himself. "I want to leave that up to India," he told reporters. "I hope they are going to make the right decision for the people."
Register for free to continue reading
Registration is a free and easy way to support our truly independent journalism
By registering, you will also enjoy limited access to Premium articles, exclusive newsletters, commenting, and virtual events with our leading journalists
Already have an account? sign in
Register for free to continue reading
Registration is a free and easy way to support our truly independent journalism
By registering, you will also enjoy limited access to Premium articles, exclusive newsletters, commenting, and virtual events with our leading journalists
Already have an account? sign in
Join our new commenting forum
Join thought-provoking conversations, follow other Independent readers and see their replies