Philippines halts programme for 'dangerous' dengue fever vaccine given to 730,000 children
Vaccine used in £51.5m immunisation drive can cause severe cases of potentially fatal infection, admits manufacturer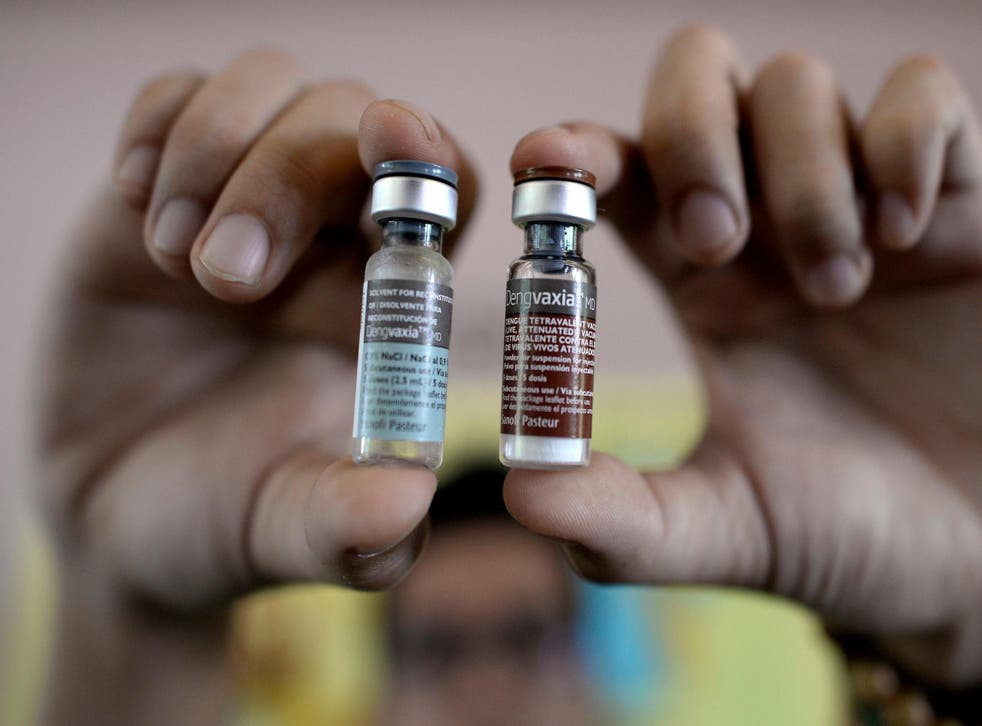 Health chiefs in the Philippines have suspended the country's dengue immunisation programme after the vaccine's manufacturer admitted it could cause severe cases of the disease in some people.
More than 730,000 Filipino children have received at least one dose of Dengvaxia, the first licensed vaccine for the virus, since the Department of Health launched the 3.5 billion peso (£51.5bn) immunisation drive in schools last year.
Pupils aged nine and above in three highly endemic areas of the country have been vaccinated in the world's first programme of its kind.
But manufacturer Sanofi Pasteur admitted on Wednesday that new analysis of clinical data had found Dengvaxia can cause more severe cases of dengue in the longer term among people who had not previously contracted the infection. The mosquito-borne virus can be fatal in severe cases.
The French pharmaceutical giant said it would ask health authorities to update information provided to doctors and patients.
The analysis of six years of clinical data confirmed Dengvaxia did provide persistent protective benefit in those who had previously had dengue, the company added.
Filipino Health Secretary Francisco Duque III said new recommendations would be released later this month by the Strategic Advisory Group of Experts on Immunisation, an advisory body of the World Health Organisation (WHO).
For those not previously infected by the dengue virus, analysis found vaccination prevented severe illness for at least 30 months, Mr Duque said.
He added there were currently no reports of severe dengue infection among those vaccinated.
The Health Secretary has ordered a review of the government's contract with the manufacturer and other documents on the Dengvaxia immunisation. He did not say whether legal action would be taken.
World news in pictures

Show all 50
The minister said the government will profile all those who received the vaccination and heighten its surveillance mechanisms. That will include mandatory history-taking of those vaccinated, mandatory reporting of all vaccine recipients admitted to hospital regardless of symptoms, and five years of post-vaccination surveillance.
Dr Su-Peing Ng, global medical head at Sanofi Pasteur, said: "We are working with health authorities to ensure that prescribers, vaccinators and patients are fully informed of the new findings, with the goal of enhancing the impact of Dengvaxia in dengue-endemic countries."
The company said it expected the new findings to cost it £88m.
Dengvaxia is approved for marketing in 11 countries, mostly in Asia and Latin America, where dengue is a leading cause of serious illness and death among children.
The incidence of the virus has increased dramatically around the world in recent decades, with widespread outbreaks in several countries in 2016. An estimated 390 million people are infected across the globe each year.
Some 500,000 patients each year require hospital treatment and about 12,500 of those die, according to the WHO.
Register for free to continue reading
Registration is a free and easy way to support our truly independent journalism
By registering, you will also enjoy limited access to Premium articles, exclusive newsletters, commenting, and virtual events with our leading journalists
Already have an account? sign in
Register for free to continue reading
Registration is a free and easy way to support our truly independent journalism
By registering, you will also enjoy limited access to Premium articles, exclusive newsletters, commenting, and virtual events with our leading journalists
Already have an account? sign in
Join our new commenting forum
Join thought-provoking conversations, follow other Independent readers and see their replies