Dennis Rodman says Kim Jong-Un is 'just like anybody else' and is a massive admirer of the US
'He's saying that he doesn't want to bomb anybody. He said, 'I don't want to kill Americans.' He loves Americans,' says retired basketball player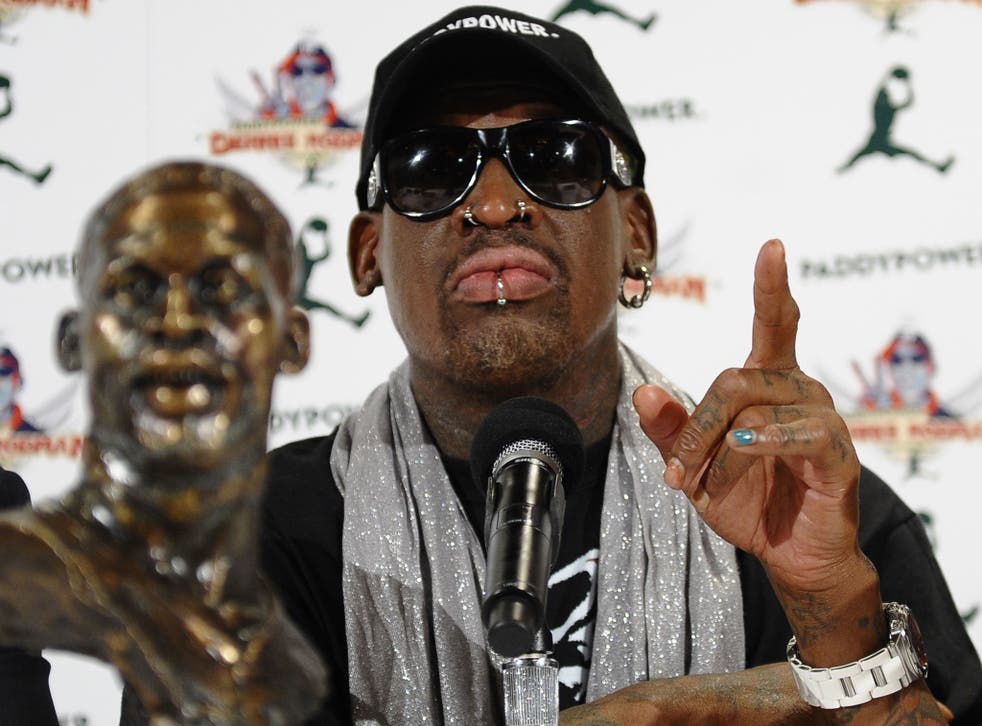 Dennis Rodman has heaped praise upon Kim Jong-Un and argued the North Korean leader is massively misunderstood by the mainstream media and is "just like anybody else".
The retired US basketball player, who says he has visited the so-called hermit kingdom six times, claimed he was the first person to hold the supreme leader's baby.
Rodman, who brands Mr Kim a "friend of for life", said the leader had personally informed him that he had no plans to bomb any countries and is actually a big admirer of America.
The flamboyant former NBA star said Mr Kim, who he dubs the "little guy", was a massive fan of American music from the 1980's.
"When he's around his people, he's just like anybody else. He jokes and loves playing basketball, table tennis, pool," he told DuJour magazine.
"They love American '80s music. They do karaoke to it. He has this 13-piece girls band with violins. He gets a mic and they play the whole time. He loves the Doors and Jimi Hendrix. Oldies. When I first went, the live band only played two songs for four hours: the theme songs from Rocky and Dallas."
"I've been around his whole family; I've held his baby. No one's ever held his baby before but me. I got pictures of me holding his infant. I gave [his daughter] a little Rodman jersey, we took pictures of it. Me, him and her and his wife. I have a lot of pictures of that in my safe-deposit box."
Rodman, who has drawn widespread criticism from human rights activists for his frequent visits to North Korea, claimed last time he was visiting the country Mr Kim and others told him they "want us to get the ships out of South Korea" and are keen to rewrite the peace treaty.
Inside the daily life in North Korea

Show all 19
"He's saying the reason why they have the nuclear bombs is because they know that Americans think they can take over," Rodman said.
"He says, 'I don't want to bomb anyone. But we keep our nuclear weapons because we're such a small country - that's the only way we can defend ourselves.' They just want people in America and the government to know they don't hate Americans. They want to work with Americans."
Rodman, who first visited the country in February 2013, said North Korea had changed a great deal since his first visit.
"It's funny because when I first went there it was so…Communist. Dry and dreary and like, I don't know. Everything is so dead. Like The Walking Dead," he recalled. "But the third time I went there, wow. [Pyongyang] changed a lot. New buildings were popping up and [Kim] is building all these new condos and hotels. He built the largest water park in the world, a ski resort and this big bowling alley. He's doing everything for these people."
As a high-profile American tourist and friend of Mr Kim, Rodman is likely to have only been exposed to the more elite elements of North Korean society via state sanctioned tours. According to the UN, the overwhelming majority of the country's 25 million citizens endure starvation and live with the threat of the Gulag, forced labour camps and public execution.
Rodman reiterated his claim that Mr Kim wants former President Barack Obama to call him, saying: "He really, really wants to talk to Obama".
He continued: "He can't say it enough. He wants to talk to him to try to open that door a little bit. He's saying that he doesn't want to bomb anybody. He said, 'I don't want to kill Americans.' He loves Americans."
Rodman said he had asked Oprah Winfrey and a few others if they wanted to accompany him to North Korea on his next visit in an attempt to try and sooth tensions between the US and the country.
Christopher Volo, a representative for Rodman, said the DuJour interview was carried out well before the recent North Korea headlines and the escalating tensions between the two countries. "If the right opportunity presents itself Dennis would go back if he can help both nations involved, and I know because I [booked] and have been on the last three trips with him," they told the New York Post.
The sportsman made his first trip to North Korea with Vice Media correspondent Ryan Duffy to host basketball exhibitions back in 2013. He and his travel party were the first known Americans to have met the leader of the one-party state. In September 2016, the basketball player visited the country to celebrate Mr Kim's birthday in Pyongyang where he and other retired NBA players played an exhibition game on Wednesday.
Join our new commenting forum
Join thought-provoking conversations, follow other Independent readers and see their replies