Did North Korea 'Photoshop' its sabre-rattling marine landings photograph?
Sharp-eyed commentators are asking whether an image released showing a military exercise taking place in North Korea was actually photoshopped
Rob Williams
Wednesday 27 March 2013 14:50 Comments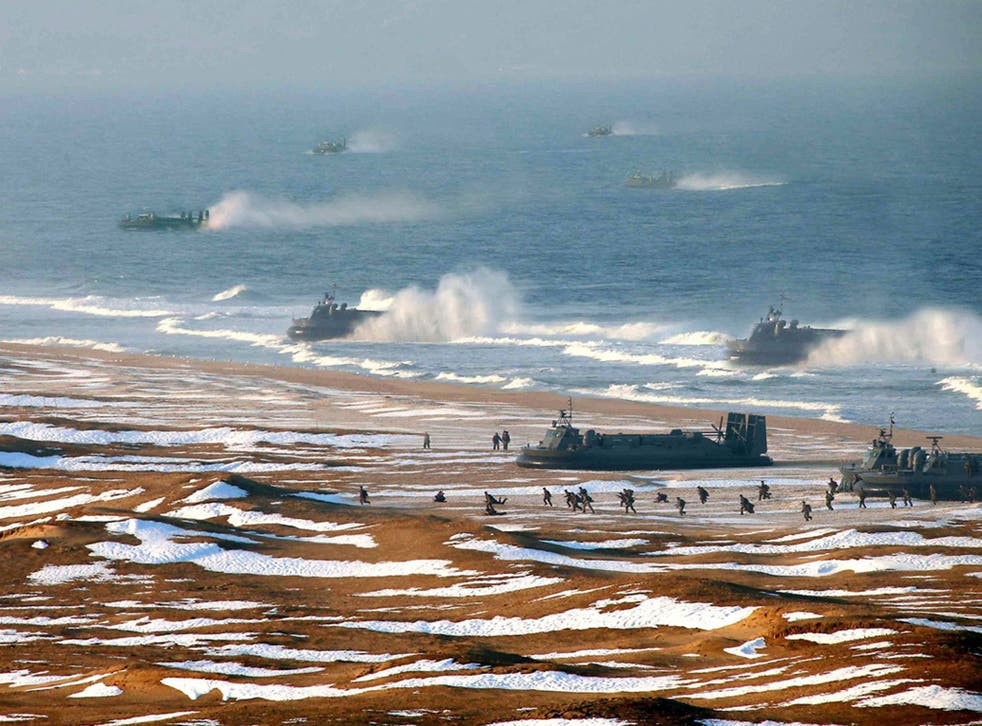 The bellicose nuclear threats from the increasingly belligerent North Korean regime are regularly dismissed as fanciful by commentators.
Click On Image To Enlarge
But are the images of their marine landings, released by the Korean Central News Agency, similarly mendacious?
Sharp-eyed commentators are asking whether an image released showing a military exercise taking place on North Korea's east coast on March 25, 2013, was actually photoshopped.
The photograph, which was withdrawn by the AFP news agency, who, according to The Telegraph, claimed "excessive digital alteration" had taken place, appears to show hovercrafts carrying out landing and anti-landing drills on a snow covered beach.
Commentators have pointed out that a number of the hovercrafts in the picture appear to have been cloned.
The landing craft in the images appear to be throwing up identical sprays of water.
The weather in the image - when contrasted with others from the same military exercise - also appears to be much milder.
The alleged photoshopping was first spotted by Alan Taylor of the US website 'The Atlantic' who contacted AFP.
The picture agency subsequently withdrew the image due to evidence of digital tampering.
Amid increasingly acrimonious language the North today cut off a key military hotline with South Korea - possibly jeopardising the last major symbol of cooperation between them.
North Korea recently cut a Red Cross hotline with South Korean and another with the US-led UN command at the border, but there is still a hotline linking aviation authorities in the North and South.
The latest hot-line to be cut is important because the Koreas use it to communicate as hundreds of workers travel back and forth to the Kaesong industrial complex in the North.
South Korea said more than 900 of its workers were in Kaesong and it did not know how cutting the link would affect their travel back to South Korea.
Register for free to continue reading
Registration is a free and easy way to support our truly independent journalism
By registering, you will also enjoy limited access to Premium articles, exclusive newsletters, commenting, and virtual events with our leading journalists
Already have an account? sign in
Join our new commenting forum
Join thought-provoking conversations, follow other Independent readers and see their replies