Disaster in the Himalayas: Rising death toll from unseasonal series of blizzards and avalanches is 'one of the worst mountaineering accidents' in living memory
Eleven backpackers and three Nepalese yak herders among those killed along popular trekking route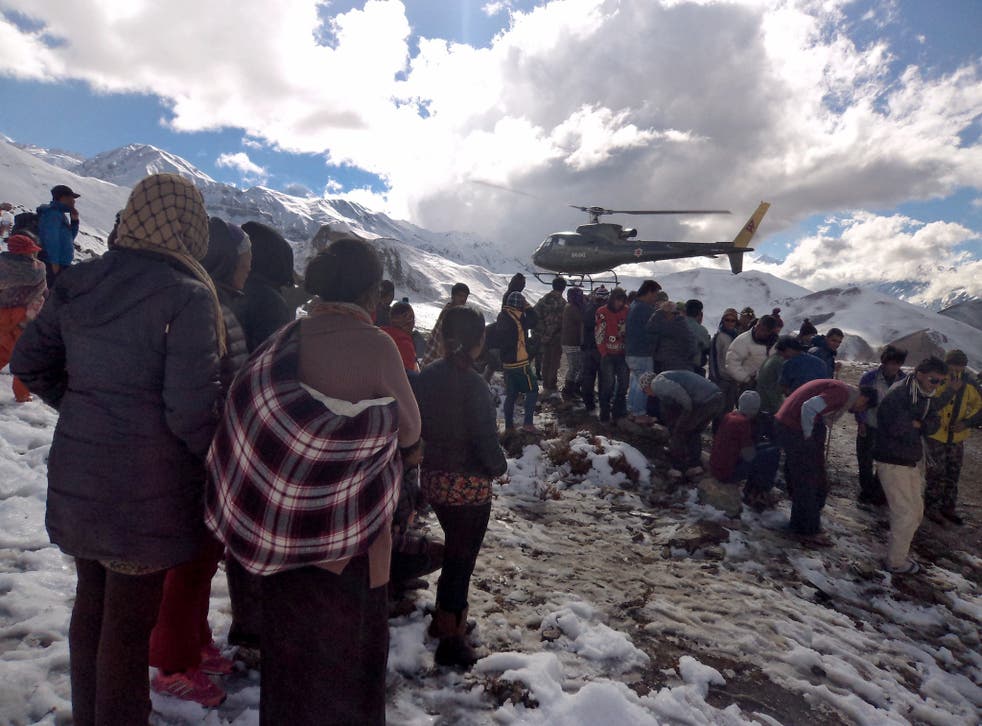 Mountain rescue teams in Nepal are searching for scores of missing trekkers after unseasonal blizzards and avalanches killed at least 20 people along the high-altitude Annapurna mountain route, which is popular with backpackers.
Army and civilian rescue workers say between 73 and 85 trekkers registered on the trail are still unaccounted for. Not all of these were necessarily trapped by the weather and some may have left the area, rescue workers said.
But with so many missing the death toll, which included 11 foreigners and three yak herders, was expected to rise. The snowstorms were brought by the tail end of a cyclone that struck eastern India last weekend.
The disaster was the second to strike in Nepal this year, after an ice avalanche killed 16 Sherpa guides on Mount Everest in April.
"This is one of the worst mountaineering accidents that I can remember," said Gopal Babu Shrestha, the treasurer of the Trekking Agencies' Association of Nepal, who has been helping with the rescue. "It is inevitable that the death toll will rise from here."
Mr Shrestha took part in helicopter rescue operations on Wednesday and said he had seen what looked like bright jackets and backpacks scattered near the Thorang-La pass, at an altitude of 5,416 metres (17,769 feet).
The pass is the highest point of the trail, which loops around the Annapurna peak, the world's 10th highest mountain.
A Facebook page set up on Wednesday to help friends and relatives trace loved ones trekking in Nepal quickly filled with concerned posts from the United States, Canada, Australia and South Korea.
Rescue efforts focused on the Thorang-La area, where a blizzard on Wednesday killed six Nepali citizens, three Polish nationals and three Israeli hikers. Separately, in the neighbouring district of Manang, four Canadian hikers and an Indian national were killed in an avalanche.
About 15 people have been rescued, and some are recovering in hospital in Nepal's capital, Kathmandu.
The 240km (150-mile) Annapurna circuit offers spectacular views of jagged peaks and Buddhist villages.The trail takes almost three weeks to complete and is perhaps the most walked route in the Himalayas. It is dubbed the "apple pie" circuit because of the teahouses lining the route that offer cold beer and home baking.
"It is our most popular trek," said Hari Thapoliya, a member of the Trekking Team Group in Kathmandu, which offers guides to tourists.
"It is not particularly challenging. If you keep fit by running or doing other exercise you can do it."
Nepal is home to eight of the world's 14 highest mountains, including Mount Everest, and the hikers' deaths come during the peak trekking season, which is October and November.
For two days this week, Nepal was lashed by heavy rain brought by the cyclone that also battered neighbouring India, killing at least 24 people. In Nepal, the weather triggered blizzards at high altitudes.
A ground team of about 50 soldiers and police joined army helicopters looking for survivors or bodies.
"The weather is good," said Baburam Bhandari, district governor of Mustang district, the area worst hit by the disaster. "One army helicopter has already left for the site and more helicopters will be pressed into service later."
Nepal's climbing business is still recovering from the shock of an ice avalanche that struck the lower reaches of Mount Everest in April, killing 16 guides in the worst disaster in the history of the world's highest peak.
Of nearly 800,000 tourists who visited Nepal in 2013, more than one in 10 went hiking or climbing, providing an important revenue stream for the aid-dependent country, which relies on income from tourism for 4 per cent of its gross domestic product.
Reuters
Register for free to continue reading
Registration is a free and easy way to support our truly independent journalism
By registering, you will also enjoy limited access to Premium articles, exclusive newsletters, commenting, and virtual events with our leading journalists
Already have an account? sign in
Register for free to continue reading
Registration is a free and easy way to support our truly independent journalism
By registering, you will also enjoy limited access to Premium articles, exclusive newsletters, commenting, and virtual events with our leading journalists
Already have an account? sign in
Join our new commenting forum
Join thought-provoking conversations, follow other Independent readers and see their replies