Indonesian businessman considering presidential bid brags about his 'access' to Donald Trump
 Mr Tanoesoedibjo has launched his own political party in Indonesia eyeing up the 2019 elections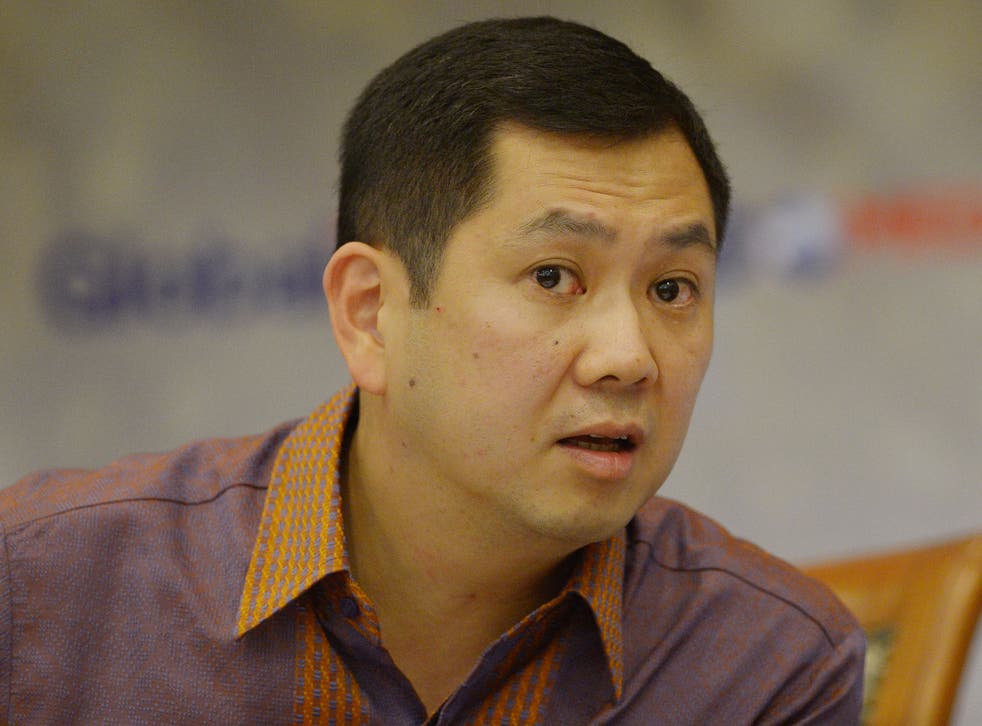 An Indonesian businessman who attended Donald Trump's inauguration has reportedly been bragging about his access to the president as he launches his own political career.
Hary Tanoesoedibjo is a business partner of the billionaire, with the pair building luxury resorts on the islands of Bali and Lido.
Comprising of high-end country clubs, golf courses, hotels, theme parks and a shopping centre, the multi-billion pound deal was thrashed out in 2015, before Mr Trump announced his presidential bid.
A billionaire himself, he recently gave an interview to Indonesian weekly Tempo, entitled 'I Have Access to President Trump', where he seemingly boasted about his relationship with the 70-year-old.
Despite the tycoon announcing his two oldest sons, Donald Jnr and Eric, would be running the vast Trump Organization, Mr Tanoesoedibjo indicated the pair continued to stay on good terms.
This was demonstrated by the 51-year-old and his wife, Liliana, getting an invitation to the inauguration ceremony last month, which he documented on his Instagram account.
Known as Mr Tanoe, in the wide-ranging interview he said he had lost count of the times he had met the property mogul, saying: "I don't count, but often enough.
"The three kids go back and forth to Jakarta, Lido and Bali. But to meet with Donald, I must fly to New York."
Their last meeting was just two days before the inauguration on 18 January, but he refused to divulge what was discussed, saying: "I cannot say. It wouldn't be ethical, especially now that he is the president."
He has repeatedly flaunted setting up a meeting with the Commander-in-Chief and two Indonesian politicians, Setya Novanto and Fadli Zon, in September 2015.
Mr Tanoe said: "I did help them to meet. I made the appointment.
"After they met, Trump held a press conference and they were invited there. My role was just to arrange the meeting."
Published online and in print, some confusion remained over segments of the interview where he is reported to have said: "I'm just a small fry, but if other people have difficulty getting to him, I can do it easily.
"I communicate with his children over our businesses. I can meet with his kids anytime.
The controversial orders Donald Trump has already issued

Show all 9
"I just need to pick up the phone. My WhatsApp messages are also responded."
US-based news organisation Mother Jones attempted to clarify these comments with Mr Tanoe.
He refuted them, but said: "This is absolutely not true.
"I just communicate with Donald Trump Junior, Eric Trump and the management team over our business, nothing's [sic] else. It's a professional relationship since we are in partnership.
"We can communicate face to face or through email or sms or phone call, depending on the need."
The founder of the MNC group, which has 37,000 employees, Mr Tanoe said the two men were like minded.
He praised his business partner, saying: "We share the same background as businessmen.
"We click, and we can come to an agreement fast. He is the type of person to make quick decisions."
But he added that Mr Trump becoming president presented a "burden" for him, but was sure there will be "no conflict of interest".
And the similarities do not end there, as Mr Tanoe has set up his own political party, with his eye firmly set on the 2019 elections.
Register for free to continue reading
Registration is a free and easy way to support our truly independent journalism
By registering, you will also enjoy limited access to Premium articles, exclusive newsletters, commenting, and virtual events with our leading journalists
Already have an account? sign in
Register for free to continue reading
Registration is a free and easy way to support our truly independent journalism
By registering, you will also enjoy limited access to Premium articles, exclusive newsletters, commenting, and virtual events with our leading journalists
Already have an account? sign in
Join our new commenting forum
Join thought-provoking conversations, follow other Independent readers and see their replies