'Sex expert' offers to reveal ties between Donald Trump and Russia in exchange for release from Thai prison
'I am the only witness and the missing link in the connection between Russia and the US elections –  the long chain of Oleg Deripaska, Prikhodko, Manafort and Trump'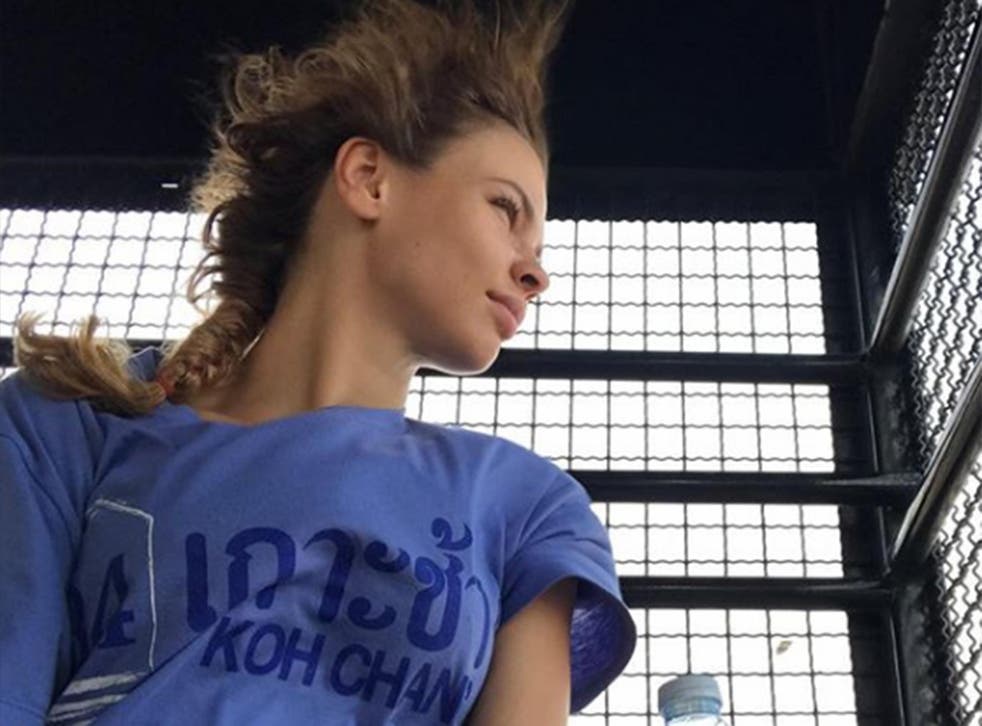 A self-described sex expert whose videos highlighted the ties between one of Russia's richest men and the Kremlin has been jailed in Thailand and is calling for US help, claiming she has information about links between Russia and President Donald Trump.
Anastasia Vashukevich, an escort-service worker from Belarus who catapulted to a certain measure of fame after filming a yacht trip with Russian billionaire Oleg Deripaska and deputy prime minister Sergei Prikhodko, was detained in Thailand over the weekend in a police raid on her "sex training" seminar. While still in custody on Tuesday, she published Instagram videos asking US journalists and intelligence agencies to help her.
Mr Deripaska, with whom Ms Vashukevich said she had an affair, used to employ former Trump campaign manager Paul Manafort. But Ms Vashukevich, better known by the alias Nastya Rybka, provided no evidence on Tuesday to back up the claim that she had new information to offer related to the investigation into Russian election interference. A post to her Instagram account showed her sitting on the floor of what was described as a Thai jail and said she was sick.
"I am the only witness and the missing link in the connection between Russia and the US elections – the long chain of Oleg Deripaska, Prikhodko, Manafort and Trump," Vashukevich said in a live Instagram video Tuesday, apparently shot as she was driven in an open-air police van through the Thai resort city of Pattaya. "In exchange for help from US intelligence services and a guarantee of my safety, I am prepared to provide the necessary information to America or to Europe or to the country which can buy me out of Thai prison."
Ms Vashukevich said in her video that she had already given an interview to US broadcaster NBC. Representatives for Ms Vashukevich and Mr Deripaska didn't immediately respond to requests for comment. A Russian foreign ministry spokesperson declined to comment.
Russian opposition leader Alexei Navalny made Ms Vashukevich famous last month after he broadcast old footage from her Instagram account showing an August 2016 yacht trip with Mr Deripaska and Mr Prikhodko. Mr Navalny used the footage to allege that Mr Deripaska, a metals magnate, had bribed Mr Prikhodko, one of Russia's most influential government officials, with the luxury getaway accompanied by women from an escort service.
Mr Navalny also speculated that Mr Deripaska and Mr Prikhodko may have served as a link between the Kremlin and the Trump campaign in 2016, though Ms Vashukevich's videos offered no proof. According to emails described to The Washington Post last year, Mr Manafort – who once worked for Mr Deripaska – directed an associate to offer Mr Deripaska "private briefings" about Trump's presidential campaign. A spokeswoman for Mr Deripaska said he was never offered such briefings.
Mr Prikhodko called Mr Navalny a "political loser" whose investigation combined "the possible and the impossible." Mr Deripaska said Mr Navalny's "allegations have nothing to do with reality" and sued Ms Vashukevich for violating his privacy. A court ordered Instagram to remove some of Ms Vashukevich's posts.
According to her Instagram account, Ms Vashukevich was in Dubai when mr Navalny's video came out and then travelled to the Thai beach resort Pattaya. On Sunday, according to Russian news reports, Thai police raided a sex seminar for Russian tourists in which Ms Vashukevich was participating. Attendees paid more than $600 (£432) each for a five-day course, Russian media said.
A video from a Thai morning news broadcast showed the police operation. Some of those detained were working without a permit, one of the TV hosts said. "Why do they have to use Thailand to teach this course?" he added.
World news in pictures

Show all 50
Russian embassy consul Vladimir Sosnov told the RIA Novosti Russian state news agency that Ms Vashukevich and several others had been detained for being part of an "illegal training session" and that she and her companions would be put on trial and deported. But Ms Vashukevich claimed on Tuesday that she'd been arrested on orders of Russian officials as payback for her video of Mr Deripaska and Mr Prikhodko and that she expected to be sent to Russia, where she'd be jailed again.
"Please USA save us from Russia!" said a post in English on her Instagram account. "All this cases are political repressions!"
The Washington Post
Register for free to continue reading
Registration is a free and easy way to support our truly independent journalism
By registering, you will also enjoy limited access to Premium articles, exclusive newsletters, commenting, and virtual events with our leading journalists
Already have an account? sign in
Register for free to continue reading
Registration is a free and easy way to support our truly independent journalism
By registering, you will also enjoy limited access to Premium articles, exclusive newsletters, commenting, and virtual events with our leading journalists
Already have an account? sign in
Join our new commenting forum
Join thought-provoking conversations, follow other Independent readers and see their replies