Yulin Dog Meat Festival 2016: Dozens of animals rescued from slaughter at annual event in China
'It's shocking to think that if we had not been there, all these animals would have been beaten to death and eaten'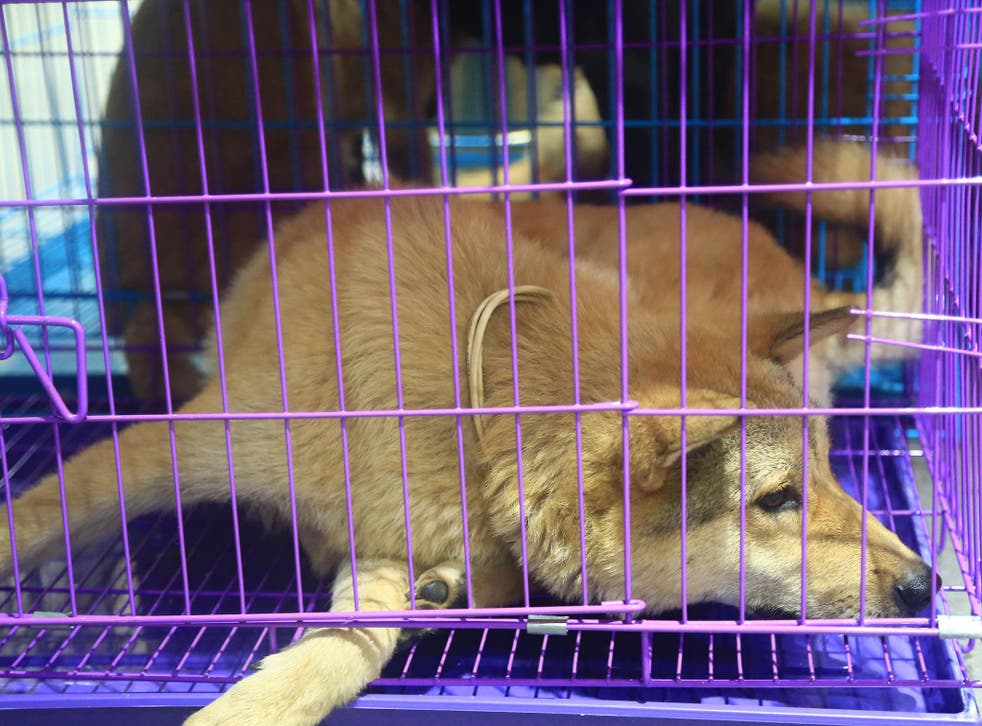 Dozens of animals have been saved from slaughter ahead of the controversial at the Yulin Dog Meat Festival.
Thirty-four dogs, puppies and kittens were rescued by Chinese activists from Human Society International (HSI).
The Yulin festival begins on 21 June, but opposition to it grows year on year.
The animals were found crammed four or five to a cage at a slaughterhouse. Activists said many of the dogs were wearing collars and claimed they were stolen pets – an increasingly common crime across China, HSI claimed, and fuels the dog meat trade.
After the rescue, activists then transported the animals to a shelter where they were fed and evaluated. They will also be seen by vets before being prepared for adoption.
While it is expected homes in China will be found for many of the animals, some may be flown to the UK and the US for adoption.
The rescue operation was led by Peter Li, HSI's China policy specialist. He said: "The police presence is heavy in Yulin right now, and the atmosphere is very tense, so this was not an easy rescue. But we were determined to save animals from their gruesome fate at Yulin, and it was such a relief to leave the slaughterhouse cages empty for one day at least.
"The dogs and cats were clearly afraid, especially the older dogs who looked very fearful. But once they realized we weren't there to hurt them, but in fact we would make their suffering stop at last, they very quickly responded with licks and wagging tails. It's shocking to think that if we had not been there, all these animals would have been beaten to death and eaten."
In pictures: Inside the Yulin cat and dog meat trade

Show all 13
Between 10,000 and 15,000 dogs and cats are slaughtered each year at the festival, often beaten to death, for their meat. While slaughtering dogs is relatively common in China, the festival is seen as representative of the cruelty and lack of hygiene associated with the largely unregulated industry.
However, opposition has been growing both internationally and domestically. Earlier in June, a petition consisting of 11 million signatures was handed in to the government in Beijing. It directly addressed President Xi Jingping, asking him to ban the festival for moral reasons and to maintain China's reputation abroad.
Register for free to continue reading
Registration is a free and easy way to support our truly independent journalism
By registering, you will also enjoy limited access to Premium articles, exclusive newsletters, commenting, and virtual events with our leading journalists
Already have an account? sign in
Register for free to continue reading
Registration is a free and easy way to support our truly independent journalism
By registering, you will also enjoy limited access to Premium articles, exclusive newsletters, commenting, and virtual events with our leading journalists
Already have an account? sign in
Join our new commenting forum
Join thought-provoking conversations, follow other Independent readers and see their replies