Philippines president Duterte tells crowd he used to be gay before he 'cured himself' by dating first wife
'When I began a relationship ... I said, this is it. I became a man again'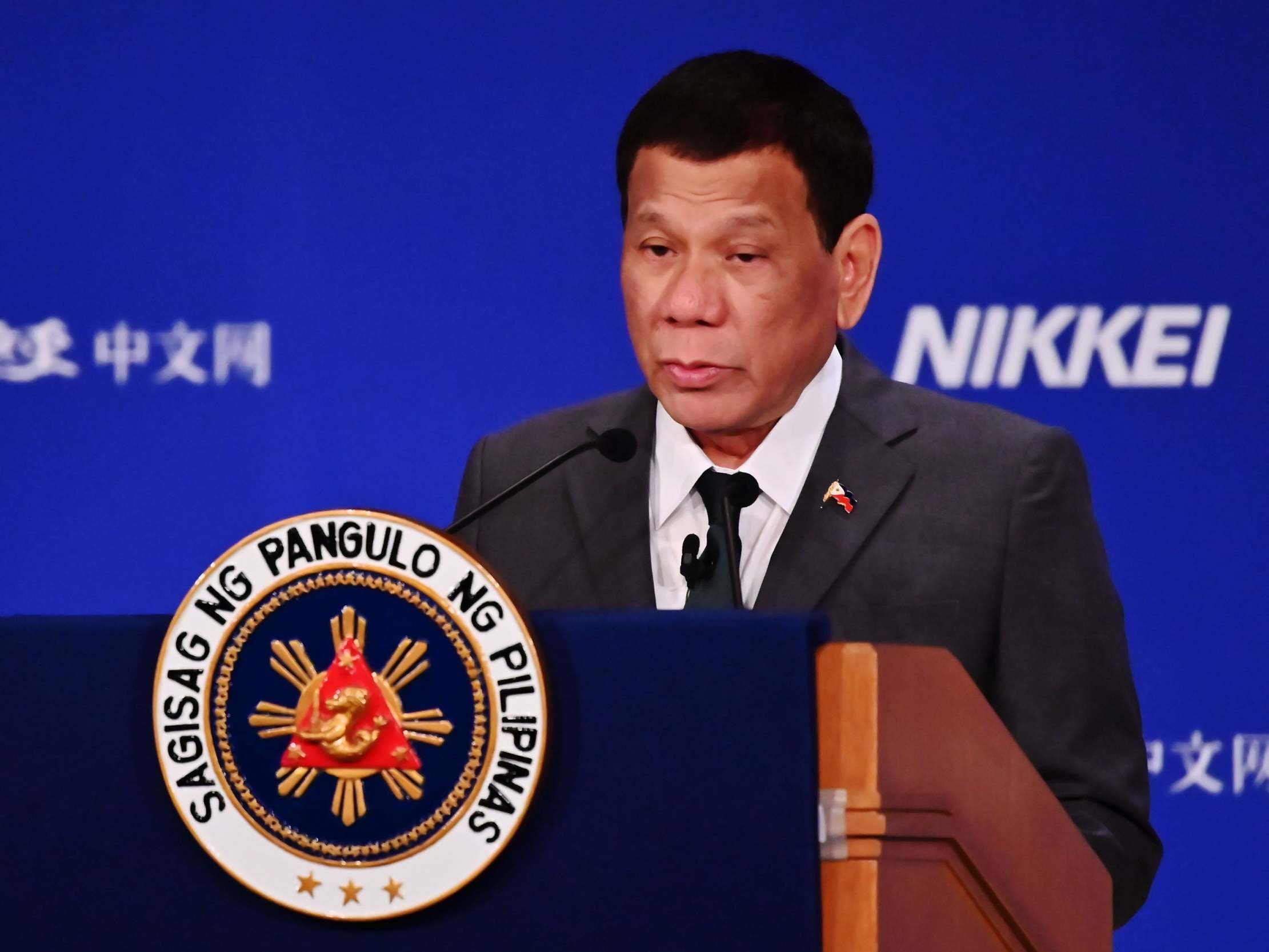 The president of the Philippines Rodrigo Duterte has told a crowd at an event in Japan that he had been "cured" of being gay by beautiful women.
Speaking to members of the country's Filipino community in Tokyo, the controversial leader reportedly said he "became a man again" after meeting his first wife Elizabeth Zimmerman.
Mr Duterte attempted to mocked one of his strongest critics, Senator Antonio Trillanes IV, by implying he was gay.
The president claimed someone told him the way Mr Trillanes moved suggested he was a homosexual, in remarks quoted by the Philippines-based news site Rappler.
"Good thing Trillanes and I are similar. But I cured myself. When I began a relationship with [ex-wife Elizabeth] Zimmerman, I said, this is it. I became a man again."
The most controversial quotes from Rodrigo Duterte
Show all 9
Mr Duterte ended the speech by inviting several women up on stage to kiss him.
"First, you shouldn't be married, okay? Second, you're not a minor," he said, according to CNN Philippines. The 71-year-old leader then pointed out four particular women and had them brought up onstage.
The president's current partner, Honeylet Avanceña, was with him during the event. He had earlier referred to her as his "one and only".
Mr Duterte has a history of using homophobic slurs to insult political opponents, according to Rappler. Although he had appeared to be a supporter of LGBT equality, in 2017 the president said marriage should only be between a man and a women.
In January this year, Mr Duterte attacked the country's Catholic bishops and claimed most of them were gay after the church criticised his war on drugs.
"Only I can say bishops are sons of b*****s, damn you … Most of them are gay. They should come out in the open, cancel celibacy and allow them to have boyfriends."
He has also made a series of offensive remarks about rape. Last September he said: "As long as there are many beautiful women, there will be more rape cases."
Join our commenting forum
Join thought-provoking conversations, follow other Independent readers and see their replies