Duterte withdraws Philippines from International Criminal Court in stunning U-turn
Amnesty International calls the move 'cowardly'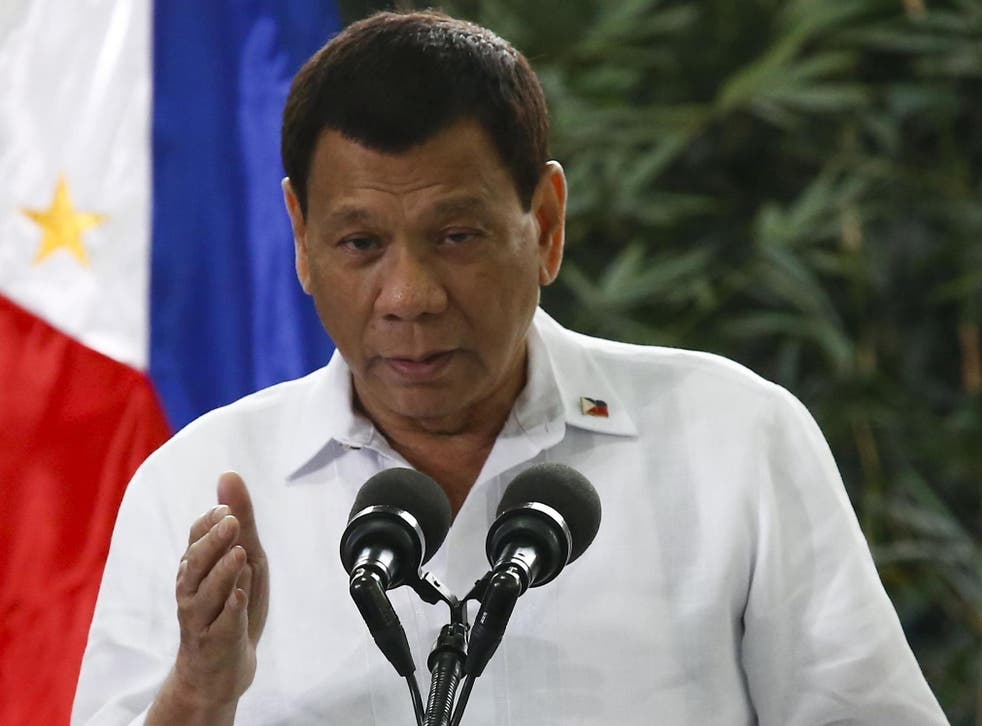 Rodrigo Duterte has angrily announced he is pulling the Philippines out of the International Criminal Court (ICC) despite repeatedly daring it to charge him over his war on drugs and saying he would cooperate with its investigation.
The Philippines' strongman president has overseen a crackdown on drug users and dealers that has seen thousands killed amid accusations of human rights violations. He has made a series of outlandish statements about the policy that included an exhortation to police to kill his own son if trafficking allegations against him were proven.
Paolo Duterte has denied links to a seized shipment of £93m-worth of crystal methamphetamine from China.
His father announced The Philippines' withdrawal from the ICC on Wednesday and accused the court of violating due process, complaining further of "outrageous" attacks by UN officials.
The decision marked a stunning about-face by a leader who previously said he was willing to "rot in jail" or go on trial to defend his war on drugs.
The mercurial former Davao mayor had initially welcomed last month's announcement by the ICC of its preliminary examination into a complaint filed by a Philippine lawyer accusing him, along with top officials of crimes against humanity.
But in a 15-page statement, dated 13 March, Mr Duterte said he was withdrawing from the ICC's founding treaty, the Rome Statute, because of "baseless, unprecedented and outrageous attacks" by UN officials, and ICC actions that he said failed to follow due process and presumption of innocence.
"There appears to be a concerted effort on the part of the UN special rapporteurs to paint me as a ruthless and heartless violator of human rights who allegedly caused thousands of extrajudicial killings", Mr Duterte said.
The ICC's examination was premature, he added, and "effectively created the impression that I am to be charged ... for serious crimes falling under its jurisdiction."
He made no mention of the withdrawal in a speech on Wednesday.
Mr Duterte's chief critics said the move was a U-turn that showed the tough-talking leader was now in panic mode. The London-based rights group Amnesty International called the withdrawal "misguided" and "cowardly".
An ICC spokesman referred most questions to the court's prosecutors, who could not immediately be reached.
According to ICC rules, a withdrawal is effective one year after receipt of notification. The Philippines comes under its jurisdiction because it is a member, and pulling out cannot impact jurisdiction retroactively.
Mr Duterte's bloody campaign has caused international alarm and fierce criticism from some UN representatives, including High Commissioner for Human Rights Zeid Ra'ad al-Hussein, who on Friday said Mr Duterte should submit himself for a psychiatric examination.
Mr Duterte's defiance is among the traits that make him wildly popular in the Philippines, where his crackdown has broad support. He has refused to accept some police may be systematically executing suspected dealers, as activists say.
Police deny allegations of murder and cover-ups and say they killed about 4,100 drug dealers in shootouts, but have nothing to do with an estimated 2,300 largely unsolved drug-related homicides.
Last month, he indicated he would cooperate with the ICC examination and even said he would prefer a firing squad to prison.
But he soon changed his tune, telling security forces not to cooperate in any international investigation, and that "not in a million years" would the ICC have jurisdiction.
Jude Sabio, the lawyer who filed the ICC complaint last year, said Mr Duterte's move was predictable, futile and designed to appeal to his base.
"Looks like they are really afraid. Why? They feel that this will proceed to an investigation", Sabio told Reuters, adding the withdrawal "will have no binding legal effect".
World news in pictures

Show all 50
The ICC can only intervene when a member state is unable or unwilling to carry out investigations and prosecute suspected perpetrators. The Philippines says that is far from the case.
The ICC's examination seeks to establish whether crimes have taken place, and such a process typically takes years.
Mr Duterte's spokesman, Harry Roque, said the ICC was "siding with the enemies of the president", while Mr Duterte's legal counsel Salvador Panelo said the accession to the Rome Statute in 2011 was never announced in the Philippines official gazette, thus did not apply.
Mr Panelo insisted Mr Duterte was not afraid, but objected to the ICC becoming "a political tool to harass a particular country, like ours".
Mr Duterte's critics argued otherwise. Senator Risa Hontiveros said Mr Duterte was desperate and "may have unwittingly displayed his fear of being proven guilty".
Senator Antonio Trillanes said Mr Duterte was withdrawing "because he knows that there is no way out for him in the ICC".
Reuters
Join our new commenting forum
Join thought-provoking conversations, follow other Independent readers and see their replies