Indonesia earthquake: Tsunami warnings and deaths after massive 7.9 tremor hits south-east Asia
The USGS initially reported the magnitude at 8.2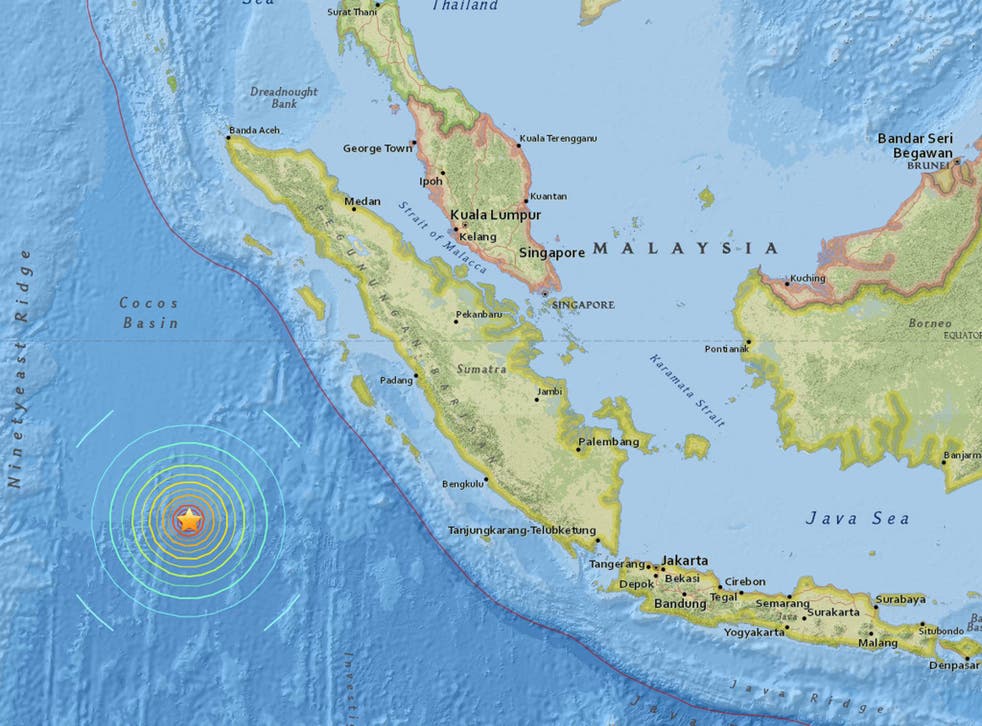 Tsunami warnings have been issued by national authorities around the Indian Ocean after a shallow 7.9 magnitude earthquake struck off the southwest coast of Sumatra island in Indonesia.
The US Geological Survey, which initially reported the tremor at 8.2 magnitude, said the massive earthquake hit at 12.49pm GMT at a depth of just 10km (six miles), some 600km (370 miles) off the coast.
The size and depth of the quake has led the Indonesian, Thai and Australian national authorities to issue tsunami warnings, though the latter stressed that a tsunami was not yet confirmed and cancelled its watch for Western Australia.
Specific warnings were issued by Australia for the Christmas and Cocos islands, while Indonesia put out alerts for West Sumatra, North Sumatra and Aceh, its National Meteorological Agency said. The Thai National Disaster Warning Centre also issued an alert, though the details are yet to be confirmed.
Reports from the ground in Indonesia suggest damage from the earthquake itself will be limited. Local media outlets described people rushing out of their homes upon feeling the quake before returning inside.
The biggest earthquakes in the world since 1900

Show all 10
But the tsunami threat has led to evacuations in Sumatra at least, local journalists said, with residents urged to make their way to higher ground.
The area, and the province of Aceh in particular, was badly hit by an Indian Ocean tsunami most recently in 2004.
That quake was significantly more powerful still than Wednesday night's however, recorded at around a 9.0 magnitude. The tsunami in the wake of that incident killed more than 200,000 people across 14 countries.
Cliffs collapse during New Zealand quake
Indonesia straddles the so-called "Pacific Ring of Fire", a highly seismically active zone where different plates on the earth's crust meet and create a large number of earthquakes and volcanoes.
Join our new commenting forum
Join thought-provoking conversations, follow other Independent readers and see their replies