Tikiri: Beloved elephant dies in Sri Lanka after being forced to perform for decades
'RIP dear Tikiri. Never look back to this world so cruel toward you and your friends'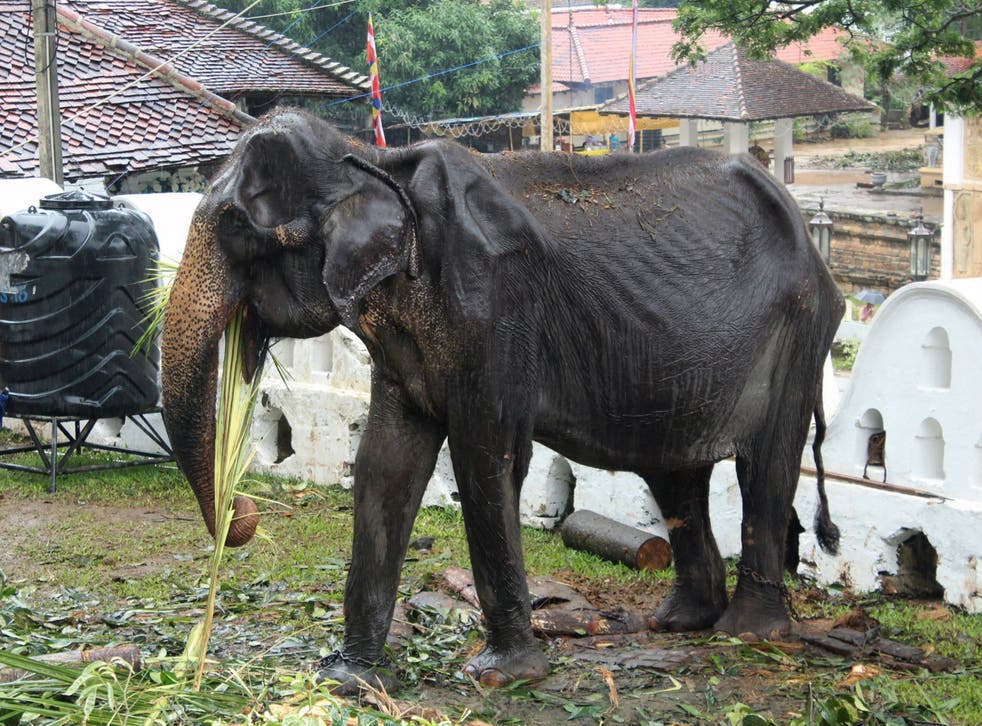 An elderly elephant, whose emaciated body sparked international outrage, has died just weeks after she was forced to march in a Sri Lankan parade.
The female elephant called Tikiri was one of 60 elephants who had marched at the 10-day-long Perahera festival. She had also been used for most of her life to take tourists trekking and other religious processions in Sri Lanka, according to Save the Elephant Foundation.
Earlier this year attention was drawn to the 70-year-old elephant's plight when images of her skeletal state went viral.
This week,the charity's founder Lek Chailert, who had posted the earlier images that sparked outrage around the globe, announced the mammal had died.
"Tikiri's suffering has ended, her soul is now free. No more harm can come to her," she said. "There is both sorrow and relief here. To think of her brings such pain to my heart.
Elephant sanctuaries approved by experts

Show all 10
"That hard service was her life, and not freedom, carries for me a commitment to others who yet suffer.
"RIP dear Tikiri. Never look back to this world so cruel toward you and your friends."
In August, Ms Chailert had showed images of Tikiri dressed in full ceremonial gear alongside images of her undressed, showing the full extent of the mammal's frail body.
"Tikiri joins in the parade early every evening until late at night every night for ten consecutive nights, amidst the noise, the fireworks, and smoke. She walks many kilometres every night so that people will feel blessed during the ceremony," she said. "No one sees her bony body or her weakened condition, because of her costume."
In her latest post announcing Tikiri's death, Ms Chailert, who works to help rescue and care for captive elephants across Asia, went on to describe her regret she was unable to help the mammal.
However, she promised the elderly mammal's death would not be in vain.
"That we could not help her before her eyes would shut forever fosters a renewed courage and bears a responsibility for us to find safe refuges for all of the captive Giants born under the yoke of Man," she said.
"What we wished for Tikiri, even a few days of freedom with love and care, we will demand for others."
Register for free to continue reading
Registration is a free and easy way to support our truly independent journalism
By registering, you will also enjoy limited access to Premium articles, exclusive newsletters, commenting, and virtual events with our leading journalists
Already have an account? sign in
Register for free to continue reading
Registration is a free and easy way to support our truly independent journalism
By registering, you will also enjoy limited access to Premium articles, exclusive newsletters, commenting, and virtual events with our leading journalists
Already have an account? sign in
Join our new commenting forum
Join thought-provoking conversations, follow other Independent readers and see their replies