EU observer in Turkey condemns referendum as 'neither fair nor free'
European delegation 'deeply worried' as opposition calls for result to be annulled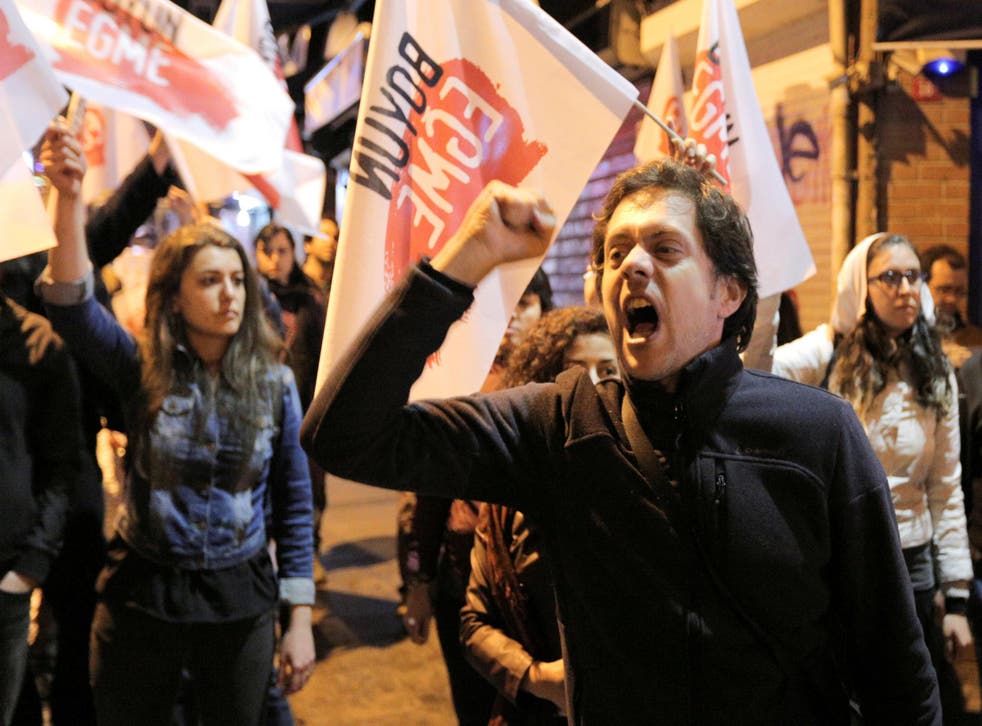 Fears the Yes vote in Turkey's referendum which granted far-reaching new powers to Turkey's President may have been unfairly influenced in his favour have been heightened by criticism from an EU observer sent as an impartial witness.
Opposition parties are saying the result should be annulled after alleging electoral fraud in Sunday's referendum, in which 51% of the electorate voted for constitutional changes that include the abolition of the office of Prime Minister, and could allow Recep Tayyip Erdogan to stay as President until 2029.
The EU sent a delegation of 20 impartial observers to ensure the referendum complied with European standards.
One of the delegates, Stefan Schennach, joined Turkish opposition in expressing serious concerns about the outcome, which he condemned as "unfair and unfree".
In a series of tweets, Mr Schennach alleged that "police twice blocked our observation".
"After our mission in Diyarbakır and Mardin we got deeply worried," he said.
State-run media agency Anadolu reported turnout exceeded 80%, with the "no" campaign winning 48.59% of votes after 99.97% had been counted.
The head of Turkey's Supreme Electoral Commission, Sadi Güven, confirmed that "yes" had narrowly clinched the victory, based on unofficial results. The official results will be delivered in about ten days, after any objections have been considered.
However, the Electoral Commission was heavily criticised by Turkey's opposition after it said it would count ballots that had not been stamped as valid by officials as valid, unless they could be proved fraudulent.
Turkey's main opposition party, the Republican People's Party (CHP), demanded the result be annulled after first saying up to 40 per cent of the votes should be recounted.
The head of the CHP, Bulent Tezcan, said the party had received complaints from a number of polling stations that people had been unable to vote privately.
The CHP plan to challenge the legality of the referendum at the European Court of Human Rights. The pro-Kurdish HDP opposition also said the result would remain unclear until its appeal to the High Electoral Board over vote irregularities was finalised.
"The referendum result is a clear sign that a societal agreement could not be reached. Our co-chairs being jailed, the referendum being held under a state of emergency, and other oppressive measures cast a shadow and legitimacy problem over the vote," HDP spokesman Osman Baydemir told reporters.
Around 500,000 people, mostly Kurds, have been internally displaced by conflict between Turkey and the Kurdistan Workers' Party in the south-east of the country, according to the United Nations. Many of these may have been unable to vote due to a lack of a fixed address.
European Commission President Jean-Claude Juncker and other high-ranking diplomats said the EU was "awaiting the assessment of the International Observation Mission, also with regard to alleged irregularities".
Mr Juncker also urged Turkey to "address the Council of Europe's concerns and recommendations, including with regards to the State of Emergency".
Three people were killed outside one polling station in Diyarbakir, apparently after a disagreement over political views.
Residents in a number of neighbourhoods in Istanbul, which narrowly voted "no", took to the streets banging pots and pans to protest against Erdogan's victory.
However, Erdogan's allies are determined to push on with implementing the constitutional changes.
Deputy Prime Minister Nurettin Canikli, of the ruling Justice and Development Party (AKP), said the extension would be discussed by the national security council at President Tayyip Erdogan's presidential palace in Ankara on Monday.
Mr Canikli also said the far-reaching constitutional changes could be completed within a year.
Join our new commenting forum
Join thought-provoking conversations, follow other Independent readers and see their replies