Yulin Dog Meat Festival 2016: What is it? When and where does it happen? How did it start?
The event kills thousands of animals every year and has drawn international condemnation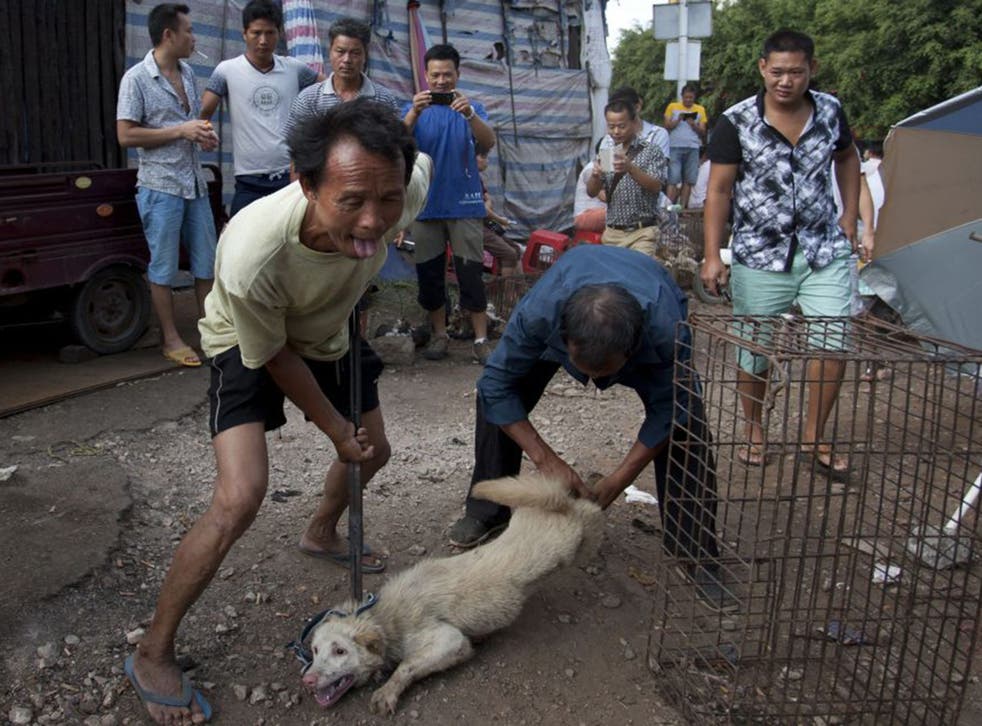 Activists have began a campaign to stop the Yulin Dog Meat Festival. But why is it so controversial? Here's The Independent's explainer.
What is it?
The Lychee and Dog Meat Festival, commonly referred to as the Yulin Dog Meat Festival is an annual event where an estimated 10,000 - 15,000 dogs and cats are slaughtered for their meat.
When and where does it happen?
It takes place on June 20 in the city of Yulin, situated in the largely rural and poor Guangxi Zhuang region of China.
How did it start?
The festival began in 2010 to celebrate summer solstice. Advocates and restaurant owners say that eating dog is traditional in the summertime. Around 10-20 million dogs are killed for their meat each year in China.
However, critics argue there is no cultural value in the festival and it was mainly devised as a way of making money.
Why are people angry?
While slaughtering dogs is common in China, the festival is seen as representative of the cruelty and lack of hygiene associated with the largely unregulated industry.
In addition, many of the animals killed are stolen pets some of which have been seen still wearing their collars.
Some are sent to the festival in small cages without food or water on trucks that can travel hundreds of miles.
In pictures: Inside the Yulin cat and dog meat trade

Show all 13
Slaughtering takes place in front of the live animals, usually with a club to induce the pain and fear that some restaurant owners claim makes their adrenaline-rich meat tastier.
"Psychologically and mentally, they have already died many times," said Peter Li, a China policy specialist with the Humane Society International.
What do people in China think?
Cultural attitudes towards dogs differ in the West and China, where they are not seen with the same level of affection.
Some commentators have accused Westerners protesting about the festival of hypocrisy, citing the prevalence of the industrial meat trade which kills millions of animals every year but receives far less media attention.
Campaigner wants to stop Yulin dog meat festival
Howver Yu Hongmei, director of the VShine Animal Protection Association, said: "China needs to progress with the times. Preventing cruelty to animals is the sign of a mature, civilized society."
And Chinese celebrities, such as pop stars Chen Kun and Yang Mi have protested the festival on social media.
Who has been speaking out in the West?
In addition to the Humane Society, People for the Ethical Treatment of Animals (Peta) and celebrities such as singer Leona Lewis and comedian Ricky Gervais have condemned the slaughter.
Has the criticism had any effect?
Opinion is turning against the festival. Since 2014, the local government has sought to disassociate itself from the event, forbidding its employees from attending and limiting its size by shutting down some dog markets and slaughter houses.
Activists have held protests around the country to oppose dog eating and outrage on social media is also having an effect.
Dog meat restaurants have been forced to take the festival indoors and large-scale open air dog meat consumption is no longer seen.
However, activists have said a draft animal cruelty law remains mired in China's legislature and prosecution of dog thieves and those violating animal transport laws remains lax.
Register for free to continue reading
Registration is a free and easy way to support our truly independent journalism
By registering, you will also enjoy limited access to Premium articles, exclusive newsletters, commenting, and virtual events with our leading journalists
Already have an account? sign in
Register for free to continue reading
Registration is a free and easy way to support our truly independent journalism
By registering, you will also enjoy limited access to Premium articles, exclusive newsletters, commenting, and virtual events with our leading journalists
Already have an account? sign in
Join our new commenting forum
Join thought-provoking conversations, follow other Independent readers and see their replies