Philippines explosion: Blast in Davao City 'kills at least 12 and injures 30 people'
'It's a sad day for Davao and for the Philippines'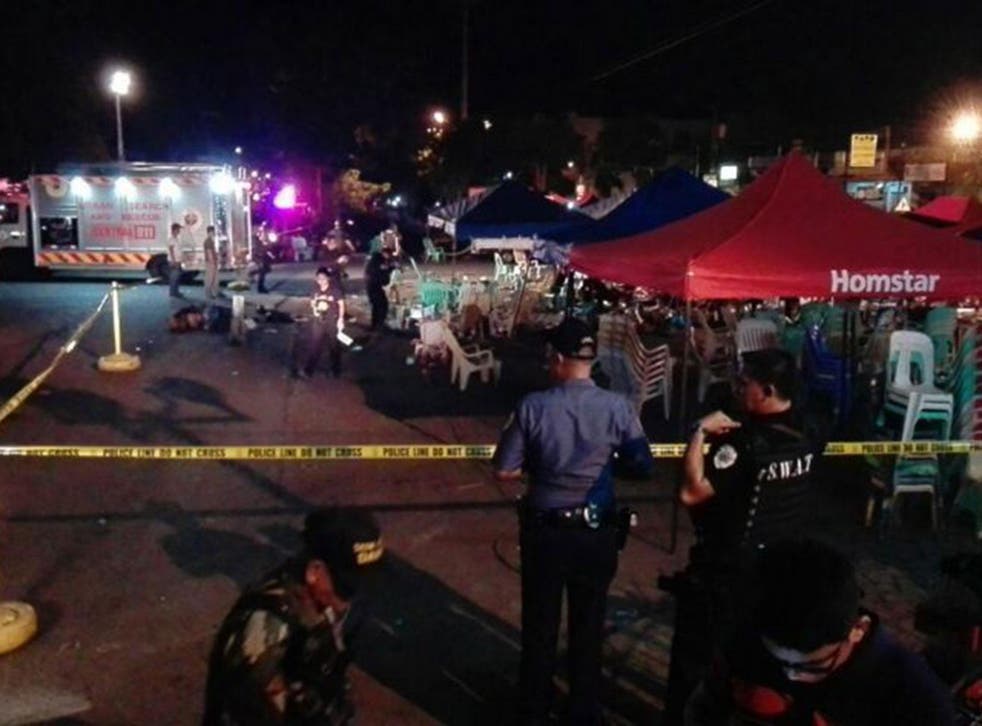 An explosion in the southern Philippine city of Davao has killed 12 people and hospitalised at least 30 more, according to officials.
The blast took place at a night market outside the high-end Marco Polo hotel on the southern Mindanao island, according the military.
The cause of the explosion is currently unknown.
Officials confirmed the country's president, Rodrigo Duterte, was in Davao on Friday night but was unharmed and secured in a police station.
Davao is the home city of Mr Duterte, where he previously served as mayor.
Vice Mayor of Davao Paolo Duterte - who is the son of the president - asked the public to go home and for bars to close.
A statement by the Vice Mayor said: "Let us pray for the victims of this unfortunate incident, especially for those who died.
World news in pictures

Show all 50
"Let us pray for those who are being treated in different hospitals and pray for their quick recovery. There are at least 10 people who perished because of the incident and a number were reported wounded.
"Rest assured the authorities are on top of this incident.
"Right now, we cannot yet give definite answer to as to who is behind this as we are also trying to determine what really exploded.
"It's a sad day for Davao and for the Philippines."
President Duterte is hugely popular in Davao. He served as its mayor for more than 22 years before his national election win in May, garnered from the popularity of a promised war on drugs that has killed more than 2,000 people since he took office on 30 June.
The explosion was outside a hotel that Mr Duterte visits frequently. The president had earlier on Friday shrugged off rumours of a plot to assassinate him, saying such threats were to be expected.
Davao is located in Mindanao, a large southern island beset by decades of Islamist insurgency. However, the city itself has been largely peaceful in recent years.
Join our new commenting forum
Join thought-provoking conversations, follow other Independent readers and see their replies