Female prisoner on world's longest hunger strike released in India – before being rearrested after 40 hours
Irom Sharmila has been fed through a tube inserted up her nose for the last 14 years in protest at controversial government legislation that allows the military wide-ranging powers
Andrew Buncombe
Friday 22 August 2014 18:09 Comments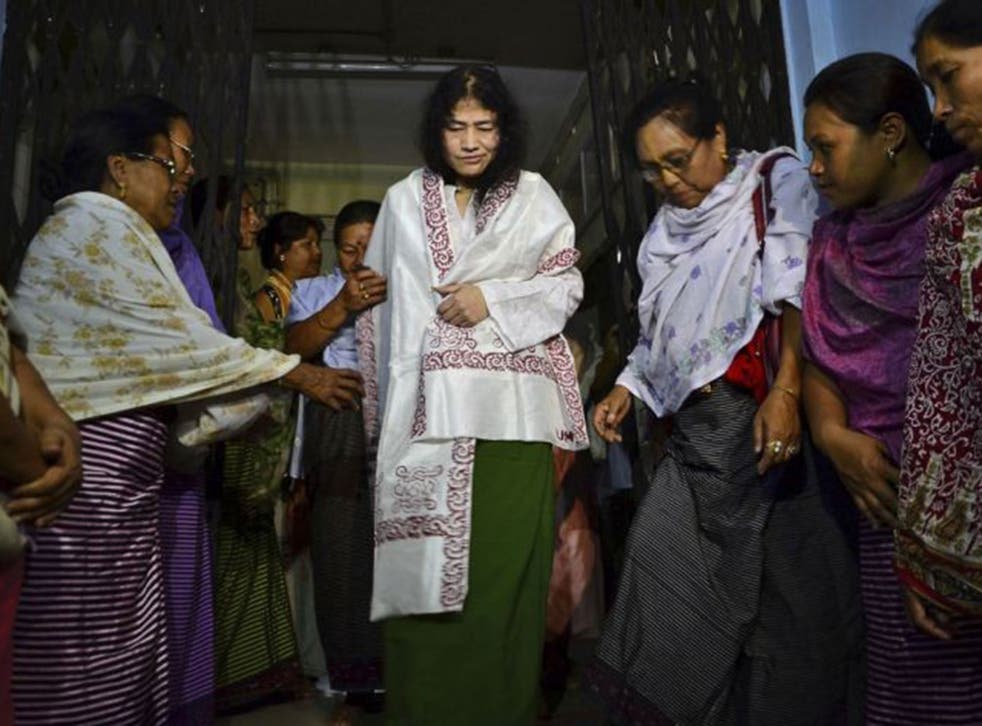 For 40 glorious hours Irom Sharmila was free.
She had time to see friends, visit a local market where was cheered as a hero and – most significantly – declare she would not end her extraordinary fast until the government scrapped a controversial law she has spent much of her life opposing.
And then, as swiftly as she had been released from custody earlier this week following the intervention of the courts, the 42-year-old Ms Irom was seized by police. Last night she was back in the hospital where for almost 14 years she has been force-fed by the Indian state by means of a plastic tube attached to her nose by a grubby piece of tape.
"At 10am she was rearrested by the police force. They did not give any reason for the arrest," her brother, Irom Singh, told The Independent from Imphal. "They simply told us they were taking her for a medical check-up."
Ms Irom, who comes from the north-east Indian state of Manipur, is engaged in what is by far the world's longest hunger strike. Since 3 November 2000 she has not eaten or drunk. She does not even brush her teeth in the usual manner, using a piece of cotton instead, to ensure no water passes her lips. Her skin is pale from the absence of sunshine. Remarkably, her smile is usually intact.
Since she was still a teenager, Ms Irom has been trying to force the government to end the use of the Armed Forces Special Powers Act (AFSPA). The legislation has been active in Manipur since the late 1950s and gives wide-ranging powers to the military, including the right to shoot to kill suspected militants without fear of possible prosecution.
The military says the law is necessary to allow the security forces to tackle militant forces who have been active in Manipur for decades. Yet activists say the law allows the armed forces to operate with impunity. The only place outside of the north-east where the law is in place is Kashmir.
Campaigners in Manipur have for years been cataloguing human rights abuses, ranging from detention without charge to extrajudicial executions. Hundreds of people have been killed and towns such as Imphal, the state capital, have become heavily militarised. Drug abuse is rampant and mental health issues are widespread. Many of the 40 or so militant groups have become little more than criminal gangs.
The incident that triggered Ms Irom's decision to launch a fast was the shooting dead of ten civilians at a bus stop on the outskirts of Imphal by paramilitaries belonging to the Assam Rifles. The previous day the paramilitaries' base had been attacked, but there was nothing to suggest the people at the bus stop were involved.
Repeatedly arrested by the authorities and charged with trying to commit suicide, an offence for which she can be detained for just 12 months, Ms Irom has said the only way to end the cycle of violence in Manipur and elsewhere is to scrap AFSPA. Force-bed three times a day by nurses in a secure wing of a government hospital, the activist has not seen her mother for years, both of them saying that such a meeting might undermine her resolve.
Earlier this week, a court in Manipur surprised many of Mr Irom's supporters by rejecting the police's claim that she was trying to kill herself. As a result, the authorities had no choice but to release her from the Jawaharlal Nehru Institute of Medical Sciences Hospital where she has spent so many years, reading, writing and talking to the handful of visitors granted permission to see her.
Upon her release, Mr Irom made clear she had no plan to end her fast. "I want to eat. Help me. Join my struggle. Let us bring a solution to the problem of AFSPA so that we can live together, eat, sleep and drink together," she told reporters. "I am not a martyr. I am a common person. I also want to eat."
The activist was taken to the Ima Keithel, or Mother's Market, in Imphal, where most of the store-holders are women. Reports said she was garlanded with flowers and that many onlookers wept. After 15 minutes, she started to feel weak and she went and sat with supporters located close to the hospital.
Binalakshmi Nepram, an activist with the Manipuri Women Gun Survivor Network, said she met Mr Irom for 90 minutes on Thursday morning.
"She said she is not going to give up. It is a matter of do or die. This is a very critical time," she said. "Rather than having the police arrest her, the government should be sending an emissary to negotiate. The government needs to act because this act needs to go."
It is unclear how long the police in Manipur intend to detain Ms Irom, or if they plan to challenge the court ruling. The Manipur Police failed to respond to inquiries. The state's chief minister, Okram Ibobi Singh, has yet to comment.
Babloo Loitongbam, an activist from Manipur who last year persuaded the Supreme Court of India to take up several cases of extra-judicial killings of people he says were innocent of any crime, said police had been heavy handed with they took Ms Irom away. He said they had "shoved" her into a police vehicle and that she had injured her toe.
"After she was released this week she had been very happy. She had freedom for 40 hours," he said. "This time we thought it would be different."
Register for free to continue reading
Registration is a free and easy way to support our truly independent journalism
By registering, you will also enjoy limited access to Premium articles, exclusive newsletters, commenting, and virtual events with our leading journalists
Already have an account? sign in
Join our new commenting forum
Join thought-provoking conversations, follow other Independent readers and see their replies