Fire at Taiwan water park leaves 500 people seriously injured and eight in a critical condition
The fire was sparked by an accidental explosion of coloured theatrical powder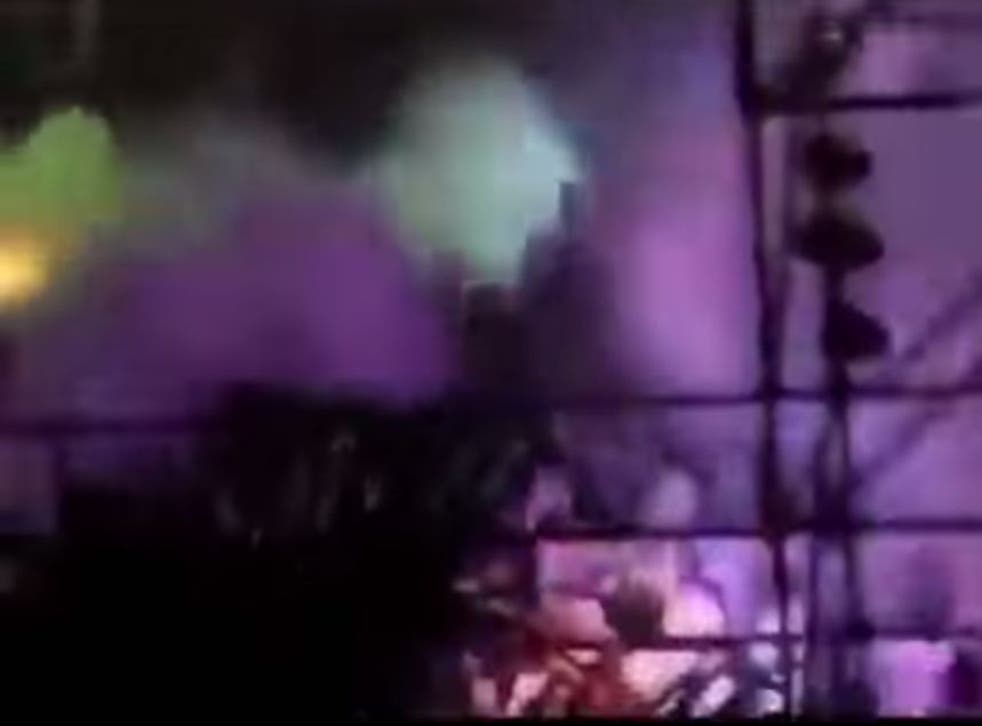 More than 500 people are seriously injured and eight are in a critical condition after a fire on a music stage spread into a crowd of spectators at a Saturday night party at a water park in Taiwan.
The fire was sparked by an accidental explosion of coloured theatrical powder, which was thrown from the stage in front of a crowd of about 1,000 people, according to the fire agency and local media.
The powder, used in a one-time event called "Colour Play Asia", ignited along the ground, said Wang Wei-sheng, a liaison with the New Taipei City fire department command centre.
Taiwan's Central News Agency reported witnesses as saying the fire at the Formosa Water Park in New Taipei City spread rapidly after powder was blown into the air.
A total of 516 people were reported to have burn injuries as of about 11 a.m. Sunday, Wang said.
The official injury toll had risen from just over 200 at midnight, after authorities tracked down about 300 victims who had taken themsleves to hospital or who had been taken by other members of the crowd, according to Taiwan's Central News Agency.
The victims included four mainland Chinese and two foreigners, while an 18-year-old from Taiwan has been burned on 90 percent of her body.
Central News Agency said that police were questioning two park workers who had launched the powder as well as the party's on-site organizer and two technicians. They may face charges of professional negligence causing serious injuries and endangering the public, it said.
The exact cause of the fire is still being investigated.
Video footage shows rescue workers and bystanders carrying burned and injured people on their backs, in inflatable boats and on stretchers to get medical treatment. Officials said that ambulances found it difficult to get near to the site and had to send in emergency workers with stretchers.
One male witness told local news channel CTI: "It started on the left side of the stage. At the beginning I thought it was part of the special effects of the party but then I realised there was something wrong and people started screaming and running."
Images show the stage covered in flames and crowds running away, some dressed only in swimwear and covered in coloured powder. Trails of bloody footprints leading away from the stage remained in the aftermath of the inferno, an AFP reporter at the scene said.
The fire was quickly extinguished, according to authorities.
"Our initial understanding is this explosion and fire... was caused by the powder spray. It could have been due to the heat of the lights on the stage," said a spokesman for the New Taipei City fire department.
"We feel sad and regretful about the accident," said New Taipei Mayor Eric Chu who was reported as saying it was the municipality's worst ever incident of mass injury. He said that extra doctors had been called in to help treat the victims. "I've ordered the park to shut down immediately and be placed under a rigorous investigation," Chu added.
Today, Taiwan Premier Mao Chih-juo announced a ban on parties that use the flammable colourful powder.
Additional reporting by Associated Press
Register for free to continue reading
Registration is a free and easy way to support our truly independent journalism
By registering, you will also enjoy limited access to Premium articles, exclusive newsletters, commenting, and virtual events with our leading journalists
Already have an account? sign in
Register for free to continue reading
Registration is a free and easy way to support our truly independent journalism
By registering, you will also enjoy limited access to Premium articles, exclusive newsletters, commenting, and virtual events with our leading journalists
Already have an account? sign in
Join our new commenting forum
Join thought-provoking conversations, follow other Independent readers and see their replies