Flight MH370: Still no answers on fate of plane that went missing a year ago
Malaysia has set a deadline of May to solve the mystery, or investigators will have to 'go back to the drawing board'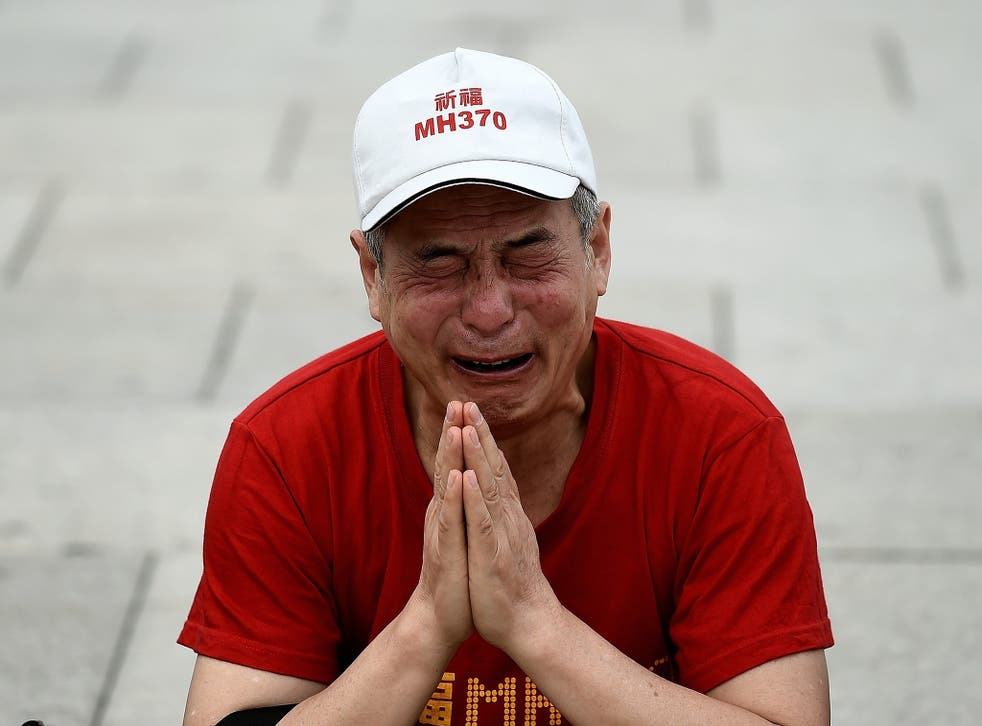 As families of the passengers and crew who went missing on board Malaysia Airlines Flight MH370 prepare to mark the first anniversary of the plane's disappearance today, Malaysian authorities have said they are still determined to solve one of the biggest mysteries in aviation history. But if nothing is found by May, investigators will have to "go back to the drawing board".
The Malaysian transport minister, Liow Tiong Lai, said yesterday that he was confident the aircraft would be found in the 60,000sq km (23,000sq miles) search zone in the remote southern Indian Ocean.
MH370 vanished in the early hours of 8 March 2014, with 239 people on board, after taking off from Kuala Lumpur on a flight to Beijing. Satellite data suggests it flew radically off course, ran out of petrol and ditched into the ocean more than 1,000 miles south-west of Perth.
However, if there was no result by the end of May, when weather conditions would deteriorate, "we will have to go back to the drawing board", Mr Liow said – meaning investigators would re-examine all the data used to establish the likely crash zone.
In pictures: Missing Malaysia Airlines flight MH370

Show all 30
Despairing relatives – some of whom were planning to attend an anniversary event in Kuala Lumpur today – are wondering if they will ever learn the fate of their loved ones.
"There is no proof, no debris, not a single piece of evidence to tell us that they are really in the Indian Ocean," said Jacquita Gomes, whose husband, Patrick, was a flight attendant on MH370. "If this is really the end, show us something. Even if it's just one finger, then we can say goodbye properly."
In Australia – which is leading the search, in collaboration with Malaysia and China – the head of the Australian Transport Safety Bureau, Peter Foley, said he was sure the plane would be found. "I know at some point I'll get a call in the middle of the night. It will come," he told the Sydney Morning Herald.
Ministers from the three countries are planning to meet next month to decide whether to look beyond the current search zone. To date, about 43 per cent of the mountainous seafloor in that zone has been gone over by four vessels towing sophisticated sonar equipment. Mr Foley said: "We are confident we're in the right place. We've exhausted every other avenue several times. The families of those on board are just cut to the quick. They need the answers. Indeed, the world needs answers on this."
An interim report by Malaysia's Department of Civil Aviation is expected to be released today, but Mr Liow would not comment on its contents. However, he did outline measures his government has already undertaken, including plans to upgrade radar systems and a new tracking system on Malaysia Airlines flights that sends aircraft data every 15 minutes, instead of 30 to 40.
In January, Malaysia officially declared the plane's disappearance an accident, as this would enable relatives to claim compensation and "resume normal lives". However, this upset many families.
In the absence of hard evidence, conspiracy theories have proliferated. The captain of the aircraft, Zaharie Ahmad Shah, has come under particular scrutiny. But Mr Shah's sister, Sakinab Shah, lashed out at attempts to apportion blame to him, saying in a statement that her brother had an "unblemished flying record" and a "passion for life".
Register for free to continue reading
Registration is a free and easy way to support our truly independent journalism
By registering, you will also enjoy limited access to Premium articles, exclusive newsletters, commenting, and virtual events with our leading journalists
Already have an account? sign in
Register for free to continue reading
Registration is a free and easy way to support our truly independent journalism
By registering, you will also enjoy limited access to Premium articles, exclusive newsletters, commenting, and virtual events with our leading journalists
Already have an account? sign in
Join our new commenting forum
Join thought-provoking conversations, follow other Independent readers and see their replies